Tuscan squid & karaage bento lunches
Polenta (boiled cornmeal) is a natural candidate for a Leftover Remake, as you can have it warm and creamy at dinner when it's fresh out of the pot, then pan-fry the solidified leftovers for subsequent lunches. Dish up the soft polenta in bowls for dinner, and top with a flavorful braise or stew. To save the excess for pan-frying, pour the fresh polenta onto a wooden cutting board, smooth out the surface with a spatula or spoon, and let it sit for a few hours until it's solid. Run a piece of unflavored dental floss or cooking twine under the polenta mass to free it up, and store in the refrigerator in plastic wrap for up to four days. Slice and fry in a nonstick frying pan with a little oil until it develops a crusty exterior. Use your imagination with shapes: make polenta fries, polenta croutons, polenta slices, even cut-out shapes using cookie cutters. Fun finger food for the kids!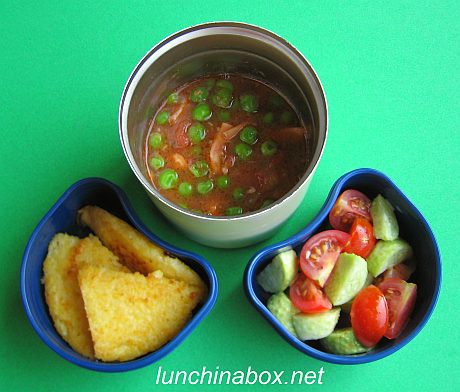 Contents of preschooler bento lunch: Homemade Tuscan-style squid and green peas in tomato sauce,  fried polenta slices, and quick tomato and cucumber salad.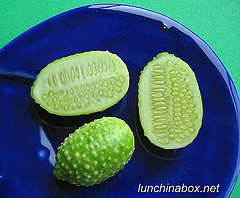 Morning prep time: 13 minutes, using leftover Tuscan squid and polenta. In the morning I fried the polenta slices, and cut up the cucumbers and tomatoes while warming the peas and squid in the microwave.
Ingredient: I ran across a new vegetable for me at Alemany Farmers' Market the other week: tiny cucumbers with bumpy skin, each about two inches long. Initially I wasn't sure what they were, but the sellers started passing out samples and encouraging us to try them. Mini cucumbers? How could I resist! The skins are hard and bumpy, and they're filled with tiny seeds. This makes them well suited for pickling or cooking in soups or stir-fries, but they're edible raw after a wash for food safety. (Read on for details and an additional Japanese fried chicken lunch.)
Cooking: I made the squid dish (and polenta) from a recipe in Marcella Hazan's book Essentials of Classic Italian Cooking. This was NOT fast cooking at all — more of a weekend dish as it took almost two hours to prepare start to finish. To stay tender, squid needs to be cooked for either just a couple of minutes, or over 45 minutes — this was the latter. I've been trying to reproduce a similar squid dish that I ate regularly at a neighborhood Italian restaurant in Nishi-Magome, Tokyo in the late nineties (minus the peas), but it's not quite there yet. The dish itself was very good, not surprising for a recipe from Marcella, the exacting and uber-precise Italian cookbook author. It just wasn't quite what I was hoping for in terms of food nostalgia. My three-year-old helped me clean the squid, standing on a stepladder in front of the sink. He was really keen to help pull the tentacles out and inspect the beak — that's my boy!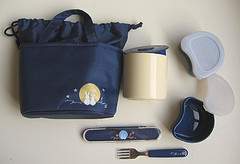 Packing: I cut up some small tentacles (Bug's favorites at dinner) and microwaved the squid dish in a microwave-safe bowl while the food jar pre-warmed with hot tap water. To retain the fried polenta's crispy exterior, I cooled the slices on a cooling rack before packing, and kept them in a separate container from the moist salad. The salad was a real quickie: I quartered the cherry tomatoes, sliced two little cucumbers, and tossed them in a little poppyseed salad dressing. I packed the lunch in a 560ml thermal bento set (similar sets sold here)
that's too big for a three-year-old according to the bento box size guidelines, so I filled the food jar and the side dish containers only about two-thirds full. You can achieve the same effect by using a small side container and a thermal food jar , commonly available from stores like Target or Walmart without the shipping. I put the container with the polenta on top of the salad container (heat rises), and slipped a few small ice packs cut from a flexible ice blanket down the side of the insulated bag to keep the salad fresh. (Click any photo for a larger view.)
Verdict: So-so. Although Bug devoured the fresh polenta and squid dish at dinner, he decided he didn't want any more squid in his bento because the long pieces were hard to eat. I had hoped that by cutting up some small tentacles I could change his mind, but no go. He ate about half of the peas and tomato dish, two thirds of the polenta, and all of the tomatoes (but none of the cucumber). Something about the bumpy cucumber skin bothered him — he's pretty sensitive to texture. After school he ate the rest of the polenta, peas and tomato, but passed on the cucumber and squid. If I were to remake this lunch I would still include the squid, but either peel the cucumber or use a different variety with thinner, softer skin.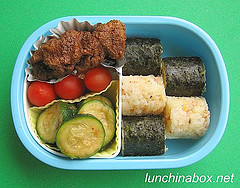 * * * * *
Contents of preschooler bento lunch: Homemade karaage (Japanese marinated fried chicken), plum tomatoes, steamed zucchini with Korean barbecue sauce, and mini onigiri rice balls with salmon furikake rice sprinkles and wrapped with packaged, pre-cut seasoned nori seaweed snack strips
. The oil was a little too hot when I fried the karaage, so it turned out a little too dark for my liking.

Morning prep time: 11 minutes, using leftover karaage fried chicken and frozen rice. In the morning I made the zucchini and the onigiri rice balls. Once I warmed the frozen rice in the microwave and mixed it with furikake, I sped up the shaping process by using a little rice ball mold (you can also use cookie cutters as onigiri molds). I steamed the sliced zucchini in a microwave mini steamer and sauced it with some bottled Korean barbecue sauce (a kitchen standby for me, but any flavorful sauce like a vinaigrette would do the trick).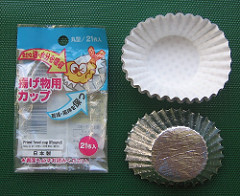 Packing: The karaage went into a paper-lined cup specially designed to absorb the oil from fried food (bought at Daiso in Daly City, CA for US$1.50 — look for the cartoon shrimp on the package), but you can mimic this on the cheap by lining the bento box or a reusable silicone baking cup with a bit of paper towel. I drained the sauced zucchini in a mini strainer and bowl to help the karaage stay crispy, and kept it away from the chicken using a silicone baking cup. Draining excess moisture from the food also helps from a packed lunch food safety standpoint.
Verdict: Pretty good. At preschool, Bug ate all of the rice balls and vegetables, and some of the karaage.
FURTHER READING: