Kabocha squash box lunches
My son decided to go on strike against playgroup this morning, so I had more time to think about and prepare lunch before going out for a playdate. Reminds me of a tip I read in a bento cookbook: the night before, think of one item you'll pack in the next day's lunch. This'll help you start to form an image of the lunch so you're not totally paralyzed when you walk into the kitchen in the morning.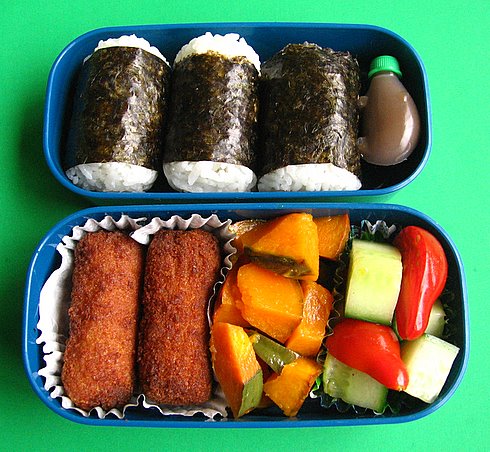 Contents of my lunch: Rice balls wrapped in nori, ham croquettes and Lizano sauce (sources here ), honey-simmered kabocha squash, and cucumber and tomatoes tossed in sanbaizu sweet vinegar. Ah, tangy Lizano sauce — is there anything you don't improve?
Morning prep time: 15 minutes, using frozen food, leftovers and one speedy side dish. A few weeks ago I made rice balls with extra fresh rice and froze them, so it was just a matter of microwaving to warm and restore texture, and wrapping in pre-cut nori. The croquettes were frozen from a box (Goya brand), so I deep-fried them in a tiny pot to conserve oil while speeding up heating and clean-up. While the oil was heating up and the rice balls were in the microwave, I prepped the squash for the microwave and packed the leftover marinated cucumber and tomato.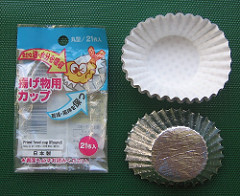 Packing: I put the fried and cooled croquettes into an oil-absorbent food cup to keep them nice and crispy. I picked up the paper-lined food cups for US$1.50 at Daiso, but you can also just line the container with a bit of paper towel as I did in Bug's lunch below. My subsequent concern was to keep anything juicy away from the crispy croquettes, which meant that the drained and cooled kabocha would go next to them, then the raw cucumber/tomato salad in another food cup at the farthest end in case juice or dressing leaked. The lunch's color contrast might have been nicer with the salad in the middle, but I'm not going to go for form over function here. Packed in a 580ml Urara dragonfly box (250ml & 330ml tiers).
Cooking: I adapted a quick recipe for honey-simmered kabocha squash from Toshiko Okuzono's book "Konban no Okazu & Ashita no Obento" (roughly, Tonight's Dinner and Tomorrow's Bento Lunch). Because I didn't have frozen, pre-cooked kabocha chunks, I started with small chunks of raw kabocha that I cut from half of a very small squash, but you could also substitute other squashes like butternut in its place (butternut will take less time to cook). In a microwave-safe bowl, combine 1/4 cup water, 2Tb of honey and a dash of salt, add the kabocha and stir to coat. Cover and microwave on high for 4 to 5 minutes until soft, stirring halfway through to ensure even cooking. (Cooking time may vary depending on the strength of your microwave.) Let it sit, covered, for an additional 2 minutes to let the steam and residual heat finish cooking the hard squash. Drain and toss with 1Tb of butter if desired.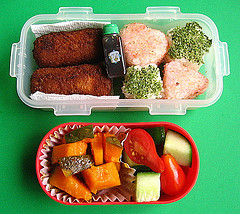 Contents of preschooler lunch: The same as mine, but with a pre-filled sauce container of tonkatsu sauce (recipe here) for the croquettes instead of Lizano sauce. Wrapping the whimsically shaped rice balls in nori would have covered up the shapes, so instead I rolled them quickly in aonori (seaweed flakes) and sakura denbu (pink, sweetened fish powder — better than it sounds! A kid favorite.).
Packing: I decided to use two containers so that I'd be able to separate the dry items from the moist items, and lined the area under the croquettes with a folded-up paper towel to keep them nice and crispy. Bug ate the croquettes and rice balls with his hands, and the squash and salad with a little fork. Packed in one 350ml tier of an insulated Lock & Lock lunch set and one 180ml tier of a Thomas the Tank Engine 4-tier nesting bento set.
READ MORE: