Decorative rice ball lunch & how-to
Today's lunch illustrates an easy way to dress up an onigiri rice ball using ordinary plastic wrap and a little box. This is the first time I used this new little 350ml two-tier bento box that I found at Sanko in San Francisco's Japantown for $8 (see my full store review or a brief writeup in the San Francisco Bay Area shopping guide for bento gear). 350ml is small, so it might seem unnecessary to split it into two tiers (especially ones that don't nest inside each other when empty). But there is a reason behind it: the small shallow upper tier is the right size and shape for making decorative onigiri rice balls with the help of a little plastic wrap.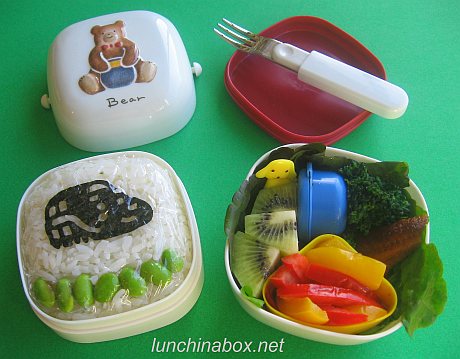 Contents of preschooler bento lunch: Onigiri rice ball with edamame and pre-cut nori seaweed shaped like Shinkansen, a little sauce container with Gohan Desu Yo! jarred seaweed paste for the rice, kiwi, broccoli, roasted eel (unagi kabayaki), and red/yellow bell pepper strips with Annie's Green Goddess salad dressing (surprisingly good). Not pictured is a side dish container with snack strips of seasoned Korean seaweed shown in this bibimbap lunch, which is my three-year-old's favorite way to eat rice: making little packets of rice with seaweed paste on Korean seaweed.

Morning prep time: 13 minutes, using frozen rice and leftover unagi eel. In the morning I microwaved some frozen rice, slapped together the rice ball (instructions below), and multi-cooked the vegetables in my microwave mini steamer, and filled the little sauce container. I could have taken a lot more time to really fancy up the rice ball, but that's not my style and Bug was pleased enough with minimal decoration. (Read on for full cooking details, a review of the little bento box, and an additional lunch with pasta frittata.)
Cooking: I wanted to showcase the basic decorative rice ball technique with this box without spending too much time on actually making the decorations, so I used train-shaped pre-cut nori seaweed and frozen edamame soy beans. To make the decorative rice ball, I first put down a layer of plastic wrap over the bottom of the empty box, followed by the warm edamame and decorative nori. I then spooned in warm rice, closed up the plastic wrap, and pressed it down into the shape of the container. Turn the whole thing over and you've got a custom-shaped rice ball with whatever decoration you've made (similar to the plastic wrap method I used for scrambled egg purses).

There are limitless variations: you can craft little faces, landscapes, or animals if you're ambitious, or go minimal with a few well placed vegetables. You can also do this without a special little bento box — just make the rice balls on plastic wrap on your counter or cutting board, shaping the rice balls freehand, with a mold, or even cookie cutters.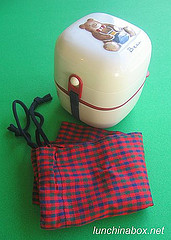 Equipment review: The 350ml two-tier box came with a built-in elastic strap that attaches to two knobs on either side of the lid, a carrying bag, and a little collapsible fork that fits into the inner lid separating the two tiers of the bento box. The inner lid is a bit flimsy (like most multiple-tier boxes from discount stores), and is not microwaveable. The rest of the box and top lid are labeled as microwave- and freezer-safe, but it's not watertight (so it's important to avoid packing liquidy foods that might leak if the box is turned over). It's absolutely too small for an adult meal according to the bento box size guidelines, but is just the right size for a small child. It's not going to replace the handy one-tier boxes with subdividers (Geki Rangers or Disney Cars), but it's an interesting variation for people into creating decorative food art.
Packing: Lettuce was just an edible liner for the box to add color (guilty as charged on unnecessary garnish), and a little dog-shaped food pick was for the kiwi. A reusable food cup made of hard plastic contained the moist peppers and kept their dressing away from the fruit.
Verdict: Bug ate the broccoli, kiwi, and seaweed paste, plus most of the rice and Korean seaweed. After school he ate the rest as a snack, including the eel. I'm definitely the happiest about his eating the eel. Bug has previously said he doesn't like unagi, even though he'd never tried it. So he wasn't very excited when I served unagi rice bowls (donburi) for dinner a couple of nights before. Without pressuring him, I encouraged him to try the sauce, which he did like. Eventually he agreed to try a small piece of eel with some rice, wrapped in Korean seaweed. Magic! He decided he did like unagi after all, and asked for seconds. Yay!
* * * * *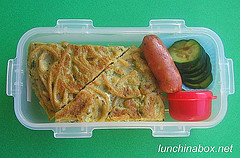 Contents of preschooler bento lunch: Spaghetti carbonara isn't a pasta that does well eaten at room temperature as is, so I turned it into a pasta frittata (see the master recipe), and included chicken and apple mini sausages (Aidells brand) with ketchup for dipping, and zucchini with Korean barbecue sauce.
Morning prep time: 15 minutes using leftover spaghetti carbonara. In the morning I made the frittata in a mini frying pan, and multi-cooked the sausages and zucchini together in my microwave mini steamer.

Packing: I put ketchup for the sausage into a little sauce container, and stacked the frittata wedges two pieces high. I drained and cooled the sauced zucchini in a mini strainer and bowl before packing for maximum food safety and to keep the sauce from spilling over onto the frittata. The lunch is packed in a single 350ml nondivided box from an insulated Lock & Lock lunch set. Not pictured is a little Anpanman food pick that I included for the zucchini.
Verdict: Thumbs up. Bug ate all of the frittata and sausages at preschool, and finished up the zucchini after school as a snack. I think next time I'll cut back on how much ketchup I include for just two little sausages, though — there was a lot leftover as the sauce container actually holds quite a bit.
RELATED POSTS ON LUNCH IN A BOX: