Noodle box lunches
A couple of simple presentation tricks today. The first is salami curls: fold a round slice of salami into quarters, which is fast and simple but adds a little visual twist. The second is stuffing a mini bell pepper with soft cheese after removing the ribs and seeds from the top. This quickly adds flavor without being messy to eat. I used a baby spoon to stuff the cheese down into the small bell pepper, but a chopstick or utensil handle would also do the trick.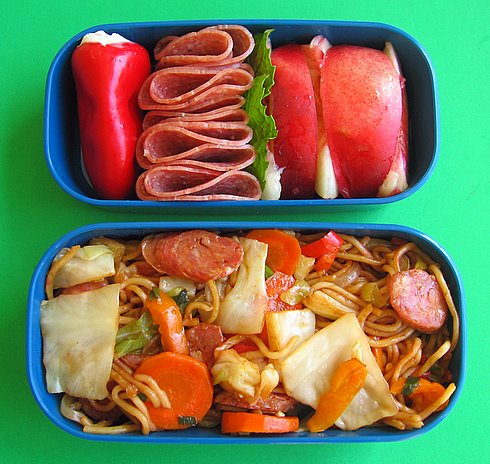 Contents of my lunch: Mini bell pepper stuffed with a garlic and herb cheese triangle, salami slices folded into quarters, white peaches, and yakisoba fried Japanese noodles with Chinese sausage (Hsin Tung Yang brand), cabbage, carrots, bell peppers (yellow & red), onions, green onions and benishoga red ginger. I riffed a little on the yakisoba by going heavy on the vegetables and using dried Chinese sausage in place of the classic sliced pork.
Morning prep time: 6 minutes, using leftover yakisoba packed the night before during dinner cleanup. Having half of the lunch already packed gave me time to work on the rest of the meal, and it was actually calming to know that lunch was almost done. Definitely pack ahead of time if you're organized and the food you're packing is sturdy enough to survive an overnight rest in the refrigerator!
Packing: To prevent the fruit from browning, I dipped the peach slices in lemon juice mixed with cherry grape juice to cut the sourness. Instead of a plastic food divider, I used mint to separate the peaches from the salami. So it was edible and complemented the delicate flavor of the peach when eaten together. I thought about eating it at the end of the meal as a breath freshener, but decided the freshness of the mint would be nice with the peaches instead. Packed in a 580ml two-tier Urara Dragonfly box.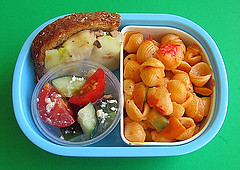 Contents of preschooler lunch: A quarter of a tuna melt (open-faced sandwich of tuna salad topped with sliced cheese then melted in the broiler or microwave), marinated cucumber and tomatoes with feta cheese and sanbaizu sweet vinegar sauce, and doctored shells and cheese with zucchini, fake crab chunks, onions, carrots, bell peppers and tomato-based pasta sauce. This lunch is too carb-heavy for my liking, but there you have it. The tuna melt worked well in a packed lunch as the melted cheese contained the mess and smell of the tuna salad (see Tips for Packing Smelly Food).
Morning prep time: 5 minutes, using all leftovers.
Packing: I used a disposable condiment cup with a lid to contain the marinated veggie "salad", and briefly microwaved the cold mac & cheese with a splash of water to restore the texture before packing. Packed in a 350ml Power Rangers box.
READ MORE: