Hugging picks & salmon bento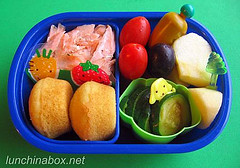 Contents of preschooler lunch: Slow-cooked salmon (recipe here) with a carrot-shaped container of Lizano sauce, mini cornbread muffins, zucchini with Korean barbecue sauce, apple wedges, grape tomatoes and a grape. I'd usually pack pesto or a creamy sauce for the salmon, but his preschool has an allergy policy ruling out nuts and liquid dairy, so I went with the Lizano sauce instead.
Morning prep time: 10 minutes, using leftover salmon and cornbread muffins. In the morning I just made the zucchini in the microwave mini steamer and cut the fruit.
Packing: I dipped the apple wedges in lemon juice with water and Splenda to prevent the fruit from browning. (Bug isn't a fan of apple skin, or I might have made little apple bunnies out of the wedges.) I cut a plastic food divider shorter to separate the salmon from the muffins, and put the zucchini into a dog-shaped reusable plastic food cup. The lunch was packed in a 360ml Disney Cars bento box with one subdivider removed.
Verdict: Bug ate everything at preschool except what you'd expect would be easiest: the tomatoes and the grape.
* * * * *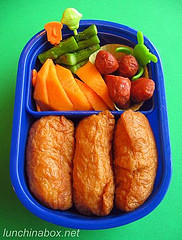 Contents of preschooler lunch: Inarizushi (sushi rice inside a seasoned tofu pouch), asparagus, cocktail sausages, and crisp Fuyu persimmon wedges.
Morning prep time: 11 minutes, using frozen oinari zushi (freezing instructions here). In the morning I microwaved the frozen sushi and cocktail sausages, cut the persimmon and nuked the asparagus.

Packing: The cocktail sausages went into a reusable silicone baking cup (mini), and I threaded the cut asparagus onto little Anpanman picks to make it easier for little hands. I tried out some little rabbit "hugging picks" that I stumbled across at a thrift store in the Haight for $1 (who would think I'd find new-in-package bento gear at Goodwill in San Francisco?!). The lunch was packed in a 360ml Disney Cars bento box with one subdivider removed to fit the sushi.
Verdict: Inarizushi is one of Bug's favorites, so I knew that'd be all gone, but Bug left half of the persimmon. I actually packed this over a week ago, before I started slicing persimmon crosswise to show off the cool natural design of the fruit. For some reason he gets excited about the crosswise slices and will eat it all then… He still ate some, though, so it's all good.
READ MORE: