Global grilled cheese lunches
There are so many different ways to make grilled cheese. Grilled panini, quesadillas, pupusas, croque monsieur, Welsh rarebit, cheese on toast — you name it. My three-year-old's current favorite is a grilled cheese sandwich made in a waffle iron, an idea we found in Toddler Café: Fast, Healthy, and Fun Ways to Feed Even the Pickiest Eater (one of the cookbooks in my growing collection). Today's lunches took us south of the border, with cheese and bean-stuffed pupusas made with corn masa, and cheese quesadillas on a flour tortilla. These are fun in a bento lunch if you're okay with room-temperature grilled cheese, as they hold together as easy finger food for the younger set.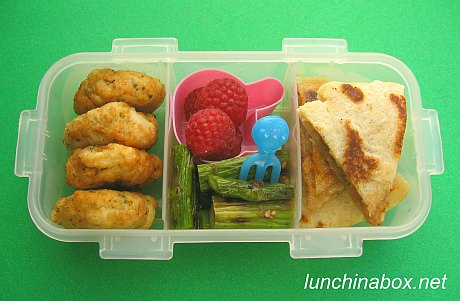 Contents of preschooler bento lunch: Mini crab cakes (Handy brand from Costco, reviewed earlier), grilled asparagus with a sesame-soy glaze (recipe from Steven Raichlen's How to Grill), raspberries, and pupusa wedges filled with bean and cheese. These were smaller slices of full-sized pupusas from a restaurant in San Francisco's Mission district, but I've made mini pupusas for lunch before with assorted leftovers like pulled pork and cheese. I would have liked to include a non-spicy dipping sauce like crema sour cream, but the school lunchroom restrictions at his preschool rule out liquid dairy due to a food allergy.



Morning prep time: 8 minutes, using frozen crab cakes, leftover asparagus and pupusas. In the morning I heated the crab cakes in the microwave, the pupusa in my convection toaster oven, and cut the pupusa and asparagus into bite-sized pieces for little hands. (Read on for details and an additional quesadilla lunch.)
Packing: Delicate raspberries went into a hard plastic food cup to keep them from getting crushed (see my post on sturdier gap fillers), and I threw in a little Anpanman food pick for the asparagus. The lunch is packed in a single 350ml subdivided box from an insulated Lock & Lock lunch set, the right size for a three-year-old according to the bento box size guidelines. I threw in some little ice packs cut from a flexible ice blanket to keep the crab cakes nice and fresh for maximum packed lunch food safety.
Verdict: Thumbs up over time. My three-year-old ate everything but the asparagus at preschool, and finished that up at the playground afterwards as a snack.
* * * * *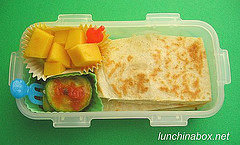 Contents of preschooler bento lunch: Cheese quesadilla slices, cubed mango, and zucchini with roasted garlic and tomato pasta sauce. This would have been nice with little containers of dipping sauces such as salsa, sour cream or guacamole, but Bug's got a food sensitivity to avocados and finds most salsa too spicy (sour cream was out because of his preschool's lunchroom restrictions).
Morning prep time: 10 minutes, using sliced cheese for the quesadilla and jarred pasta sauce for the zucchini. In the morning I pan-fried the quesadilla, cut some mango, and quickly cooked the zucchini in my microwave mini steamer while the quesadilla was cooling (it'll turn soggy if you pack it when still hot).



Packing: To keep the moist fruit and vegetables away from the dry quesadilla, I used both a reusable silicone baking cup from Daiso in Daly City (Japanese dollar store with branches internationally) and a disposable coated paper food cup (click for a representative sample of silicone baking cups on Amazon ). Anpanman food picks are Bug's favorite fork substitute because of their small size and three curved tines that get a good grip on food. The lunch is packed in a single 350ml nondivided box from an insulated Lock & Lock lunch set.
Verdict: Excellent; Bug ate everything at preschool. Hooray!
FURTHER READING: