Potsticker lunch with quick cucumber salad
Morning prep time: 10 minutes (12 min. for 2 lunches, but the potstickers take 9 minutes). I didn't have any leftovers to incorporate into this meal, so it was all made in the morning: gyoza, cucumber salad, and mango. The timeline for today's lunch was actually very straightforward: get the store-bought frozen potstickers going in the frying pan (quick fry, then add warm water and cover), slice the cucumber with the quick cutter and salt (let rest), cut & pack the mango, and nuke the cream cheese to soften, rinse/wring out the cucumbers. Finish up the potsticker cooking and put on a plate to cool. Mix the cucumber with the cream cheese and pepper, pack that in the lunch, then pack the potstickers. The dipping sauce was already in the little containers, stored in the refrigerator, so those were just grab and go. Wrapped cheese and grape tomatoes fill the gaps and provide color. Ta da!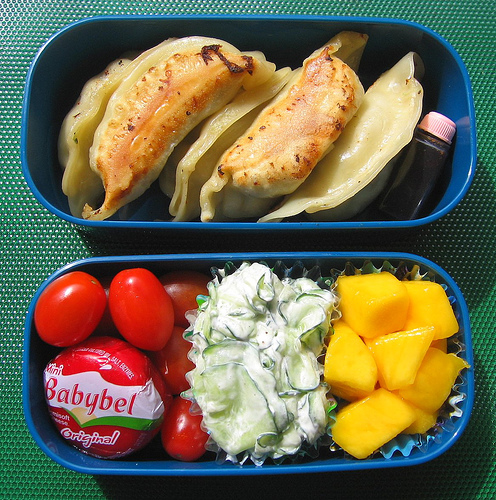 I adapted a recipe for 3-minute cucumber and cream cheese salad from Japanese cookbook Oishii Obento (published by Seitosha). Very few ingredients (cucumber, cream cheese, salt and pepper), and prep flies by with the use of a cheap mandoline-type slicer. Recipe below.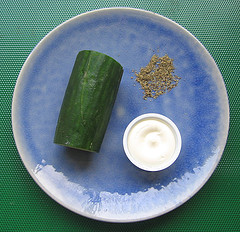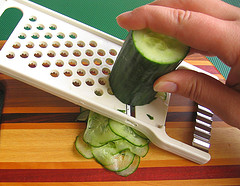 I picked up this slicing multi-tool for a few dollars at an Asian kitchenware store a few years ago to replace another I broke. It's a quick slicer, wavy cutter, vegetable peeler, daikon grater and ginger grater — all in one. It's what I reach for when I want a small amount of thinly cut vegetables, but don't need the adjustability (or hassle) of my mandoline. Click on the photo for a larger view with notes. More tricked-out products would include the Japanese Benriner and the V-slicer, but a quick Amazon search turns up a few cheap alternatives: a green Kuhn Rikon Quick Slice Mandoline , a red Kyocera Adjustable Handheld Ceramic Slicer , and a white Norpro Mandoline . (Full disclosure: I just signed up with Amazon, so using these links when shopping with Amazon anyway helps support Lunch in a Box.)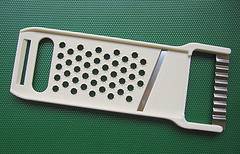 Quick Cucumber and Cream Cheese Salad Recipe
4-5 inches of cucumber (I used English/Japanese cucumber with few seeds, but you could scoop the seeds out of a regular cucumber for the same effect)
1 ounce of cream cheese (or less, to taste)
black pepper to taste (I like freshly ground, but use what's handy)
1. Thinly slice cucumber, and put it in a colander in a bowl or sink. Lightly salt and mix up.
2. Let the salted cucumber rest for at least one minute, then rinse off excess salt if necessary and wring out the moisture with your hands and a paper towel. This keeps the cucumber from shedding water into your lunch after you've packed it.
3. Microwave the cream cheese until soft (20 seconds in a 500W microwave, 10 seconds in a 1100W microwave)
4. Mix the cucumbers with the softened cream cheese and pepper to taste.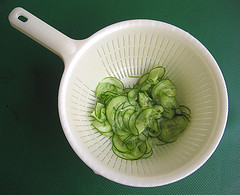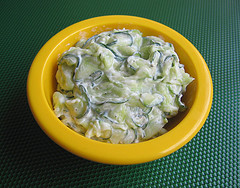 Bug's lunch is similar. He attacked the potstickers first with his hands, then moved on to the rest. He used the little fork for the mango, but I had to help him with the cucumber (his first bites were way too big). If I were sending him off to eat this lunch on his own, I'd cut the cucumber a little thicker so that it'd be easier for him to get little bites.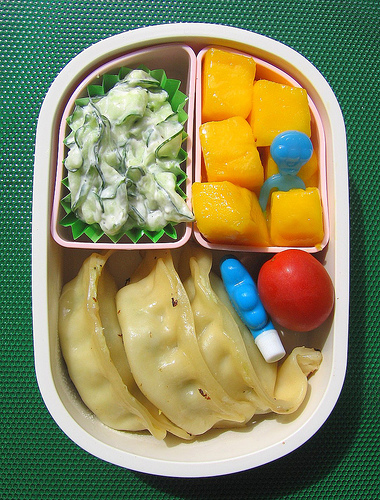 READ MORE: