Train-shaped nori seaweed
First off, I'd like to welcome new readers making their way here from Yahoo, where Lunch in a Box was fortunate to be Yahoo's Pick of the day for October 17. Feel free to comment or ask questions even on old posts; I keep up with recent comments.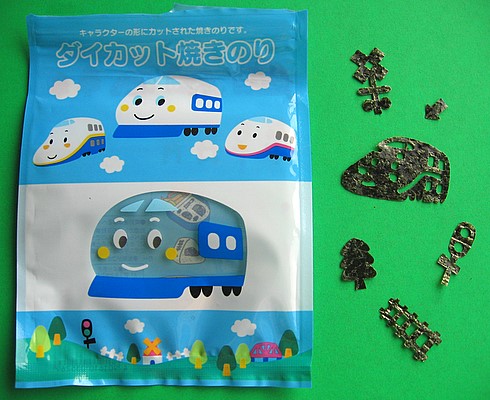 A while back a friend from my son's playgroup gave me a package of novelty nori seaweed that she brought back from Japan. I tucked it away, thinking it would be a handy way to add some fun to a child's meal with minimal effort. Each package has a number of sheets of nori that have been die-cut into Shinkansen train-related shapes. (Shinkansen is a Sanrio character that tends to be popular among young boys in Japan.) The package shows the nori decorating rice in a bento lunch, onigiri rice balls, and atop chirashi zushi. (Click on any photo for a larger view.)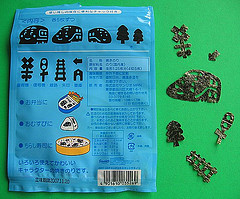 I've seen pre-cut nori on eBay shaped like Hello Kitty, Pokemon, and other fun shapes, but there's no need to order specially from Japan if you don't have money burning a hole in your pocket. You can make your own using scrapbooking punches or scissors (Target often has different punches in their Dollar Spot, craft stores stock them, as does Amazon). I wonder if die cutters for scrapbooking would work too, but it wouldn't be cost-effective to go buy one just for nori. If someone already owns one for scrapbooking, could you run a sheet of nori (or mamenori) through and let us know what happens?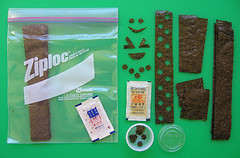 This packaged pre-cut nori is really just a cute but pricey variation on a theme that I explored in my earlier post on making a stash of pre-cut nori to save time in the morning. Store it in an airtight container or freezer bag with dessicant packs that you can scavenge from other foods, new clothing, sporting goods, etc.
Contents of preschooler lunch: White rice mixed with shrimp-flavored furikake rice seasoning, topped with Shinkansen pre-cut nori. Shrimp, broccoli and sweet potato in mirin and soy sauce.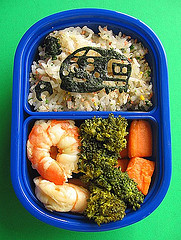 Cooking: The shrimp, broccoli and sweet potato were all actually leftover from a spicy Thai curry that was too hot for Bug (curry master recipe here). Sometimes when I make a curry that's too spicy for my son, I just stir in yogurt to tame it. For some reason, though, Bug is sensitive to Thai spices and my yogurt trick doesn't work. To deflame it, I picked out some shrimp and vegetables, put them in a strainer, and ran water over it to rinse off the spicy curry sauce. Having washed the flavor away, though, I quickly tossed them with some mirin and soy sauce that I'd simmered other vegetables in a few days before. Bug was able to eat the doctored leftovers, and I didn't have to spend extra time cooking something totally new in the morning. Win, win!
Morning prep time: 4 minutes, using fresh rice and leftover Thai curry.
Packing: Because all of the non-rice items were flavored with the same sauce, there was no need to keep them from touching. I put the green broccoli between the two similarly colored foods for contrast. The lunch is packed in a 360ml Cars bento box.
Verdict: As I expected, the Shinkansen nori was a big hit — Bug was really excited about it when I showed it to him in the morning. He ate everything but the sweet potato and a a couple bits of broccoli at preschool, and finished the broccoli in the car. Thumbs down on the sweet potatoes; something about the texture seems to bother him (mashed is fine).
READ MORE: