Spinach bite bento lunches
No tasty leftovers today, so I fell back on frozen food. Having a small stash of bento-friendly frozen food items can really save you on crazy mornings when the refrigerator's not helping you out with lovely fresh food. I look at the freezer as my emergency backup system, and it came in handy today.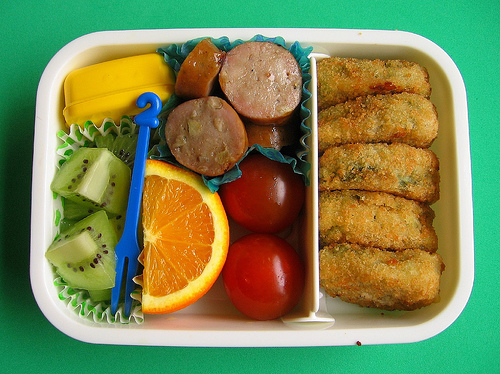 Contents: Spinach and artichoke cheese bites (Veggie Patch brand, info here) with chipotle cream dipping sauce (recipe below), chicken and apple sausage (excellent, Aidells brand), cherry tomatoes, orange slices, and kiwi.
Morning prep time: 10 minutes plus cooling time for the spinach bites and sausage, during which time I was able to totally pack the remaining items in the two lunches. I could have put this together in 3 minutes had I microwaved the spinach bites, but the texture suffers that way. I cut a chicken and mango sausages into rounds, nuked quickly for best food safety, and cooled it in a mini strainer and bowl.
Packing: Juicy kiwi went into a silicone-coated cup to keep any liquid away from the crispy spinach bites, and the little number pick did double duty for both sausage rounds and kiwi. I put the dipping sauce into my widest-mouth rectangular sauce container as our other containers are too small for comfortably dipping the large spinach bites. Packed in my 500ml Leaflet box. This was a little small for an adult woman according to the bento box size guidelines, so I picked up a freshly made onigiri after Japanese playgroup to accompany it.
Ingredient: My friend Monique recently started packing bentos for her son and recommended the Spinach and Artichoke Cheese Bites from Veggie Patch. Bug tried one of hers and liked it, so when I saw them at Costco I picked some up (evidently they're widely available in regular supermarkets in the natural food refrigerated section). They're not bad; if Bug were pickier about eating vegetables this would be an easy way to get some spinach into him. You can either bake them in the oven or toaster oven, microwave them, deep fry or pan fry them — I liked putting them in the oven to crisp up the outside without adding fat. Verdict: Pretty good when crisped, unexciting when microwaved. I may keep some around in the deep freeze for days when I don't have good vegetable leftovers or fresh veggies around that lend themselves to quick morning prep.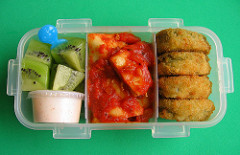 Click for preschooler lunch details and chipotle cream recipe…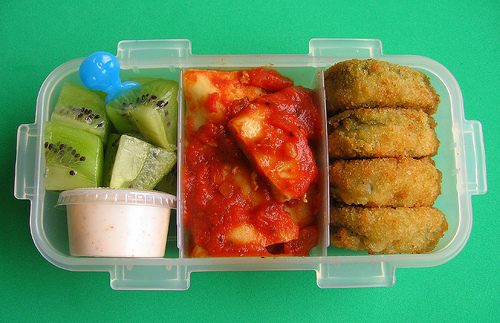 Contents: Spinach and artichoke bites with chipotle cream dipping sauce, chicken and mozzarella ravioli with tomato-based sauce, and kiwi.
Morning prep time: 10 minutes plus cooling time for the spinach bites. I'd prepacked the three leftover ravioli from dinner the night before, so all that was necessary in the morning was to crisp up the spinach bites, cut the kiwi, and whip up some dipping sauce (recipe below).
Packing: I cut up the ravioli into bite-sized pieces for easy preschooler eating, and included a tiny pick that did double duty for both ravioli and kiwi. I find that some of our smaller, cuter sauce containers are a little too small to dip something large like the spinach bite into, so I used little wide-mouth disposable Solo cups with lids that you can often find in bulk at restaurant supply stores like Smart & Final (I got a small pack of these at Daiso, not surprisingly). I also used this kind of container to make little juice jello fruit cups before; after lunch you can either throw away the cups or wash and reuse, depending upon your dedication to waste-free lunches. (I'm in the wash and reuse camp, but that might just be because I'm cheap and these were the perfect size.)
Chipotle Cream Dipping Sauce
(adapted from Cook's Illustrated)
(excellent with crab cakes, fried catfish, even on tamales)
1/8 cup yogurt
1/8 cup sour cream (or crema)
3/4 tsp lime juice
1/2 clove garlic, minced or put through a garlic press
1/2 tsp chipotle pepper powder or 1 tsp finely chopped chipotle en adobo, drained
Combine all ingredients and ideally allow to sit for at least an hour before eating to allow the flavors to come together.
Disclaimer: I have no commercial affiliations with any of the stores or brands mentioned in this post.
RELATED POSTS: