Pasta salad box lunches
I didn't have any nice leftovers to pack for lunch today, so I reached for pasta I'd frozen earlier for just this sort of occasion. I threw together a quick pasta salad for the adults using frozen unsauced pasta, and microwaved frozen spaghetti cups with sauce for Bug as he's decided he doesn't like the shape of gemelli pasta (ah, preschoolers!).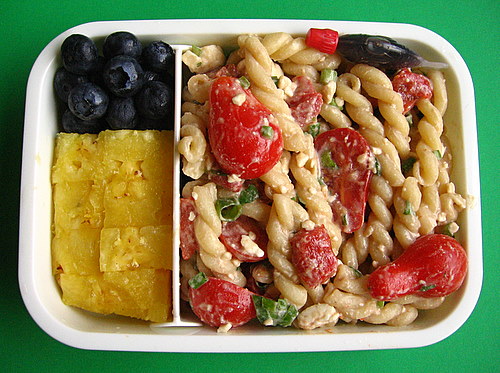 Contents of my lunch: Blueberries, fresh pineapple, and pasta salad with roasted red pepper, plum tomatoes, feta, green onions, cilantro and a ponzu vinaigrette (recipe here, with extra vinaigrette in the sauce container).
Morning prep time: 14 minutes to slice the pineapple and make the pasta salad from scratch, using frozen unsauced pasta and already-made ponzu vinaigrette.
Packing: I decided that any juice leaking from the pineapple would complement the flavors of the pasta salad, so I elected not to put it in a separate food cup or plastic sub-container. The little plastic fish holds extra ponzu vinaigrette to freshen up the pasta salad just before eating. Packed in a 500ml Leaflet bento box with movable divider.
Cooking: I made a quick pasta salad with frozen unsauced pasta and ponzu-sanbaizu vinaigrette that I had on hand. Threw in some roasted red bell peppers from a jar, halved plum tomatoes, pre-crumbled feta cheese from Costco, chopped cilantro leftover from a chili dinner earlier in the week, and freshly chopped green onions (a.k.a. scallions). I considered using frozen pre-chopped green onions, but decided that those were better suited to cooked dishes as they soften a little in freezing. I dressed it lightly with vinaigrette before packing, and then packed extra dressing on the side to give it a flavor and texture boost.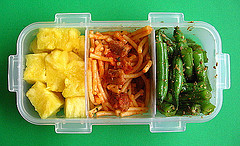 Contents of Bug's lunch: Fresh pineapple, spaghetti with Italian sausage, and green beans with ponzu vinaigrette and toasted sesame seeds.
Morning prep time: 12 minutes, using two frozen spaghetti cups with sauce that I microwaved with a splash of extra water to restore texture. I quickly cooked the green beans in my microwave steamer for two minutes, then tossed with vinaigrette and sesame seeds. Everything is cut smaller for easier preschooler eating.
Packing: Packed in the divided 350ml tier of a Lock & Lock lunch set.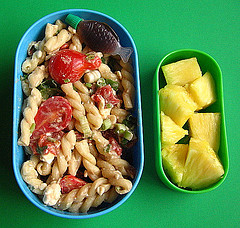 My husband's lunch is the same as mine, minus the blueberries. Packed in two tiers (450ml and 100ml) of a 4-tier nesting Thomas the Tank Engine bento box.
Click for frugal African pineapple drink recipe using leftover pineapple trimmings…
READ MORE:

Frugal Pineapple Drink Recipe
(My friend Vincent from the African island of Réunion told me about this refreshing pineapple drink his family made back home with leftover pineapple trimmings. It's a thrifty way to make a cool drink out of something you'd otherwise throw away. I hope you'll try it the next time you buy a pineapple.)
the juicy rind from a fresh, washed pineapple (including the bottom, core, and top minus the green leaves)
sugar (or sugar substitute like Splenda) to taste — I use 6 packets of Splenda
1 to 2 lemons, sliced (peel and all) (if unavailable, use limes or oranges, or bottled lemon or lime juice)
large handful of mint leaves, bruised (optional but fabulous)
2+ quarts (or 2+ liters) of cold water
Put all ingredients into a pitcher and refrigerate overnight. To drink, either pour through a mesh sieve or strain into another container.