Chocolate chipotle rib lunches
This past weekend my husband pulled out the grill to smoke some chocolate chipotle baby back pork ribs a la Raichlen on Ribs, Ribs, Outrageous Ribs . Definitely not fast food when we made it, but the leftovers are. Don't hesitate to make extra food on the evenings or weekends when you're cooking anyway — the leftovers pay off throughout the week in the form of fast lunch fodder. When you run short of appetizing leftovers, you can round out the meal by making one speedy dish or pulling out lunch staples from the fridge or freezer. That's what I did here: made the green beans quickly in the microwave, with everything else from the fridge or freezer.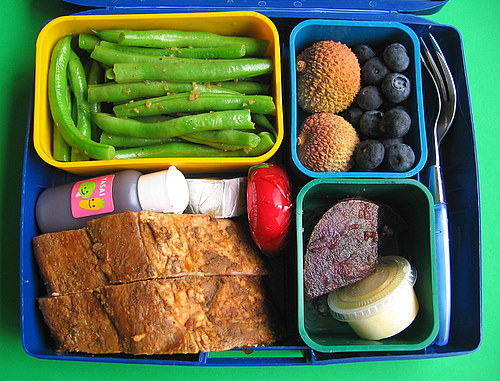 Contents of my lunch: Chocolate chipotle baby back ribs with extra sauce in the squeeze bottle, cheese wheel and triangle, green beans with vinaigrette, fresh lychees, blueberries, roasted Okinawan purple sweet potatoes with butter and maple syrup, and a frozen pudding made at home.
Morning prep time: 12 minutes, using dinner leftovers and freezer backup. The one thing I did make in the morning was the green bean dish, which I cooked in my microwave steamer for 2 minutes on high with a little water, and tossed with vinaigrette that I had in the refrigerator.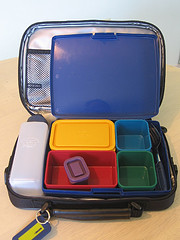 Packing: Packed in a Laptop Lunchbox, which I haven't used in a while. I removed one of the inner containers in order to fit the ribs in (most of my bento boxes were too small for the meaty ribs), and put the green beens with liquidy vinaigrette in the lidded yellow container. I also put the closed case into their "bento sleeve" for carrying. The Laptop Lunchbox is larger than my standard bento boxes, but it's just the right size for large or bulky foods like the ribs, salads, sandwiches, etc. I like the lidded inner container and insulated carrying case, allowing you to throw in an ice pack to safely carry perishable food like yogurt.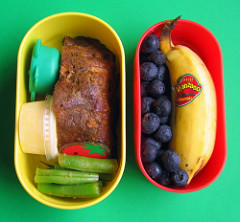 The frozen mini pudding was: 1) proof of concept that you can make and freeze your own mini pudding cups in condiment cups, and 2) a test of instant non-sugar pudding that went horribly wrong. In my post on edible ice packs, reader Jeff commented that the texture of 5-minute instant non-sugar puddings deteriorated after being frozen, so I wanted to see for myself after having had good luck freezing other puddings. Man, was Jeff right!! The thawed pudding became clumpy and unappetizing, which reader Jessica attributes to the lack of sugar (hat tip to the authoritative On Food and Cooking by Harold McGee). Beware! The minor upside is that the flavor was unchanged (although unexciting), and Bug ate it happily. You can still make little frozen treats in condiment containers, just avoid the 5-minute sugar-free pudding mixes.
Bug's lunch: Same as mine, with the addition of a tiny Manzano banana (smaller and drier than a baby banana, with a slight apple flavor). Packed in two tiers (180ml & 280ml) of a 4-tier nesting Thomas the Tank Engine box.
READ MORE: