Box lunches: Hot or cold?
A question I'm often asked is if we eat our box lunches hot, cold, or at room temperature. I mean, I often pack fruit next to savory foods that could heat up nicely in the microwave, so what do I do? Nuke the fruit?!? Unpack our lunches and then replate after warming? What a pain.
The answer is that because Bug hasn't started preschool yet, we usually have our lunches outside at a park, zoo or playgroups where there is no microwave. So we eat them at room temperature or chilled unless I've packed them in a thermal food jar or a thermal lunch jar such as the Mr. Bento . But there are a number of tricks to keep in mind when deciding how to pack…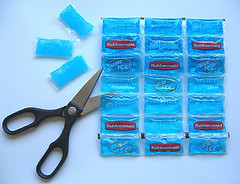 For a room temperature lunch:
First off, read my post on packed lunch food safety so you don't get sick. This is important. I don't want anyone spooning yogurt into a bento box, carrying it around at room temperature, and then wondering why they feel ill afterwards. Be smart about what you pack to eat at room temperature, or be sure to carry it in an insulated lunch bag with an ice pack (edible or plain) to keep things cool.
Season food more aggressively than you would if you were going to eat it warm: add more spices and flavorings. This is an often-touted tip in Japanese bento lunch cookbooks as the secret to delicious room-temperature food, and spices often have antibacterial properties (see the food safety post).
If there's a microwave where you eat:
First, be aware of recent health concerns about microwaving food in plastic, and microwave safely. You may want to line your container so that the food doesn't come into direct contact with the container, repack/heat the food in a non-plastic container, or skip the microwave altogether. Figure out your comfort level and adjust accordingly.
Pack one microwaveable container solely with microwave-friendly food, and put cold foods in another. You can dedicate one tier of a two-tier bento box, use separate Tupperware containers, or use removable sub-containers. The Laptop Lunchbox (shown at right, click photo for lunch details) has easily removable sub-containers, as do some better quality bento boxes. Packing hot/cold foods separately means you won't have to unpack and replate warmed food.
Oily or greasy foods can overheat in the microwave and cause pitting or discoloration to plastic food containers, so protect your lunch container by packing especially oily food in cupcake liners, on paper towels, or on an edible equivalent such as lettuce (yes, you may not want to eat lettuce after it's been through the microwave, but your container will be undamaged and you'll still have a environmentally friendly lunch).
Season the food to be warmed as you usually do — no need to spice especially strongly as you might for room temperature food.
In the portion of the lunch that'll be microwaved, avoid aluminum food cups and any lunch accessories that cannot be microwaved.
When microwaving most Japanese bento boxes, do not microwave the lid (if all-plastic it may warp, if hinged it may contain metal).
If you're using an all-metal lunch container and want a warm lunch:
Pack all food to be warmed in one tier of your metal lunch container, so that cool side dishes like fruit or dairy can be easily separated out in a separate tier. The Chinese stacking lunchbox or To-Go Ware food tin are examples of this sort of multiple-tier container. Indians have been using this kind of tiffin tin forever!
If you have access to a microwave, you can jury-rig a microwave steamer to warm your entire lunch in its covered metal container. Find a large microwave-safe container large enough to hold your lunch container, and fill it with a half inch or so of water. Heat the larger covered container in the microwave until boiling, remove, and put your covered metal container into the larger container. Wait for 10 minutes or so until warm, depending upon how much food you've packed and the dimensions of the containers. If that doesn't do the trick, you may want to rewarm the water in the larger container, and stir up the food in the metal container.
If you have access to a stove and a couple of frying pans where you'll be eating (but no oven), you can jury-rig a steamer to warm your entire boxed lunch. Put half an inch of water in a deep frying pan or wok, elevating the metal container if possible on a steaming rack or shallow dish, and cover with another frying pan. Steam gently on the stove until warm, stirring the food as necessary. If you have access to a deeper pot, you can use a regular lid instead of another pan.
(EDIT: I've fixed the bug that prevented readers from being able to comment on posts over the past couple of days — some comment code got scrambled up with the Feedburner form to subscribe to daily Lunch in a Box posts by e-mail. All good now, sorry for the inconvenience!)
READ MORE: