Tip: Freezing spaghetti cups in Tupperware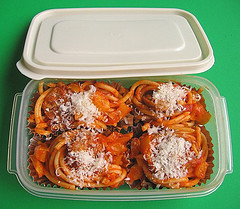 Having a stash of individually portioned lunch staples in the freezer can rescue you on busy mornings when you don't have leftovers to pack. When you have time to cook in the evenings or on the weekends, make a little extra and store it away for weekday lunches — you won't regret it.
In a variation on freezing pasta in individual servings, you can freeze leftover sauced pasta in muffin liners set directly in a freezer container like the one in the photo. No need to freeze them individually in muffin tins first (although you can if you like). Two ways to pack one in a lunch: 1) just take one out of the freezer and drop it into a lunch frozen solid (it'll thaw by lunchtime and act as an ice pack at the same time). 2) If you've frozen the pasta in non-aluminum cups, microwave either before packing or eating to restore the texture. I like to pack a little extra pasta sauce in a small container to remoisten the pasta just prior to eating, but that's personal preference.
A reader of Japanese home magazine Shufu no Tomo submitted this as a tip that made it into their book on freezing. Use the frozen pasta within one month of freezing for best flavor. For maximum protection against freezer burn, remove the lid and slip the container into a freezer bag. Seal the bag, using a straw to suck the excess air out of the bag (like a DIY FoodSaver vacuum sealer), and replace the lid. Freeze.
READ MORE: