Portobella chicken burgers in collapsible sandwich cases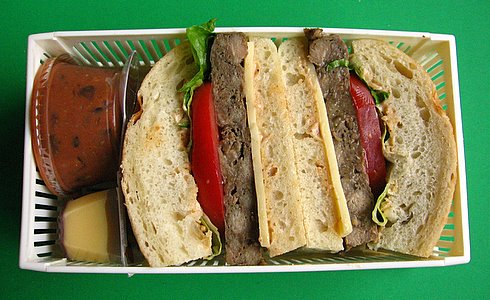 Contents of husband's lunch: Portobello mushroom chicken "burger" on a focaccia sandwich roll with cheese, lettuce, tomatoes, and chocolate chipotle-flavored mayonnaise. Side dishes of homemade chili and a shelf-stable mini pudding cup.
Morning prep time: 10 minutes, using ready-made chicken patties by Aidell's (review below) and leftover frozen chili.
Packing: I picked out some of the soft bread from the focaccia top layer like this to make room for the sandwich filling, so that tomatoes didn't squirt out of the sides when eating. The lettuce and cheese acted as moisture barriers to keep the bread from getting soggy. The sandwich is packed in a collapsible sandwich case (first reviewed here), and threw in a lidded Solo condiment cup with leftover chili that I had frozen as a savory variation of the edible ice pack. These are the same condiment cups that I used for the fruit jello cups, and are widely available (you can even save the ones you get from pizza delivery with Parmesan cheese or pepper flakes).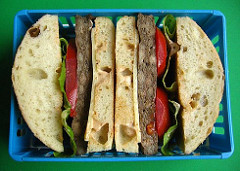 Cooking: We had extra chocolate chipotle wet rub leftover from making the chocolate chipotle babyback ribs last week, so I made a quick flavored mayonnaise by mixing mayo with the wet rub. You can quickly jazz up regular mayonnaise with simple add-ins like pesto, hot sauce, pureed garlic, etc.
Product: I tried Aidell's portobella mushroom and onion chicken burgers for the first time after spying them at Costco. I'm a big fan of other Aidell's products (especially their teriyaki & pineapple chicken meatballs), and was hoping that the patties would be a tasty shortcut to a burger lunch. Sadly, we found the texture to be overprocessed and greasy, and the flavor to be one-dimensional (mushroomy, but not much else). Whereas the meatballs have clearly identifiable pieces of chicken and pineapple in them and a nice meaty texture, the portobella/chicken patties were rubbery and spongelike. Thinking that microwaving might have been the culprit, I pan-fried a patty this morning until it developed a nice crust, and tasted it side by side against their teriyaki and pineapple meatballs. No improvement — I can't recommend this product and am trying to figure out what to do with the other six patties in the freezer. I could always cut them into strips, bread them with flour/egg/panko and fry them (frying it and dipping it in sauce might mask the texture, albeit at the cost of my arteries). Anyone have any ideas? (I really hope that this is a new product that's still in development, so they can work out the kinks.)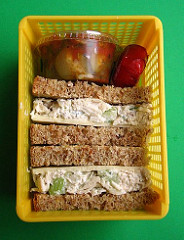 Contents of Bug's lunch: Chicken salad sandwich with cheese, a wrapped Babybel cheese, and a condiment cup of leftover zucchini with tomatoes and onions (recipe from Marcella Hazan's definitive cookbook Essentials of Classic Italian Cooking ).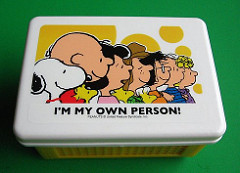 Equipment: I picked up a child's Snoopy collapsible sandwich case that's much smaller than the adult boxes that I have. I'm thinking this'll come in handy when Bug starts preschool next month — I won't need to use a regular bento box or pad out an adult sandwich case with food he won't eat. Extra bonus is that it's Peanuts and gender-neutral. Bought at Moritaya in San Francisco's Japantown (see the SF Bay Area shopping guide) for about US$9, which was pricey, but I haven't seen the child versions anywhere else and preschool starts soon.
READ MORE: