Osaka lunch for my husband tomorrow.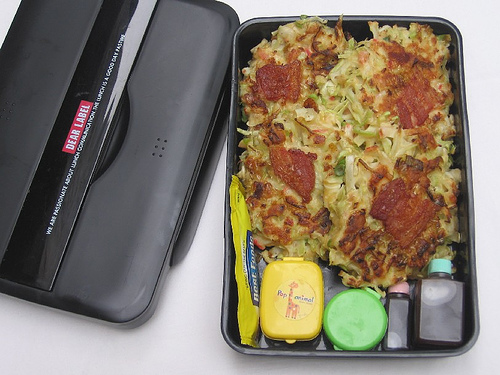 Made mini okonomiyakis (bacon, kamaboko and cheese) with sauce containers of worcestershire sauce, okonomiyaki sauce, mayonnaise, aonori and katsuobushi. Okonomiyaki is a savory cabbage pancake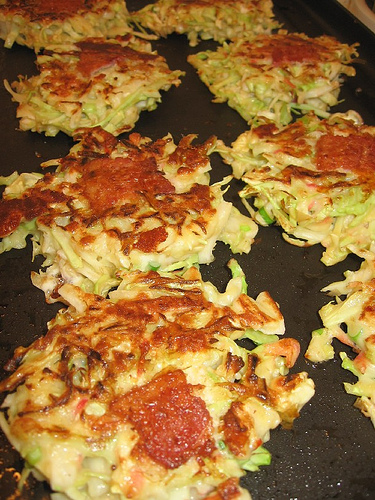 Here they are on the griddle.
READ MORE:
Beautiful day in San Francisco today — must take my son to the park! Spring colors for him: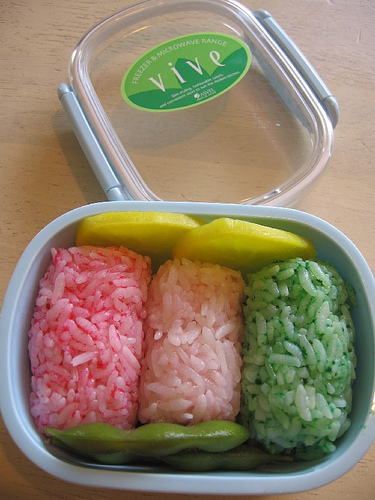 Flavored onigiri (red/green hana ebi, and sakura denbu), takuan and edamame — packed in my small 240ml box. BTW, the total capacity of a Japanese bento box is usually printed on the bottom of the box (in raised plastic print). Generally there's a square border running around the Japanese that describes the temperature limits (high and low) of each component of your box (lid, main body, clips, packing strip, and any internal lids or separators). The bottom-most entry in that list is capacity in ml (容量) — handy for getting a grip on portion sizes, especially with the two-tier boxes.
READ MORE:
My son is crazy for dashimaki tamago (Japanese rolled egg: step-by-step tutorial here), so if I'm organized I have some in the fridge for him to snack on. Happily it works for my husband too!
Left: Pasta with asparagus, mushrooms, yellow peppers and sausages
Right: Salad with Japanese sesame soy dressing, and dashimaki tamago
All in a very deep but boring bento box (good for salads & other high-volume meals).
RELATED POSTS:
Not technically a bento, but still lunch, I suppose.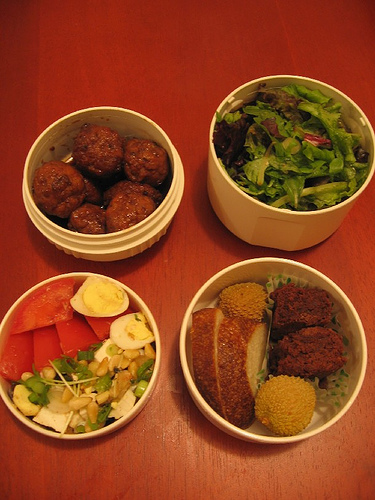 Clockwise from upper right:
* Salad greens
* Sourdough bread, lychees, and homemade brownies. Not pictured: removed a lychee to add a little canister of Japanese sesame soy dressing.
* Salad toppings: tomato, quail eggs, feta, green onions, pine nuts, kaiware (daikon shoots)
* Teriyaki pineapple chicken meatballs (Aidells) with homemade teriyaki sauce
This the inaugural use of my Nissan Stainless thermal lunch tote — same size containers as the Mr. Bento, excellent quality.
READ MORE:
I've recently started posting my lunches (bentos, lunch jars, etc.) on Flickr.com and noticed the action over here on LiveJournal. Thought I'd give it a shot — comments on how to polish my LJ postings are welcome, as I'm a newbie to this forum. Not a newbie to bentos, though, as I lived in Japan for a number of years.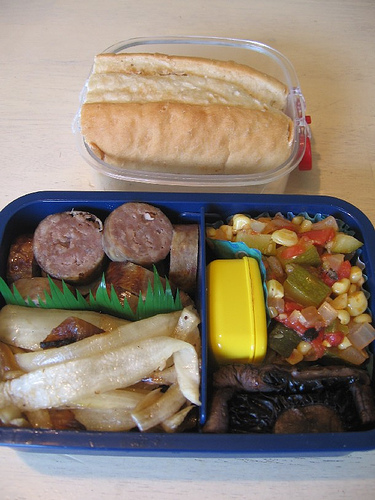 Today my husband got a Wisconsin-style bento, with Johnsonville brats, grilled onions, grilled portobello mushroom, simmered zucchini/corn/onions/tomatoes, cognac & pepper mustard in the container, and a sourdough roll.
The roll is sliced, so it's easy to make a bratwurst sandwich with the mustard, onions and brats (mushroom if you feel like it, I suppose).
READ MORE: