Leftover Remake: Potato salad Scotch egg
So I had all of this leftover purple potato salad with mojito and I was getting sick of it — I just wanted it gone, but I was getting tired of eating it straight. Japanese cookbooks often tout the time-saving technique of remaking your leftovers into totally new dishes for lunches; basically taking advantage of the effort you've already made on dinner. One way is to make croquettes (korokke) or little faux Scotch eggs with the potato salad — giving it a new look!
My son had half of one of these Scotch eggs (with tonkatsu sauce), leftover grilled cheese and ham sandwich strips, cherry tomatoes and steamed broccoli (from the mini microwave steamer — speeds up cook time by 50%).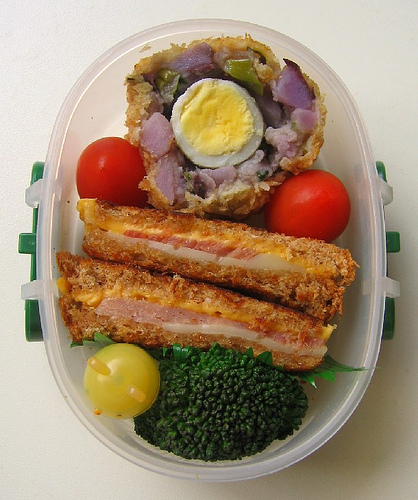 My lunch added mini hamburgers (made from meatloaf mix and frozen), blueberries, an umeboshi (sour preserved plum), and rice that I had previously frozen in the shape of my 430ml bento box container.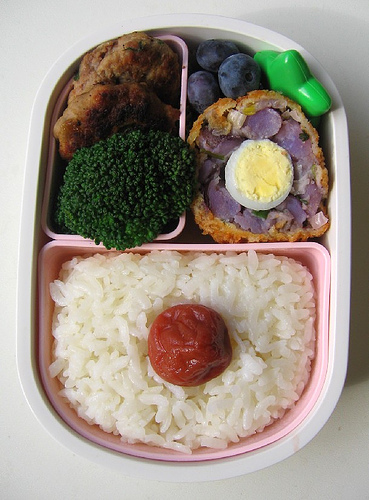 Here's the purple potato salad with mojito sauce that I started with (will we ever finish it?).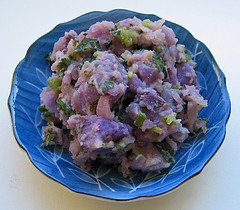 2 quail eggs
2/3 cup potato salad (any kind!) (4.5 oz. or 120g)
flour
1 egg for breading
bread crumbs (panko or Western style)
Hard boil two quail eggs and peel them (you can use chicken eggs if you don't have quail eggs, they'll just be bigger and use more potato salad). Cut the potato salad up a little if the pieces of potato seem really large. Divide the potato salad in half, and use your hands to completely cover the egg with the potato salad.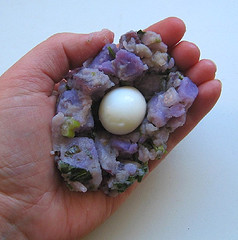 Bread the potato salad balls in your typical three-step manner: first roll to coat thinly with flour, then dip in beaten egg (let the excess drip off), then coat in bread crumbs (panko or Western style). I used panko on the two on the left, dry Italian bread crumbs on the one on the right.
At this point you could freeze them, and have a little stash ready to deep fry in the mornings when you're packing lunch. EDIT: Evidently if you freeze them already breaded, though, some of the crust tends to come off in frying (I haven't tested it out myself yet). To avoid this, you can freeze the little potato/egg balls the step before breading (freeze on a tray first, then once frozen, wrap each one individually in plastic wrap, then put into a freezer bag — squeezing out excess air from the bag before sealing). To cook, take them out of the freezer, and bread them when they're frozen rock hard, really patting the breading into the potato. Deep fry gently without moving it around much.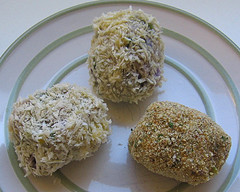 Deep fry in vegetable oil heated to 340 degrees F (170 degrees C) until the crust is golden brown. Remove from oil and drain on a cooling rack set upside down on paper towels. Cut in half and serve with tonkatsu sauce (or okonomiyaki sauce, yakisoba sauce or even ketchup) if desired.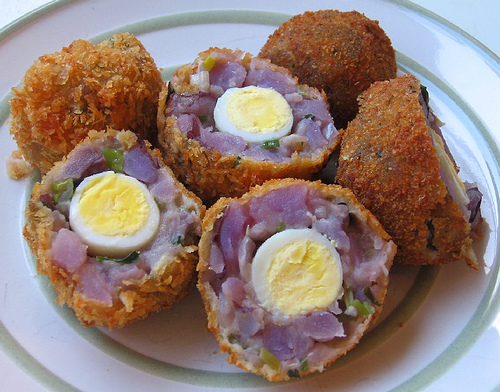 READ MORE: