Made tamales with a friend this weekend — so much effort, but so much fun (and the end product was worth it — lighter and fluffier than commercial tamales).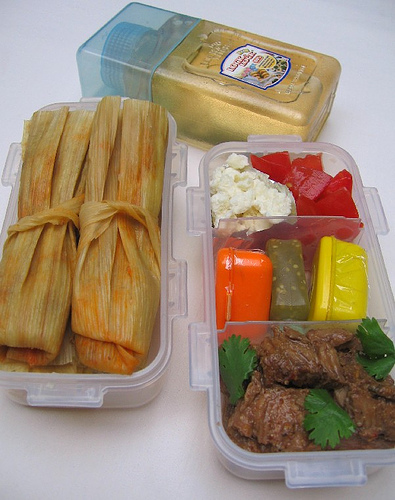 * Tamales: Top layer is pork carnitas and mole sauce, bottom layer is fresh corn, Oaxaca cheese and tomatillo sauce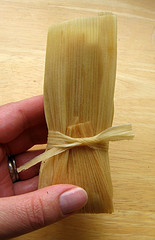 * Chontaleño blanco cheese, and tomatoes
* homemade guacamole, salsa verde, and Salvadorean crema
* grilled flap meat finished with a sweet and sour chipotle sauce (recipe from Cook's Illustrated)
* white cranberry, peach and apple juice cut with water
All packed in my Lock & Lock bento set here and here.
Tamales in the steamer. Corn on the left, carnitas on the right. Yum!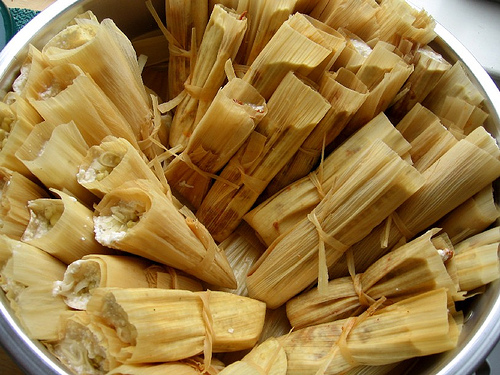 Covered with the extra corn husks before steaming, aluminum foil loosely wadded and stuffed into the gap between the two sets of tamales: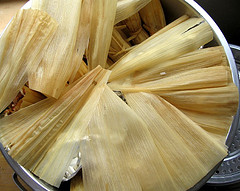 READ MORE:
I always fall back to the thermal lunch jars to pack curries that'll stay warm for hours: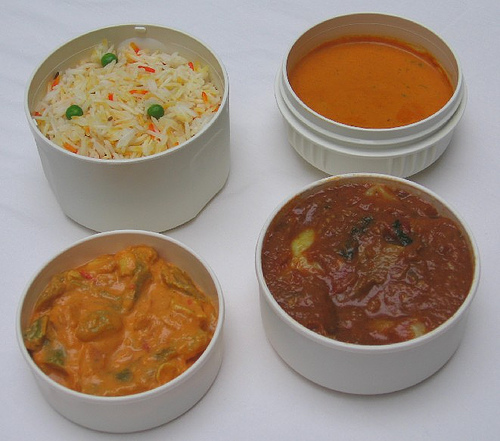 Clockwise from upper left:
rice pilaf
chicken tikka masala (missing most of its chicken)
lamb vindaloo
vegetable korma
(not pictured: the last piece of naan)
READ MORE:
How did I make this barnyard snack bento for my son without a traditional rice ball mold or egg mold?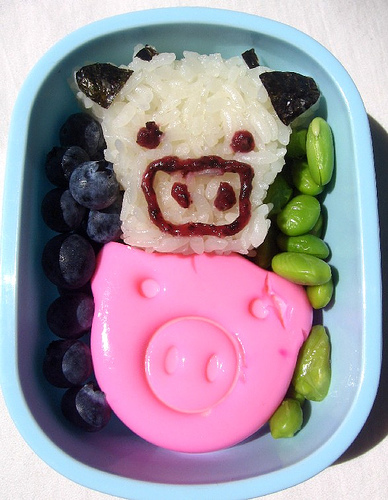 So my bento fixation is getting worse, and I've been browsing shops all over San Francisco looking for bento accessories in unexpected places. I wandered into Williams-Sonoma seeking inspiration. Usually I walk out empty-handed because of their prices, but full of ideas of things to buy somewhere cheaper. And then I saw these ice cream sandwich molds in cute shapes.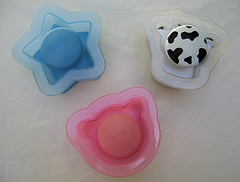 At first I thought, $14 for three molds that you'd only use a few times a year? Uh, pass. Then I realized that they could do quadruple-duty as cookie cutters, onigiri (rice ball) molds and boiled egg shapers for a child's lunches. Perfect!!! Maybe even Alton Brown would approve — not a uni-tasker!
This is what the finished ice cream sandwiches are supposed to look like with the molds: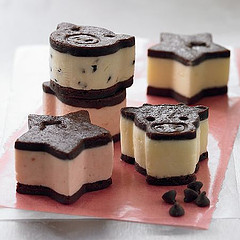 Each mold consists of three pieces, with a cookie-cutter portion, little cap for the bottom, and a shaped plunger with a raised plastic design to create the pattern (giving you the cow face, etc.).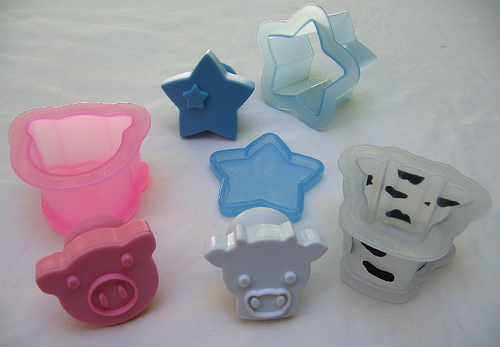 I figured they'd work just fine as ice cream sandwich molds, cookie cutters, and onigiri molds, but I was most curious about how they'd do as hard-boiled egg shapers. You may have seen these crazy gadgets before (photo below): you hard-boil an egg, peel it while it's hot, pop it into a plastic mold while it's still hot and pliant, and click the lid shut. Dump the whole thing into cold water for 10 minutes, and you've got an egg that looks like a rabbit head or a star. Only thing is, they're hard to come by outside Japan, and they don't seem to have many other uses. (July 2008 EDIT: You can get the egg molds below cheaply at Ichiban Kan's online store for US$1.50 per pair (US shipping only), J-List starting at $3.20 per pair (international shipping), and from eBay sellers. Check out my list of online bento stores for additional sources.)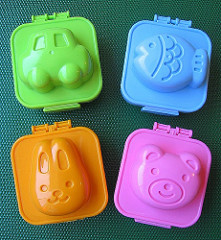 I boiled three eggs, peeled them while they were still very hot, and plopped them into the wet molds. But because these molds weren't originally designed for eggs, they don't have little latches to keep everything closed tightly around the egg while it chills in water. I improvised by looping a thick rubber band around the plunger & mold to apply even pressure. Here they are taking a cold bath: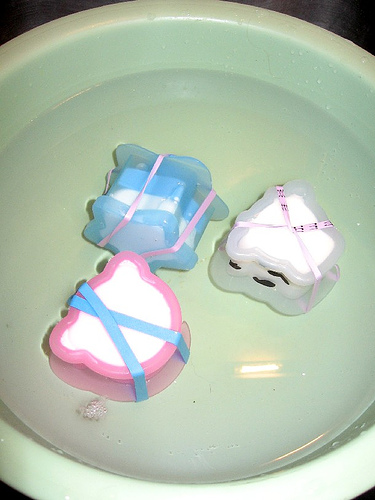 Fresh out of the mold, this is what they look like: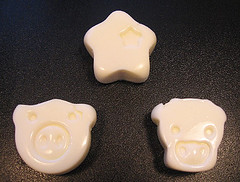 The star and pig shapes turned out okay, but the cow shape would have been better had I used extra-large or jumbo eggs instead of large. Had to be careful removing the plunger from the face of the egg. Next time I may spray the face of the plunger with a little Pam (vegetable oil spray) before putting the egg in the mold.
Deciding to dye the star and the pig eggs, I filled a couple of ramekins halfway with cold water and mixed in a little food coloring (blue and red). Left them in for a few minutes until they got to a color I liked.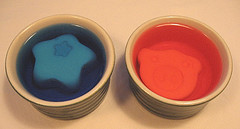 Voila! Dyed, molded eggs from an ice cream sandwich maker!!!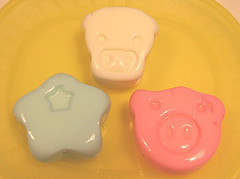 I looked around on the web for other places to find them, and found Tovolo ice cream sandwich molds on Amazon.com slightly cheaper, and in additional designs. Mission accomplished! (July 2007 EDIT: Evidently WalMart is now selling the cow/pig set for US$5, and Williams Sonoma has the three-piece set back in stores on sale for US$10. Full update here.)
READ MORE:
So this morning I had fun with rye cocktail bread — about 2 inches across and very thin. For some reason this lunch is making me very happy! Packed in my large 940ml Dear Label box.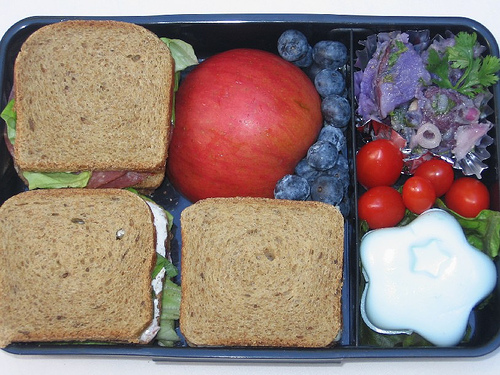 * Six mini-sandwiches, stacked two high. Fillings were: 1) salami, havarti, lettuce and cognac/pepper mustard, 2) cream cheese, green onions and pepper, 3) Marmite and cheese, and 4) Nutella and peanut butter.
* Half a Fuji apple, cut side dipped in lemon juice
* Blueberries
* Leftover Peruvian purple potato salad
* Grape tomatoes
* Hard-boiled egg, shaped with a mold, dyed light blue
I made a smaller version for my son, and packed it in a new snack container.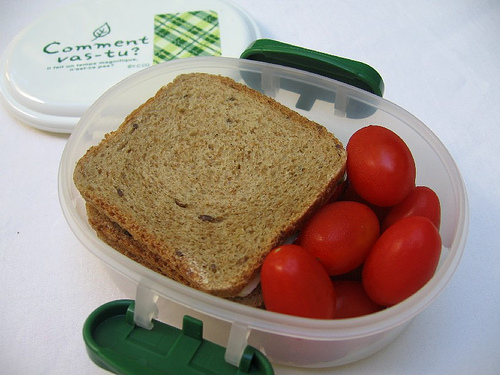 Two mini-sandwiches: one is cream cheese, the other is havarti (can you tell he likes cheese?). More grape tomatoes.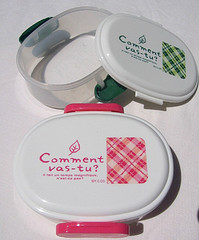 Small 260ml side dish bento boxes ("Comment vas-tu?"). With the very Canadian French sub-title of "il fait un temps magnifique, n'est-ce pas?" No metal in the hinges!
READ MORE:
A new way to pack lunch. Rice packed separately in a 300ml thermal food jar by Thermos Nissan — kept the rice soft and warm for five hours. Shrimp and peas in a 350ml Asvel bento box (with clear lid).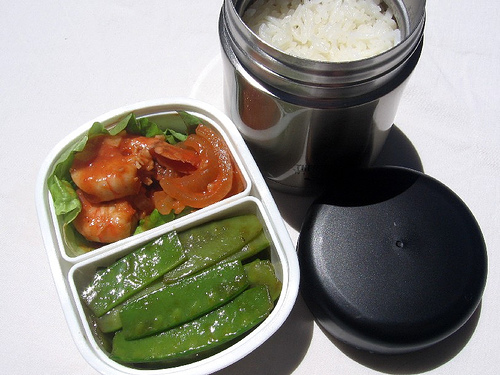 * shrimp in chili sauce with onions (recipe from berry_mix's mom)
* Chinese quick-fried snow peas
* rice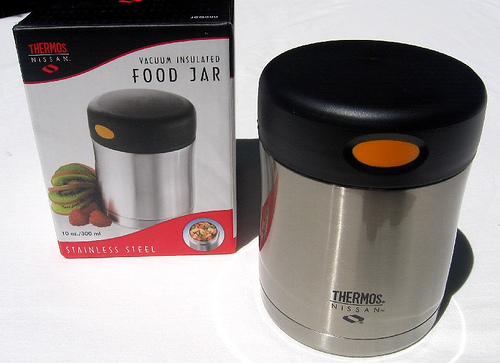 From Thermos Nissan: a 300ml small thermal food jar for hot soups, stews, curries, rice, etc. (or cold items like yogurt, cold soup, salads, etc.). Dishwasher-safe. This has excellent heat retention: better than all thermal lunch jars I've tested, and better than all-plastic thermal food jars because it's metal. They make a larger version
as well for bigger appetites, and I've seen this sold at big stores like Target.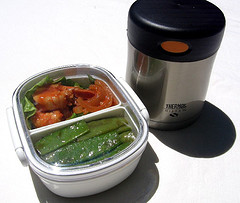 The lunch with both lids on.
READ MORE: