Got inspired by a purple-themed Laptop Lunch I saw on Flickr last week, so I dragged out an old purple recipe for this: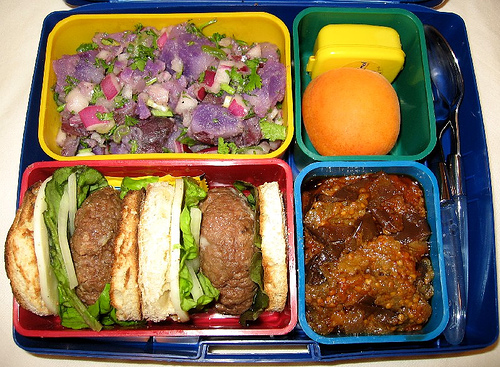 * Peruvian purple potato salad
* apricot (and ketchup in a container for the burgers)
* imam bayeldi: Turkish eggplant and tomato appetizer
* mini-cheeseburgers on cut-out English muffins, with lettuce and onions (mayo packet stuffed behind the burgers)
READ MORE: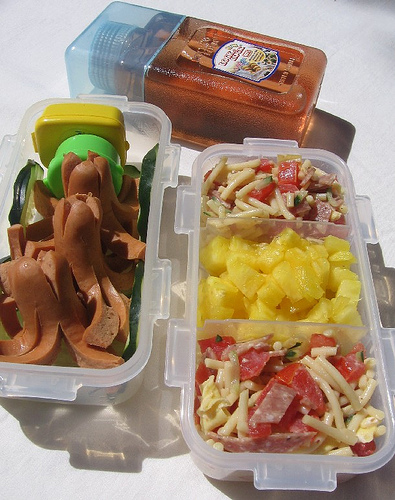 * cut-up hiyashi chuuka (Japanese pasta salad: tomatoes, egg, cucumber, and salami slices with cold pasta and soy sauce-based salad dressing)
* fresh pineapple (still using that up!)
* octopus-cut hot dogs on a bed of cucumber slices
* container of ketchup for hot dogs, container of yogurt/herb dip for cucumber
* drink container with apple, berry and cherry juice cut with water
I cut the tops of the octodogs because my toddler chokes on full-width hotdogs. Also substituted salami for the traditional sliced ham in the hiyashi chuuka. In my new Lock & Lock bento set,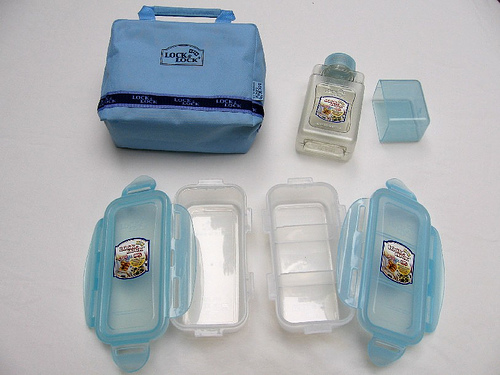 An exploded view of the little Lock & Lock bento set — the Korean tupperware by Hanacobi Co. You can see that the bottom right container is divided, while the bottom left container is not. The bottom two containers are 350ml each (12 oz), with a 300ml drink container/cup on top. Microwave/dishwasher/freezer- safe, and water/air-tight.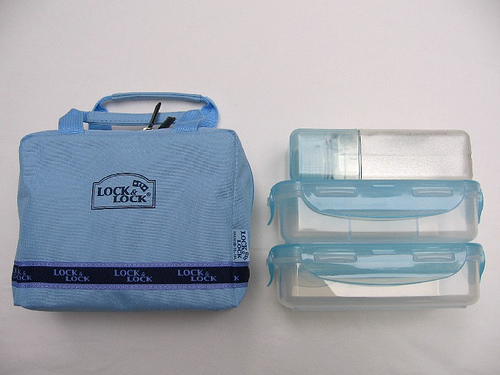 The containers all stack and fit into their own little fitted carrying case with zipper.

READ MORE:
For my son to go to the zoo tomorrow, in my small 430ml Asvel box. Think I'll have to stop using this pink bento box for him when he starts going to school — kinda girly!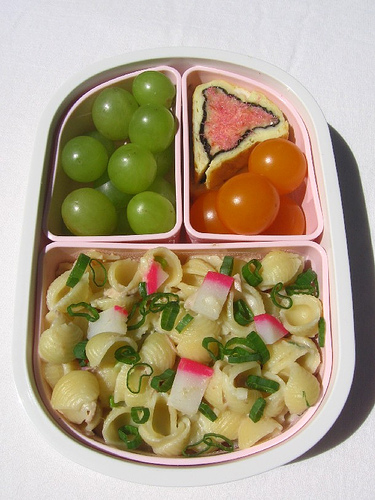 Annie's shells & cheese pasta, with tuna fish, kamaboko and green onions
grapes
dashimaki tamago with nori rolled into it, topped with sakura denbu, shaped like a heart (uh, or a triangle? I need to practice rounding the edges instead of squaring them) (step-by-step tutorial here)
cherry tomatoes
READ MORE:
Made this for my son and I to share while we were out today. Thai curry's a little hot for him, so I mixed yogurt in to bring the heat level down so we could both eat from the same container (my Nissan Stainless Thermal Lunch Tote).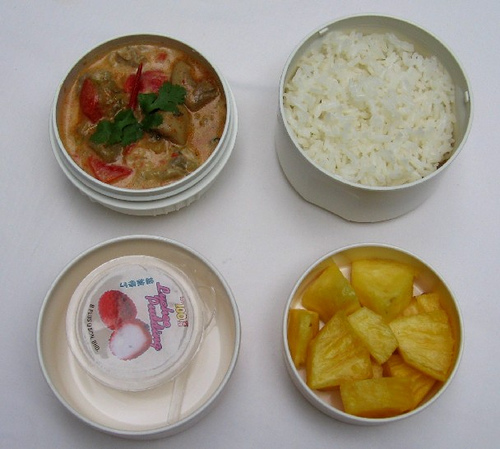 * Red Thai curry with chicken, eggplant and red peppers (with yogurt)
* Rice
* Fresh pineapple
* Lychee pudding
I packed another one in my smaller Chinese knockoff lunch jar for my husband: just curry and rice, but a nicer photo.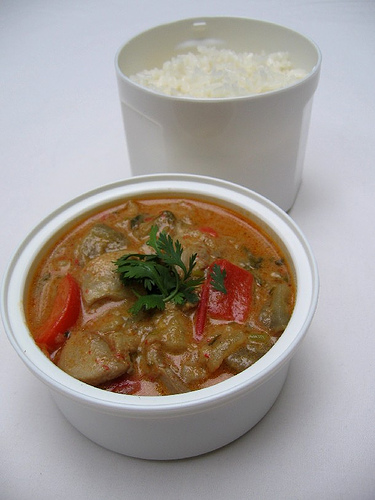 READ MORE:
My first photo of a Laptop Lunchbox lunch. I'm thinking that this is where the LL's tight lid for the yellow container really pays off — with yogurt!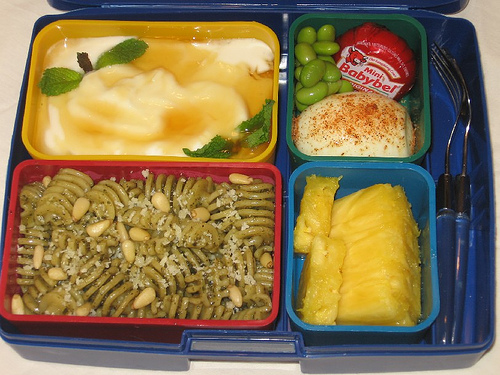 Pesto radiatore with pine nuts and romano cheese
Greek yogurt with Greek thyme honey and mint garnish
Edamame, mini Babybel cheese, hard-boiled egg with Creole seasoning
Fresh pineapple
(EDIT on Food Safety: I packed the yogurt in the Laptop Lunchbox in its insulated carrying case with a frozen gel pack so the yogurt stayed cool until eating.)
I packed a smaller bento box with only the pasta and pineapple, but I don't find it as interesting. It's here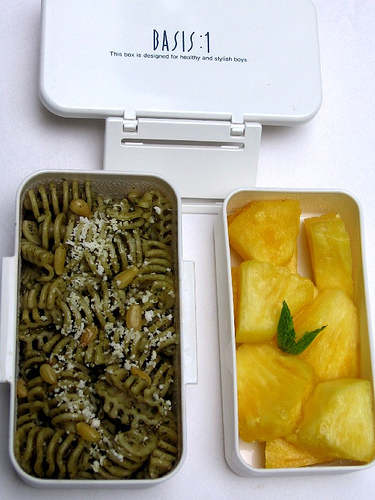 READ MORE: