Archive for the 'review' Category
(Chronologically Listed)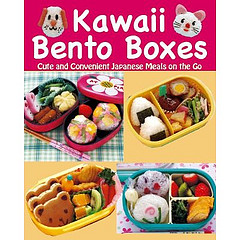 There aren't many bento cookbooks written in English, so of course I'm curious when a new one comes out. I'm a big fan of Japanese-language cookbooks for their glanceable step-by-step photos and intuitive graphic presentation of complex material. Kawaii Bento Boxes: Cute and Convenient Japanese Meals on the Go, newly published by Japan Publications Trading's Boutique-Sha, really captures the essence of fun, kids-oriented Japanese bento cookbooks.
As I was leafing through it, though, something started to seem oddly familiar. A quick browse through my kitchen bookshelf revealed why I was experiencing deja vu: it's a straight translation of the same publisher's Japanese-language cookbook Ichinenju Yakudatsu Tsuen Obento: Daisukina Kondate ga Ippai: ("Children's Bentos that are Helpful Year-round: Lots of Favorite Menus"), with identical photos, layout, and text.
Now, there are both good and bad aspects to a straight translation of a bento cookbook written for the Japanese market. It's extremely well suited for bento enthusiasts or Japanophiles already familiar with Japanese food, but may miss the mark for others… Read the rest of this entry »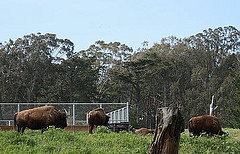 On Saturday we hosted a hanami, the Japanese tradition of a picnic under cherry trees when they're in bloom. Sakura cherry trees blossom only during a brief time during the spring and the pink petals soon fall from the trees, so there's an urgency to enjoying that ephemeral moment when they're at their peak. In Japan, you'll find all kinds of people crowding onto blankets under cherry trees even on busy sidewalks, sprawling out with bento meals, and beer or sake. For our California Hanami, we invited friends to our favorite hanami location in San Francisco, a small clearing of cherry trees in Golden Gate Park across from the Buffalo Paddock. The only thing that was missing were drunk Japanese salarymen in suits trying out their English!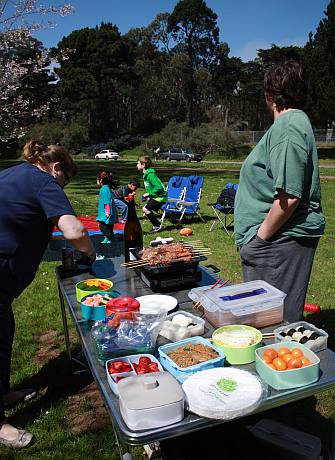 Foodbuzz sponsored the food as a part of their monthly 24, 24, 24 food blogging event, so we were able to put together the most elaborate hanami picnic I've had to date, instead of store-bought bentos or quickly slapped-together sandwiches. I always used to envy the well organized people at hanami who were able to cook meat or chicken on little portable grills — if you were lucky they might strike up a conversation with you and offer you a bite of their tasty food. I decided that this was the year that we would have the great-smelling grilled feast.
Food: We had a variety of marinated meats to grill: chicken thighs, marinated beef short ribs (kalbi), skewered bulgogi beef, and spicy pork sliced thin and skewered. Vegetables like enoki mushrooms and bell pepper strips went on the grill, while salad vegetables like cucumbers, baby carrots and celery were easy to dip in ranch dressing. Rice balls are good finger food, so I made a variety with different fillings: grilled salmon, umeboshi sour plum, Gohan Desu Yo! seaweed paste, kimchi, and plain furikake. Seasoned noodles, sliced ripe strawberries, tiny tangerines, beer and a big bottle of Onigoroshi sake rounded out our little feast. (Read on for food details and reviews of the different picnic containers.) Read the rest of this entry »
I know some of you are looking for alternatives to plastic bento boxes because of concerns about the health effects of food packed or heated in plastic, so I've been playing around with metal bento containers. Most multi-tier latching tiffin tins are plain-looking and too big for a one-person bento-style lunch, so I was pleased to find a smaller metal alternative with a dash of style, from Kids Konserve.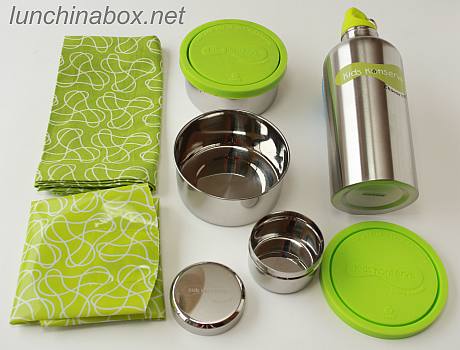 I tried out their green lunch set, which consists of a cloth napkin/placemat, two 250ml stainless steel bowls with green plastic lids, a drink bottle, a reusable sandwich wrapper, and a cloth carrying bag with handles and a velcro closure (shown below). I was also curious about their smaller, all-metal 80ml condiment containers, pictured above at the bottom/middle. I had a few questions and concerns going in, namely about how watertight the containers were and how well the sandwich wrapper would work. (Read on for the full review and a sample lunch packed inside.) Read the rest of this entry »
In a break from my usual "speed bento" lunches that only take about ten minutes to pack, the other week I made more of an effort for Valentine's Day and packed a special lunch for my four-year-old son to take to preschool. You can see his whole classroom's Valentine bentos lunches here if you're curious. (If you've got any special Valentine's lunches of your own, today Feb. 23rd is the last day for entries in this month's Valentine bento contest with a chance at winning a bento box prize.)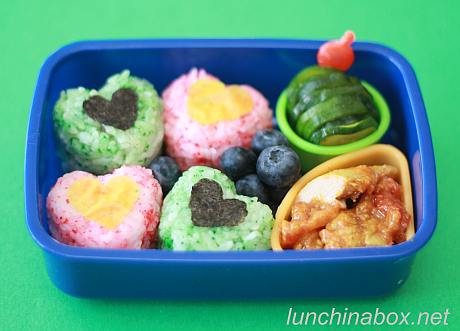 It took me a while to post this as Bug & I were in a car accident last week where we were badly rear-ended, and I've been a little discombobulated and tied up with all the post-crash red tape. Thankfully both Bug and I were able to walk away from the wreck, but our car may be totaled (jury's still out). If you'd like to see a photo of our smashed-up car, I posted one on the forum with some details.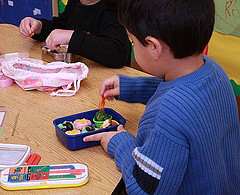 Contents of preschooler bento lunch: Heart-shaped onigiri rice balls filled with Gohan Desu Yo! seasoned seaweed paste (colored with red or green hana-ebi shrimp powder, decorated with nori seaweed and mamenori soy wrappers
described below), blueberries, steamed zucchini with Korean barbecue sauce, and chicken from a homemade Indian curry (lal shorve vala murgh).
Morning prep time: 30 minutes, WAY longer than my usual speed bento, but fine for a special occasion Valentine's Day lunch. My shortcuts were leftover curry, frozen rice, and a heart-shaped molds for the rice balls. In the morning I assembled the rice balls and made the zucchini in my microwave mini steamer. (Read on for decoration and equipment notes, a review of Uncooked Roti-Chapati Indian flatbread dough from Costco, and an additional preschooler lunch…)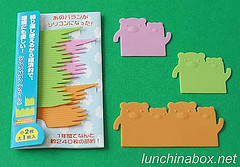 On my last trip to Ichiban Kan and Daiso discount stores, I picked up some cheap new silicone versions of bento accessories that actually make sense in silicone. I've started reaching for them recently in favor of standard paper or plastic ones as they're reusable, flexible, dishwasher-friendly, and you can heat them up.
The first are silicone food dividers (baran) that separate different foods in a bento lunch, keeping flavors from mingling and keeping textures intact. They're washable and reusable — I've had good results with putting them in a utensil basket in the dishwasher to keep them from flying around. (Time to update my bento care & maintenance post…) At US$1 for a pack of three (bears or grass versions available online), they're still reasonable. I've also heard of people cutting up flexible cutting mats to use as dividers.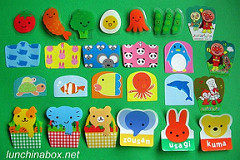 Up to now I've been using edible dividers or lightweight plastic dividers (shown at right) that are meant to be disposable, but I wash and reuse them until they're torn, worn or lost. The drawback with these is that they don't do as well in the dishwasher, and they're so flimsy that they do get torn and worn. They are adorable, though, so I'll keep them in rotation to liven things up a little. (Read on for shaped silicone food cups…)