Thai curry lunch and recipe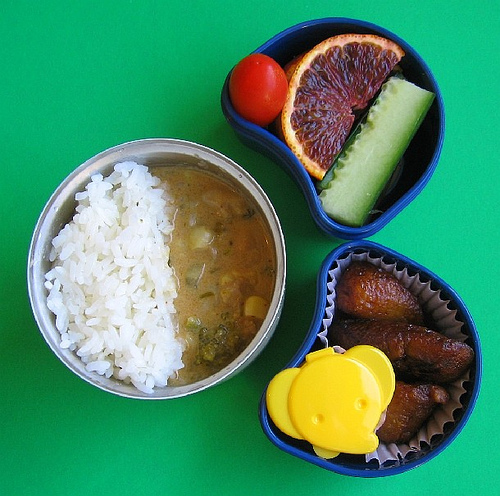 Contents: The side dish containers in the insulated bento set contain blood orange, cucumber, cherry tomatoes, and plantains with crema (sour cream) from a Salvadorean restaurant in San Francisco (Balompie). The red Thai curry is homemade with chicken, fresh corn, broccoli and yellow bell peppers; recipe follows. Thai curry is a standard throw-together dinner in our house; with the help of a few Thai pantry staples, I can get it on the table in less than 30 minutes using whatever protein and vegetables I have on hand.
Morning prep time: 6 minutes, using mostly leftovers. The fruit needed slicing, and the cold rice and curry needed heating in the microwave.
Packing: I used the "rice lid" packing technique described in this post to pack both rice and curry in the same thermal food jar without soaking the rice through (totally covering the curry with rice after taking the photo). Be careful not to overfill the food jar, though, otherwise you'll force the rice down into the curry and defeat the purpose of the rice lid. You can get the same effect as the pricier insulated bento set by using a small side container and a thermal food jar , commonly available from stores like Target or Walmart.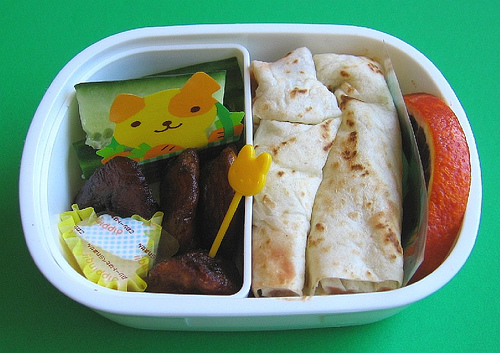 Bug's Lunch Contents: Leftover kid's burrito, cucumber sticks, blood orange slice, and plantains with crema (sour cream).
Morning prep time: 4 minutes.
Packing: I used plastic food dividers to separate the moist orange from the dry burrito, and the cucumbers from the plantains. A small pick helps small hands with the plantains, but unfortunately the little covered sauce cups didn't hold up to the rough treatment Bug gave the container before opening it, and crema spilled out. Lesson learned: these little cups are for lunches that'll be handled carefully — probably not the best for children.
Kasma Loha-Unchit, author of award-winning Thai cookbook It Rains Fishes , has an excellent website with Thai cooking basics, preferred brands, ingredients, articles and recipes. A strong recommend for getting a grasp of Thai cooking, I learned a lot from this site.
Thai Curry (Master Recipe)
1 can coconut milk (13.5 oz, 400ml) that's been sitting on the shelf for at least a few days, so it's separated
2-4 Tbs curry paste, depending on taste (red, in this case)
1.25 lbs or so of meat (chicken thighs, in this case), cut into bite-size pieces
vegetables (1 red bell pepper, 1 big eggplant), cut into medium cubes
2-3 kaffir lime leaves, cut finely into chiffonade (optional, but fabulous)
juice of 1 lime
1 Tb palm sugar (or brown sugar, or 1 packet of Splenda)
12-15 splashes of fish sauce (avoid Tiparos brand if possible, tastes bad)
1/2 cup or so of chopped cilantro (or whole Thai/holy basil, or chopped green onions)
In a wok or Dutch oven on low heat, heat the thick coconut milk that rose to the top of the can. Stir constantly until the coconut solids separate from the oil.
Add the curry paste and stir until incorporated.
Turn up heat to medium-high or high, and add the meat. Stir and cook until almost browned.
Add the vegetables and stir-fry for a minute or so.
Add the thin coconut milk and keffir lime leaves. Stir, bring to a boil. Reduce heat to medium low until everything is cooked through (depends upon what meat/veggies you're using). If you need more liquid, add up to 1/2 can of water.
Off heat, add the lime juice, sugar, fish sauce and cilantro, and stir. Taste and be sure you've got a good balance of hot, sweet, salty and sour. Adjust seasonings as necessary, and serve with warm rice.
Lunch in a Box is nominated for Best Food Blog in the Blogger's Choice Awards. If you'd like to cast your vote for speedy lunch packing, click here (you can vote for multiple blogs in the same category).
READ MORE: