Lychee lunches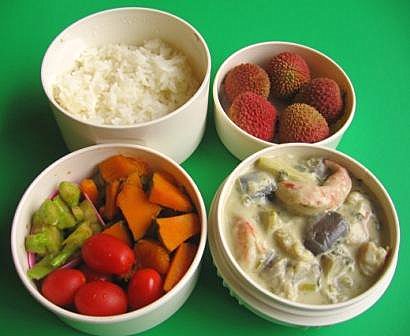 Contents of my lunch: Fresh lychees (a.k.a. litchis), rice, plum tomatoes, broccoli stems with oyster sauce, steamed kabocha squash with Korean barbecue sauce, and homemade green Thai curry with shrimp, tiny eggplant and baby bok choy (master recipe for the Thai curry here). To eat, I poured all of the warm curry right on top of the warm rice (in a half-filled container).
Morning prep time: 10 minutes, using leftover curry and rice that I packed up in the lunch containers after dinner. In the morning I pre-warmed the thermal lunch jar with hot tap water, microwaved the rice and curry, and packed the broccoli stems cold. The one bit of cooking I did this morning was the kabocha squash. I cut it thin (skin and all) to speed up cooking, and popped it into my microwave steamer with a little water for a couple of minutes on high. When it came out, I tossed it with some bottled Korean barbecue sauce and packed it up.
Packing: I only filled the big rice container halfway with rice so that I would be able to pour all of the curry on top of it just before eating (also, the lunch jar is a little big for me when packed full of dense food). Packed in my big Thermos Nissan stainless lunch jar (same size as Zojirushi's Mr. Bento, but often much cheaper). I pre-warmed the lunch jar by filling it with hot water from the tap, and letting it sit while I made the rest of the lunch.
Ingredient: After reading Thai cookbook author Kasma Loha-Unchit's excellent website a few years back, I decided to seek out Thai oyster sauce and do a taste test. I was astounded by the difference between Chinese oyster sauce and the fresh, intensely oystery flavor of Thai oyster sauce (Mae Krua brand). Loha-Unchit writes about Thai oyster sauce here; I've become a convert to the Mae Krua brand but should probably try the Dragonfly Super Premium when this bottle runs out. I even threw away my Chinese and Japanese oyster sauces after tasting the Mae Krua (pretty unheard of, considering how cheap I am).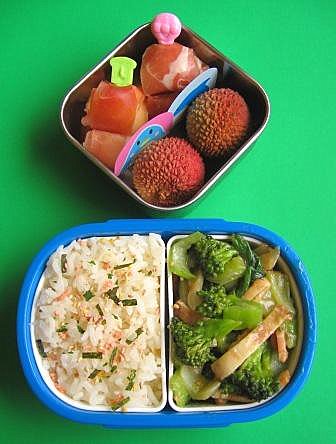 Contents of preschooler lunch: Hami melon wrapped in prosciutto, whole lychees, rice with shrimp furikake, and a stir fry of broccoli, baby bok choy and bacon with Thai oyster sauce. Thai curry is too spicy for Bug, so he got leftovers from a non-spicy meal instead. Not shown: Individual package of Anpanman furikake for the rice.
Morning prep time: 12 minutes, using leftovers. I briefly microwaved refrigerated leftover rice to restore its texture, and cut up the stir fry into preschooler-sized pieces. I had the melon and a melon-baller out for breakfast anyway, so I just scooped out another two, cut them in half, and wrapped in prosciutto.
Packing: The original stir fry from dinner had large pieces of broccoli, bacon and bok choy, so I cut them all smaller to make it easier for Bug to eat. To catch the juices from the melon, I folded a paper towel into quarters and put it at the bottom of the metal container. I ate with Bug and could help him, but if he were to eat this lunch on his own I would have made the rice into little rice balls (easy finger food) and peeled/pitted the lychees for him. Packed in a 270ml Thomas the Tank Engine divided box and a smaller 220ml metal side dish container.
RELATED POSTS:
Disclaimer: I have no commercial affiliation with Kasma Loha-Unchit or the Thai oyster sauces, I just know what I like. Amazon links are affiliate links, and Lunch in a Box gets pennies on the dollar for any purchases made when accessing Amazon through these links.