Korean hotpot bento dinners
Once a week I pack bentos to eat for dinner while we're out at our running club. I started doing this when my son graduated to solid food and I realized that we might have to stop going to this event that happens at Bug's dinnertime. My son has become so attached to this weekly ritual that even when we're off schedule and I offer him dinner at home beforehand, he tells me that he'd rather have a bento there instead. Of course, his eating alone isn't much fun for any of us, so I started packing meals for myself and my husband too. Our friends are always curious to see what this week's meal is, and it's always more satisfying and better for us than the chips and cheese puffs that are there (okay, okay, I eat some of the snacks too).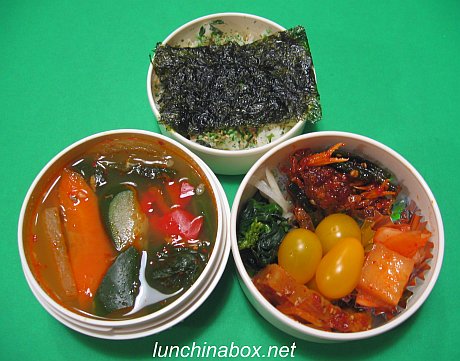 Morning prep time: 10 minutes, using all leftovers from a previous dinner. In the morning I preheated the thermal lunch jar with hot tap water while I microwaved the soup and frozen rice.
Packing: I chose a thermal lunch jar
(mine's a Nissan Stainless, often cheaper than the Mr. Bento) because of its ability to effectively hold warm soup, but left out one inner container because it was just a bit too large for this meal. The soup was originally a fish hotpot at dinner, but I left out the actual fish when packing as I was concerned that the fish would become hard and rubbery when held at higher temperatures over time. Draining the side dishes helped keep flavors from mingling, and packing the daikon kimchi in an aluminum food cup kept it from staining the inner container. I added extra hot pepper paste to the soup, basically giving up on containing strong smells, and the whole family reveled in the garlicky spice (food smells are less noticeable if you all eat the same thing, right?). (Click to read the full post with two additional meals…)
* * * * *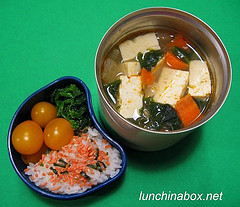 Preschooler dinner: I cut up everything in the soup small so that my son could easily eat it with a spoon, reducing eating frustration. Tofu is one of Bug's favorite foods, so I went heavy on that and didn't include kim chi or wasabi furikake that's too spicy for him (hello salmon furikake
!). I had made hotpot with less spicy chili paste so that Bug would be able to eat it. I packed the meal in a little thermal bento set (similar collapsible ones sold here in green
and blue metallic
), using only one of the two side dish containers.
Verdict: Thumbs up. Bug dug into the soup first, cherry picking the tofu first, then moving on to the rest. I wasn't sure if he'd actually eat yellow tomatoes or not, but happily he did (maybe because he helped choose them at the store?).
* * * * *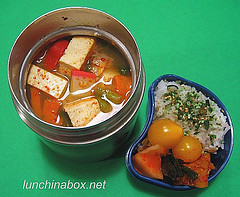 My dinner is very similar to Bug's, with everything in the stew cut up smaller for easy eating. I added extra hot pepper paste to my soup, and included my favorite panchan (daikon kimchi and spicy fishcake). This lunch is packed in the extra side dish container from Bug's insulated bento kit and a separate thermal food jar. I've had good luck with my Nissan Thermos food jar; it's pretty indestructible and keeps food warmer than any of my thermal lunch jars.
FURTHER READING: