Spam musubi bento lunches
I first heard of the Hawaiian classic Spam musubi when I was in college a long time ago, and I have to admit I was pretty skeptical. Come on, Spam? In sushi? Hmm… So when some of my Hawaiian friends decided to hold a proper luau here in California about seven years ago, I volunteered to make a party-sized batch of Spam musubi, almost as a joke. Funny thing, though. Once I started cooking (frying the Spam, flavoring it with homemade teriyaki sauce, putting wasabi furikake on sushi rice for some kick), it started to smell amazing and I tried some. Wow! I've been a convert ever since, and I'm never looking back. I'm putting the finishing touches on a recipe and tutorial, so stay tuned for that.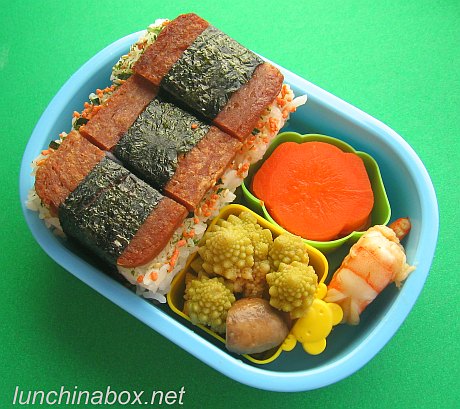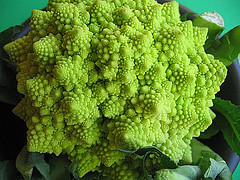 Contents of preschooler bento lunch: Mini spam musubi (teriyaki-sauced fried spam sushi), steamed carrots, shrimp, mushrooms and romanesco broccoli from a local farmers' market. Romanesco is a wild, alien-looking form of broccoli with spiral florets in a fractal pattern. While it's tender enough to eat raw, you can also cook it in dishes where you'd use broccoli or cauliflower.

Morning prep time: 14 minutes, using leftover Thai curry, frozen rice, leftover carrot that I'd steamed with rice in my rice cooker, leftover teriyaki spam and nori seaweed that I pre-cut for speed. I had made a spicy Thai curry the night before with shrimp, mushrooms and Romanesco (master recipe here), so to make it palatable for my three-year-old I plucked out the good parts and rinsed off the spicy curry sauce in a sieve, and resauced with a mild vinaigrette. (Read on for lunch details and equipment notes.)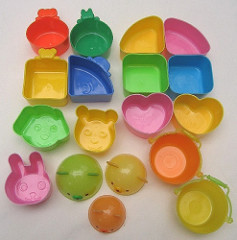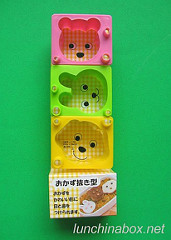 Packing: I stacked two layers of mini spam musubi on top of each other to make a filling lunch that was manageable for little hands. Reusable hard plastic food cups held the vegetables without touching the rice, and the whole lunch is packed in a 350ml Geki Rangers bento box with both subcontainers removed. (Click any photo for a larger view.)
Equipment: I used a little plastic cutter in the same shape as the dog-shaped food cup to cut the steamed carrots (both available at Daiso). Nice added touch: the cutters have extra small cutters on the top for cutting out eyes and noses — I'm not energetic enough to actually decorate the carrots, but if I were this would be a handy shortcut. I picked up the pack of three cutters for US$1.50 at the Daiso in Daly City, but the Japanese discount store has branches internationally.
Verdict: Pretty good. Bug polished off all of the spam musubi, the shrimp and the mushrooms at preschool, but decided he didn't want the carrots or romanesco. Oh well, win some, lose some.
* * * * *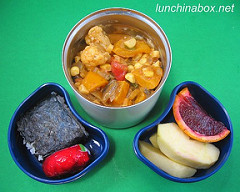 Contents of my dinner: Coconut vindaloo vegetarian curry with cauliflower, fresh corn, eggplant, bell peppers and onions. Spam musubi (with spam sandwiched inside two layers of rice), wrapped cheese, apple slices and Moro blood orange slices.
Afternoon prep time: 12 minutes, using leftover curry, frozen rice, and leftover teriyaki spam. I pre-warmed the thermal food jar with hot tap water while I microwaved the curry, cut the fruit, and assembled the spam musubi with leftover food elements.
Packing: I dipped the apple slices in lemon water mixed with some Splenda to cut the sourness while preventing the fruit from browning. The meal is packed in a 560ml insulated lunch set that allows the packing of both warm and cool foods in the same container.
* * * * *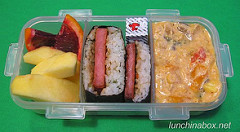 Contents of preschooler bento dinner: The same as mine, but with LOTS of Greek yogurt stirred into the curry to cut the spiciness. Because this was a dinner that Bug didn't take to preschool, I didn't need to avoid yogurt that's against his school lunchroom restrictions.

Packing: Bug's dinner went into a subdivided 350ml box from a Lock & Lock lunch set; the non-removable subdividers come up to the lid, keeping the thick curry in place. To keep the yogurt cool and safe, I packed his bento box in an insulated Shinkansen lunch bag with tiny ice packs cut from a flexible ice blanket.
Verdict: Good. Bug ate it all with me, so I was there to encourage him to eat everything in his bento before I'd let him have any of the snacks at our running club. Motivation!