Bulgogi & spam musubi bento lunches
May I just say that kindergarten bentos have been kicking my butt this year? Bug's new school starts super-early, and I'm NOT a morning person. Most mornings I'm thankful for every time-saving trick I can find, and I'm guilty of not taking many pictures as we rush out the door.
It's been getting a little better lately, though. We're hosting a homestay language teacher for a month, which has prompted me to get on top of our crazy morning routine (and declutter the house!).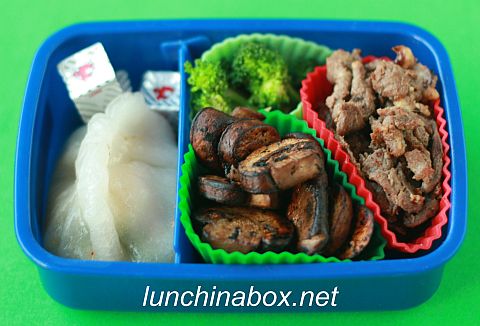 Contents of kindergartener lunch: Shrimp & chive har gow dumpling, sauteed mushrooms, bulgogi (Korean grilled marinated beef), steamed broccoli with vinaigrette, and cheese cubes.
Morning prep time: 13 minutes, using a leftover dumpling and bulgogi from an earlier meal. In the morning I briefly steamed the broccoli and re-steamed the dumpling (to re-soften the dough wrapper) in my microwave mini steamer, then sauteed the pre-cut mushrooms. (I got a bag of cut mushrooms as sample at a food event, but I usually cut my own mushrooms with a knife or hard-boiled egg slicer.) I let the mushrooms and broccoli drain and cool in a sieve set over a bowl for a few minutes to prevent condensation inside the box once it was closed up (which also improves the food safety of a packed lunch).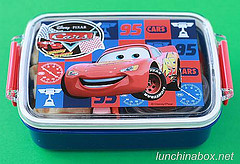 Packing: Reusable silicone baking cups hold the mushrooms, broccoli and meat, keeping all flavors separate for finicky wee ones. Cheese cubes act as gap fillers to stabilize the lunch for transport. Not shown is a small sauce bottle filled with dipping sauce for the dumpling. The lunch is packed in a 450ml Disney Cars bento box with removable divider, about the right size container for a five-year-old according to the bento box size guidelines.
Verdict: Bug ate most of the lunch, but left about half of the dumpling behind. He said he ran out of time to eat, which is increasingly becoming an issue with his lunches (they've got less time for lunch at school than he's used to at home). I'm not sure if there's actually not enough time, or if it's just more distracting to be eating at the same long table with the rest of his class…
* * * * *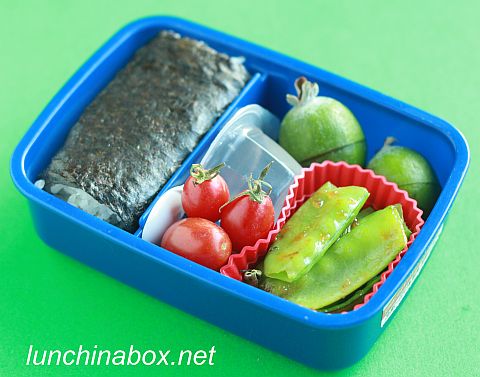 Contents of kindergartener lunch: Spam musubi (rice with fried spam seasoned with teriyaki sauce, see the full spam musubi tutorial), sauteed snow peas with Thai oyster sauce, strawberry pineapple guavas, cherry tomatoes, and a 100% juice jello cup from a local Asian market. I picked up the tiny pineapple guavas (also known as feijoa or guavasteen) at a local farmers' market; they've got a great fragrance and flavor, and we eat them out of hand as a snack. I even discovered a pineapple guava bush in the backyard of one of our friends recently, which they didn't know about — delicious discovery for them!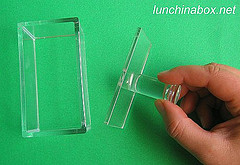 Morning prep time: 10 minutes, using pre-fried/seasoned spam I had on hand, and frozen rice. In the morning I microwaved the frozen rice and quickly assembled a single spam musubi with my spam musubi press. That was SO the way to make spam musubi in the morning. Super-fast, and totally enclosing the rice in nori makes it easy for little hands to manage.
Speed bento tip: To speed up prep of the spam musubi, you can fry and season the spam ahead of time, and either refrigerate or freeze the seasoned spam so it's on hand whenever you want it. Combine it with fresh or reheated frozen rice for speedy spam musubi in the mornings.
Packing: I kept the spam musubi whole to make it easier for little hands to eat without it falling apart. I cut the pineapple guavas in half beforehand so that Bug could use the little spoon from the jello cup to quickly scoop out the insides. The snow peas went into a reusable silicone baking cup to keep the sauce away from the other elements of the lunch. The lunch is packed in a 450ml Disney Cars bento box with movable divider.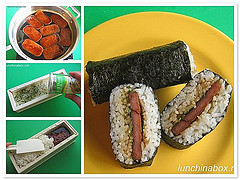 Verdict: Big thumbs up on the spam musubi, which delights Bug whenever it appears in his lunch. He left behind one of the pineapple guavas (saying he didn't have enough time), and also mentioned that one of the kids at school said it looked like a poop. We had a good laugh about who might have green poop, and evidently he told the girl, "Don't yuck my yum!" (Classic food blogger kid — I've been using this line on him since reading it in the Michael Pollan NYT article on Food Rules: An Eater's Manual.
RELATED READING: