Miniature fruit & sandwich bento lunches
When I'm grocery shopping I like to keep my eyes peeled for miniature fruit that can be packed whole inside of a bento lunch, like Manzano or red bananas, Lady apples, or tiny tangerines. Although I can always cut up full-size versions and dip them in citrus juice to keep the fruit from browning, packing whole fruit is safer from a food safety standpoint, especially during warm weather. Japanese-language bento books tout packing whole fruit and vegetables during the summer for this reason, thus we see such accessories as the Banana Guard or the Banana Bunker that protect the delicate fruit from bruising in transit. I like to think that a miniature apple can rival cut fruit like apple rabbits and banana wedges in cuteness, but I may be deluding myself.
Sandwiches don't have to go into a plastic baggie and get smushed in your bag before lunch. Roll or wrap sandwiches lend themselves nicely to a sushi-style presentation in a bento box, while bulkier sliced sandwiches can fit pretty much intact inside the larger collapsible sandwich cases that I like to take along for airplane meals. These are a couple of quickie sandwich lunches from last week (yes, I'm backlogged).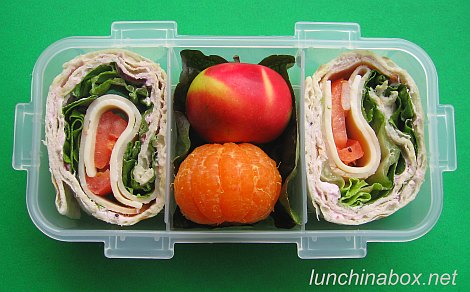 Contents of preschooler lunch: Turkey and Swiss cheese rolls, tangerine and a tiny Lady apple. Bug adores these darned rolls from Costco, although I find them to be a little bland and in need of mustard. They're easy finger food, though, and they make my son unbelievably happy, so I humor him.
Morning prep time: 3 minutes, using store-bought wrap sandwiches. In the morning I just peeled the tangerine and scraped the white pith off with my fingernail. (Click to read the full post with packing notes and an additional preschooler lunch…)

Packing: This was an exercise in creating visual interest from simple elements. I'd packed these rolls in a lunch before, but found the arrangement of two rolls next to each other to be a little unbalanced. In this lunch I put a roll on either side of a color anchor of fruit on red-leaf lettuce for better composition. I got a new insulated Lock & Lock lunch set with larger 470ml containers than my normal 300ml version (large version sold here in blue and here in maroon from an store in Australia that ships internationally). Fully packed, a 940ml meal is too big for me according to the bento box size guidelines (and my stomach!). But remove one container from the set and I've got a nice size meal and drink for my three-year-old, with room in the insulated bag for an oshibori damp hand towel and utensils.
Verdict: Is there any question? Bug was so excited about this lunch that he ran up to one of his preschool teachers first thing in the morning and told him that he had "rolls" in his bento. Everything went down the hatch at preschool except the little apple and a couple of tangerine segments, which he ate in the car afterwards.
* * * * *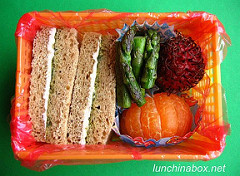 Contents of preschooler lunch: Sandwich of cream cheese and basil paste on whole wheat bread, roasted asparagus, rambutan fruit, and a tangerine. I would have used pesto sauce in place of the basil & olive oil paste, but my son's school's lunchroom allergy restrictions ruled out the pine nuts in pesto.
Morning prep time: 12 minutes. In the morning I roasted the asparagus in my convection toaster oven while I made the sandwich and prepped the fruit. To make the asparagus, I tossed two stalks with a little olive oil, salt and pepper, and broiled them for about 7 minutes on a foil-lined baking pan for easy clean-up, turning partway through.


Packing: The asparagus and peeled tangerine went into Cars-themed disposable paper baking cups to keep everything separate, and I cut around the middle of the rambutan and removed the fruit once before replacing it for easy preschooler eating. I lined the child-sized collapsible Snoopy sandwich case with optional red plastic wrap that I found over the holidays, to keep everything moist and contain crumbs in transit. The sandwich case base can go in the dishwasher, but I hand wash the lid to preserve the picture (as per my post on how to care for your bento gear).
Verdict: So-so. Three-year-old Bug ate the sandwich at preschool but left everything else until after I picked him up (sigh). On his second attack, he ate everything else (asparagus first!). Big thumbs up on the basil paste in the sandwich.
FURTHER READING: