Sloppy Joe lunches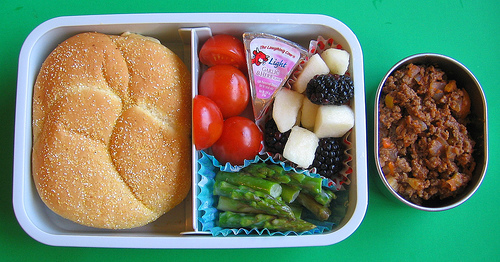 Contents of my lunch: A do-it-yourself homemade Sloppy Joe sandwich (filling on the side), asparagus with poppyseed dressing, cherry tomatoes, garlic cheese wedge, pear and blackberries.
Morning prep time: 5 minutes, using leftovers. The Sloppy Joe filling was leftover from dinner the night before, so in the morning I just made the asparagus and fruit. For the asparagus, I microwaved it with a little water, drained, and tossed with premade poppyseed salad dressing.
Packing: Because Sloppy Joe filling is so moist, assembling the sandwich ahead of time would ruin the bread and leave you with a soggy mess at lunchtime. The solution is to make it just prior to eating, so I packed the meat filling in a separate metal container (review here) to keep the juices away from the rest of the lunch until I was ready to eat. To prevent the pear from browning, I tossed it with a little lemon juice mixed with pear/peach juice. The main lunch is packed in an 810ml Clex box by Asvel.
Click for preschooler and husband lunches…
Contents of Bug's lunch: Same as mine, but with store-bought tabbouleh instead of asparagus (he hates tabbouleh one day, loves it the next…).
Packing: At two years old, Bug is easily frustrated by difficult-to-eat foods — Sloppy Joes on hamburger buns at dinner the other night nearly did him in. To better contain the filling and make the sandwich more manageable for little hands, I hollowed out a hot dog bun with my fingers, creating a nice little hole for the meat filling. This worked beautifully, and Bug was able to eat the whole sandwich by himself without crying in frustration (saving me from getting more gray hair). Success! Packed in two 350ml containers from a Lock & Lock lunch set.
My husband's meal was the same as ours, packed in a deep Chinese-made bento box and metal side dish container.
RELATED POSTS: