Bento lunches don't have to include rice, in fact sandwiches are a popular item in children's bento boxes in Japan as they're easy for little hands to hold. You can use all kinds of breads to make interesting sandwich variations: mini bagels, English muffins, croissants, dinner rolls, sandwich bread cut into shapes, cocktail bread for teeny sandwiches, biscuits, regular bread roll-ups, or even focaccia or regular bread packed in a collapsible sandwich case. What's your favorite sandwich bread to shake things up a little?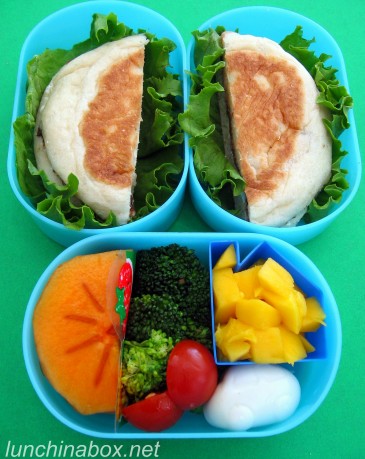 Contents of preschooler lunch: English muffin sandwich with herbed cream cheese on a lettuce garnish, crisp Fuyu persimmon slices, steamed broccoli, cherry tomato, hard-boiled quail egg shaped like a car, and diced mango.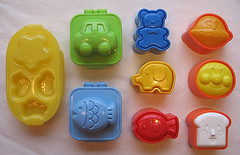 Morning prep time: 12 minutes, using a molded quail egg from an earlier batch (stored in cold water in the fridge). In the morning I quickly made the sandwich (not toasted, as per Bug's request), sliced the fruits and veggies, and steamed the broccoli in my microwave mini steamer. I shaped the quail egg with the yellow quail egg mold shown on the right: shell a hard-boiled egg while hot, quickly put it into the mold and close it up, then toss into a cold water bath for 10 minutes or so for it to take on its shape. If you don't have an egg mold, you can use common ice cream sandwich molds to shape chicken eggs. (Click on any photo for a larger view.)
Packing: The mango went into a reusable plastic food cup to keep it contained, and a plastic food divider kept the sweet persimmon away from the savory broccoli (I cut the divider to size and reuse it after washing). I'll cop a guilty plea for unnecessary garnish: I put the muffin sandwich halves on curly leaf lettuce for color contrast. If this were my lunch I would have thrown in a pre-filled sauce container with vinaigrette, and made a mini salad out of the lettuce after I'd eaten the sandwich. That, or put the lettuce inside of the sandwich itself and let it hang out of the sides for a similar visual effect. The lunch is packed in a three-tier 495ml bento box from Daiso (US$1.50) which unfortunately is a little tricky for little kids to put back together as the lids are not interchangeable. We practiced beforehand, but his teachers had to help him put this box back together. I may mark the lids and their corresponding tier with marker or nail polish to help Bug match them up by himself (self-sufficiency, hooray!).
Verdict: Too big. Bug ate both halves of the sandwich at preschool, but totally left the rest until afterwards. In the afternoon after playing he did eat everything but the persimmon slices, which had gotten a little warm from sitting too long and had stuck together. I should have left one half of the sandwich out, and just sent him to school with two tiers instead of three. (Click for details of the second lunch with curry packed with the "rice lid" method…)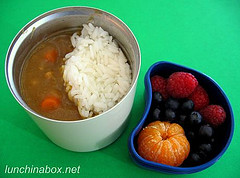 Contents of preschooler lunch: Japanese chicken curry with rice, tangerine (a.k.a. mikan or satsuma), blueberries and raspberries. It's tangerine season, and Bug is crazy about them (once the white stuff is picked off).
Morning prep time: 6 minutes, using leftover rice and curry. In the morning I preheated the thermal food jar with hot tap water while I microwaved the curry and rice.

Packing: I peeled the tangerine and picked off the white strings to make it easier for Bug to eat quickly during lunch. I used the "rice lid" technique with the curry, covering the remainder of the curry in the thermal food jar with a layer of warm white rice after taking the photo. This kept both rice and curry warm until lunchtime, although it's important not to overpack the food jar (which would squish the rice deep down into the curry). Lunch was packed in a 560ml insulated bento set (240ml rice jar and 160ml side dishes), minus one of the side dish containers to make it a better size meal for a three-year-old. In the empty space in the bag I packed a little Thomas the Tank Engine oshibori hand towel so that Bug could clean up after eating the fruit with his hands.
Verdict: Thumbs up. Bug ate all of the curry and rice (a favorite), and maybe a quarter of the fruit at preschool. He and his friends polished off the remainder of the fruit at the playground right after school. He did inform me that he doesn't like the rice on top, though, and wants the rice packed separately next time.
FURTHER READING: