Make-ahead lunch tips from Japanese magazine
A recent issue of Japanese cooking magazine Orange Page (529,447 circulation) featured a cover story on make-ahead bentos with zero morning prep aside from assembly. Now when they say make-ahead, they're assuming that you have fresh rice, but you could also make this ahead of time and freeze in rice ball form or in the shape of your lunch container. Because the leftovers are already cold from the refrigerator, you can speed up your morning prep even more because you don't have to let the entire lunch cool before closing the lid (for optimum packed lunch food safety). I've summarized the article below with general tips and recipe titles; click on either photo for an annotated view with English translations (edit: first photo link now fixed).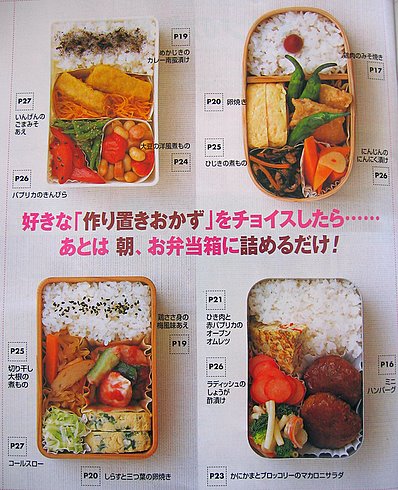 1. Retain flavor with oil-based sauces
(After cooking, cool, then store in the refrigerator together with the sauce. Drain before packing in a bento. Keeps for 2-3 days in the fridge.)
Mini hamburgers with oil-based sauce (salad oil, ketchup, Worcestershire sauce, mirin and soy)
Beef and eggplant stir-fry
Chicken breast and green peppers grilled with sauce of miso, salad oil, sake and sugar
Stir-fry of pork and kinoko mushrooms with ketchup sauce (olive oil, ketchup, Worcestershire sauce)
2. Retain flavor with vinegar-based sauces
(Cook, cool, transfer to a storage container together with the sauce, and store in refrigerator. Drain properly before packing in bento lunch. Keeps in refrigerator for 2-3 days.
Japanese fried chicken ('kara-age') with Asian pickling sauce (vinegar, soy, sesame oil, sake, sugar)
Swordfish with julienned carrot in curry pickling sauce (vinegar, mirin, soy, curry powder and salt)
Chicken breast with ume sauce (pickled plum, vinegar, mirin, soy)
Eggs simmered in abura-age soybean pouches (sauce: vinegar, Worcestershire sauce)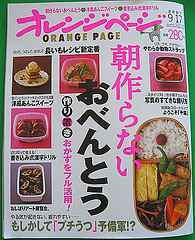 3. Make egg omelettes ahead of time
(Frittatas and tamagoyaki Japanese rolled omelette — make, cool, slice, and store in little containers in the fridge or freezer. To store in freezer, wrap individual servings in plastic wrap and put into a freezer bag. To pack a frozen serving, just you can either allow it to defrost in the refrigerator first before packing, or just pack it frozen in the bento box if you allow a few hours for it to defrost naturally. Will keep in the freezer for 2-3 weeks, or for 2 days in the refrigerator. Tamagoyaki tutorial here, and tutorial for a frittata using leftover pasta here.)
Tamagoyaki with sardines and mitsuba herb
Tamagoyaki with 'sakura-ebi' dried shrimp and leeks
Tamagoyaki with flaked salmon and watercress
Frittata with ham and 'eringi' oyster mushroom
Frittata with ground beef and red bell pepper
Frittata with tuna and corn
4. Add volume with potato salad and pasta salad
(Pasta salad tip: After boiling the pasta, quickly drain and toss it with salt, pepper and a little vinegar to add flavor)
Potato salad with cucumbers, ham and onions
Potato salad with tarako (cod roe)
Potato salad with cream cheese and walnuts
Macaroni salad with cucumber, onions and sliced cheese
Macaroni salad with fake crab and broccoli
Macaroni salad with sausage and cabbage
5. Use dry pantry items for a "healthy, delicious menu"
Simmered soybeans (Japanese style, Italian style with tomatoes and sausage, "ethnic style" with green beans)
Simmered hijiki (Japanese style with carrots and abura-age soy wrappers, Western style with bacon and 'renkon' lotus root, or Korean style with tofu and nira leeks
Simmered daikon radish strips (Japanese style with carrots and kamaboko, Western style with corn and red bell pepper, or Chinese style with Chinese pickles)
6. Vegetable side dishes
(As with many bento cookbooks, these are separated by color for when you pack according to the 5-color rule of thumb.)
Red/orange: Marinated carrots with lemon and honey, pickled carrots with garlic, fried red bell peppers, red bell peppers with ground peanuts, cherry tomatoes marinated in herb oil, radish slices pickled with ginger
Green: Cole slaw, pickled cabbage and ginger, green beans with ground sesame seeds, long-simmered green beans, bell pepper strips with bonito flakes and soy sauce ('okaka'), fried bell pepper with shichimi pepper, broccoli with 'sakura-ebi' dried shrimp, and Chinese cabbage ('komatsuna') with spicy mayonnaise sauce
READ MORE: