Seafood soup lunches
In an effort to get through my photo backlog before Bug's first day of preschool on Monday, here are some remains of a lovely Peruvian meal from Fina Estampa restaurant in San Francisco. The standout was aguadito de mariscos, a shellfish soup with cilantro sauce, rice and white wine. I packed my soup in a little thermal bento set, which is handy in that the lid of the thermos lifts off instead of screwing off, so it's easy for little hands to open. Although similar sets sell here and here for about US$40 (ouch), you can duplicate this setup on the cheap by using a thermal food jar and separate bento box packed in an insulated lunch bag to take both hot and cold foods at the same time.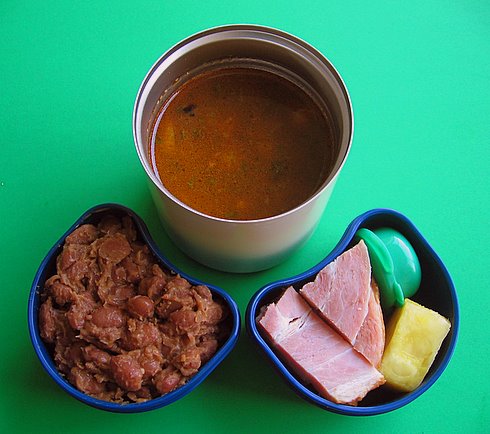 Contents of my lunch: Aguadito de mariscos (shellfish soup with cilantro sauce, rice and white wine), pink beans with sofrito, smoked ham, mustard sauce and fresh pineapple. The mustard sauce recipe is from Cook's Illustrated's The New Best Recipe , and the beans with sofrito is from Daisy Cooks! (The Cook's recipe link works if you subscribe to their online edition).
Morning prep time: 5 minutes, using all leftovers.
Packing: I preheated the food jar with hot tap water while heating the soup in the microwave. Packedin a 560ml insulated bento set (240ml rice jar and 160ml side dishes).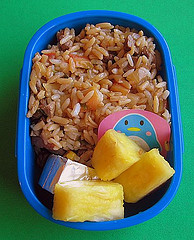 Contents of Bug's lunch: Yellow rice with Peruvian beef and vegetables, wrapped cheese triangle, and fresh pineapple.
Morning prep time: 5 minutes, using all leftovers.
Packing: I cut the beef and vegetables small for easy preschooler eating, then mixed it in with the rice and microwaved briefly to restore the texture of the refrigerated rice. A little plastic food divider (bought at Daiso in Daly City, US$1.50 for a good-size assorted pack). Packed in a 270ml one-tier Thomas the Tank Engine box with the hard plastic sub-containers removed to fit all the rice.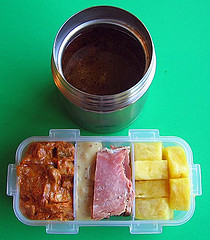 Contents of my husband's lunch: The same as mine, with TastyBite-brand Jaipur vegetable curry (from a ready-to-eat pouch).
Packing: Instead of using a separate sauce container, I decided to take advantage of the secure built-in dividers in the Lock & Lock container and spoon the mustard sauce in right next to the ham. It worked out fine; the viscous sauce didn't jump compartments, and it gave each bite of ham good flavor. Packed in a 300ml thermal food jar and one 350ml tier of a Lock & Lock lunch set.
READ MORE: