Disposable lunches for airplane
I packed a couple of bento lunches in disposable containers for my in-laws' airplane flight home after their visit. They're a little busier than our normal lunches, but I'm pleased with the diabetic version for my father-in-law because of the limited food options for diabetics on airplanes. They tell me that they were the envy of the other passengers and flight crew. I usually appreciate the reusability of proper bento boxes, but this is the rare case when a disposable box was a better option — when the boxes won't be coming home to me at all.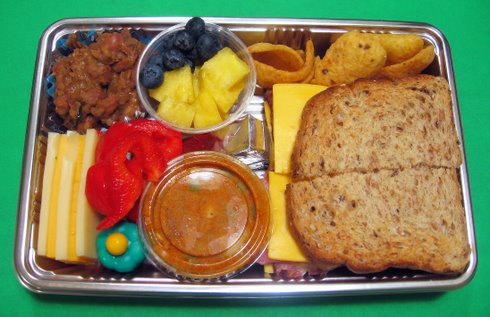 Contents of my mother-in-law's lunch: Ham & cheese sandwich with mustard sauce on low-carb bread, TastyBite Jaipur vegetable curry, red bell pepper strips and poppy seed dressing, Swiss and Cheddar cheese slices, pink beans with sofrito, blueberries and pineapple, wrapped cheese triangle, and corn chips.
Prep time: 0 minutes the morning of, 15 minutes the night before (mostly spent staring at our assorted leftovers, trying to figure out what could go where and fill the gaps). The beans and pineapple were leftovers, as was the ready-made curry from a shelf-stable pouch.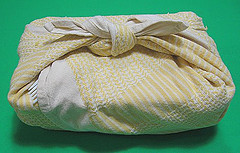 Packing: Everything is disposable except the sauce container with salad dressing for the bell pepper. To keep the bread from getting soggy, I first toasted the bread and used cheese as a moisture barrier next to the bread so that the mustard sauce didn't come into contact with it. The curry went into a disposable lidded condiment container. I rubber-banded the containers (3 for about $1 at Ichiban Kan in San Francisco), wrapped the two lunches together in a spare dish towel, then tucked two plastic forks into the flap on the top. I used the traditional bento box wrap shown on this illustrated how-to wrapping chart (Otsukai Tsutsumi). This kept the flimsy containers contained compactly so they could be thrown into carry-on luggage, and the dishcloth could be used as either a placemat or napkin.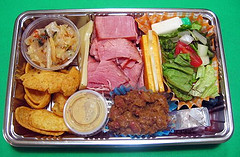 Contents of my father-in-law's lunch: This is the diabetic version of my mother-in-law's, but with ham and mustard sauce solo (not in a sandwich), a salad with low-carb ranch dressing (by Eating Right), and Bengali smothered cabbage with mustard oil.
Packing: I used cheese slices as an edible divider to keep the ham away from the corn chips, and put the moist cabbage and mustard sauce in disposable lidded condiment containers. I now realize I wasn't thinking enough about the restriction on liquids and gels when I packed this; my in-laws were probably lucky they didn't have problems with the mustard sauce in airport security.
READ MORE: