Broccoli rabe & sausage penne box lunches
Broccoli rabe (a.k.a. rapini) can be tricky to cook with — my husband generally isn't fond of it because of its bitterness, even though he loves broccoli. This penne dish has managed to break down his aversion, though, by balancing the bitterness of the rabe with the savoriness of the Italian sausage. I got the recipe from The Classic Pasta Cookbook by Giuliano Hazan (son of renowned Italian cookbook author Marcella Hazan). I'm finding that I like oil-based pasta sauces in bento lunches as leftover pasta doesn't get mushy after sitting, and doesn't need a separate little container of sauce to re-dress the pasta just prior to eating. So it's also slightly faster to pack in the morning.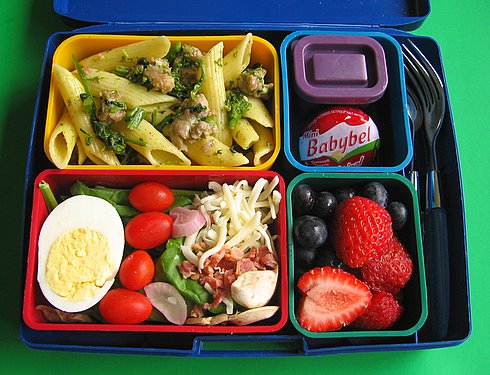 Contents of my lunch: Penne with broccoli rabe and Italian sausage, cheese wheel, strawberries and blueberries, and spinach salad with hard-boiled egg, grape tomatoes, red onions, cheese, mushrooms, bacon and poppy seed dressing.
Morning prep time: 7 minutes, using leftover pasta and Costco spinach salad. In the morning I sliced the strawberries, arranged the salad, and put the dressing into the purple sauce container.
Packing: I used the Laptop Lunchbox to pack today's bulky salad and penne. The little blue container and lid for the yellow container weren't actually necessary, but I used them for kicks to keep everything contained and symmetrical. We ate our lunches outside so they were at room temperature, but if we had access to a microwave I could have lifted out the penne container and warmed it.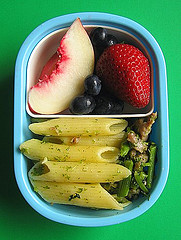 Contents of preschooler lunch: The same as mine, with some white nectarine.
Morning prep time: 4 minutes, using leftover pasta. In the morning I sliced the nectarine and threw the pasta and fruit into the box.
Packing: Although Bug did fine with the penne as is at dinner, if I were to repack this lunch for him to eat on his own I would cut each penne in half so they were more bite-sized for a preschooler. To keep the cut nectarine from turning brown, I dipped it in lemon juice mixed with guava juice to cut the sourness (see other ways to prevent fruit from browning here). I put the berries into the box's hard plastic sub-container so that they wouldn't be bruised in transit. Packed in a 350ml Power Rangers bento box.
(NOTE: The cookbook and Laptop Lunchbox links are affiliate links; using the links to buy anything from Amazon or Reusable Bags supports Lunch in a Box.)
READ MORE: