Pasta and pizza bento lunches
One thing I'm starting to adjust to is my four-year-old's growing appetite. It's easy to look at the bento box size guidelines and figure out what size is right for your child, but they don't stay that age (and appetite) forever! When he was three, a 350ml box was just perfect. Now that Bug is four, though, I'm finding he needs more of a 400ml lunch. This doesn't mean I need to throw away the smaller boxes, though! Supplement them with a small side dish container that holds a small portion of fresh fruit, for example.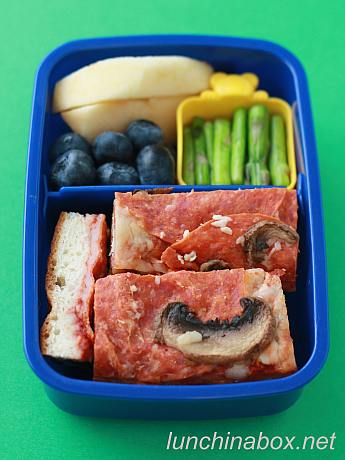 Contents of preschooler bento lunch: Pepperoni and mushroom pizza, roasted asparagus, blueberries and crispy Asian pear slices.
Morning prep time: 7 minutes, using leftover pizza and asparagus. In the morning I cut up the pizza, asparagus and pear. (Read on for full packing details and an additional pasta lunch with a raw heirloom tomato sauce.)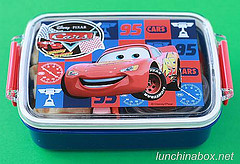 Packing: I cut the pizza into smaller pieces to fit neatly into the bento box (and to make them manageable for little hands). My four-year-old doesn't like asparagus tips, so I cut them off and snacked on them while cutting the rest into shorter lengths to fit the hard plastic subcontainer. (See my post on the top 7 things to do with leftover food scraps for additional ideas.) Bug's also not big on apple and pear skin, so I peeled the Asian pear (nashi) and dipped the slices in fruit juice mixed with lemon juice to keep the fruit from browning. The lunch is packed in a 450ml Cars bento box with a removable subdivider that I purchased directly from the manufacturer. Bug's appetite has increased this year, and I'm finding that the 350ml boxes no longer hold enough food for him. 450ml is still a bit on the large side, though — ideally I'd have a 400ml box (in line with the bento box size guidelines).
Verdict: Thumbs up over time. Bug ate the pizza and asparagus at preschool, and had the rest as a playground snack after school. This new box is still a little big for Bug; I may look for ways to pack it a little looser until he grows unto it, maybe using bulkier foods or bento accessories.
* * * * *
This is an earlier lunch from the summer when tomatoes, strawberries and figs were in season. I had a lot of beautiful heirloom tomatoes on hand, so decided to make a very simple uncooked pasta with the same flavors as a caprese salad. I got the idea from Giuliano Hazan's The Classic Pasta Cookbook , one of the food books in my kitchen.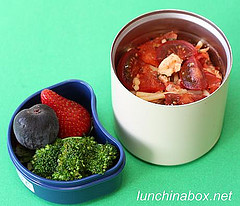 Contents of preschooler bento lunch: Spaghetti with uncooked heirloom tomatoes, smoked mozzarella and fresh basil. The side dish container holds steamed broccoli, a black Mission fig, and an organic strawberry. Strawberries are one of the few things I make a point of seeking out in organic form as it's one of the fruits that picks up the most pesticides.
Morning prep time: 6 minutes, using leftover pasta. In the morning I briefly warmed the pasta and steamed the broccoli.
Packing: I microwaved the pasta in a microwave-safe bowl while pre-warming the thermal food jar with hot tap water. I quickly steamed the broccoli in a covered bowl with a little water (my microwave mini steamer was dirty), tossed it with a little vinaigrette when it was done, and packed it inside of a reusable silicone baking cup to keep the sauced broccoli away from the fruit. The lunch is packed in a thermal bento kit from Ichiban Kan with one of the side dish containers removed for a smaller appetite.
Verdict: Again, thumbs up over time. Bug ate the pasta and strawberry during preschool, and had the rest as an after-school snack.