Pasta bento lunches
I particularly like pastas with oil-based sauces in bento lunches. The pasta doesn't absorb extra moisture and get mushy while sitting, and doesn't need a separate container of extra sauce to toss with the pasta just prior to eating (a helpful technique when packing tomato-based sauces). Very low maintenance. I warm the pasta briefly in the microwave when packing to help restore the texture.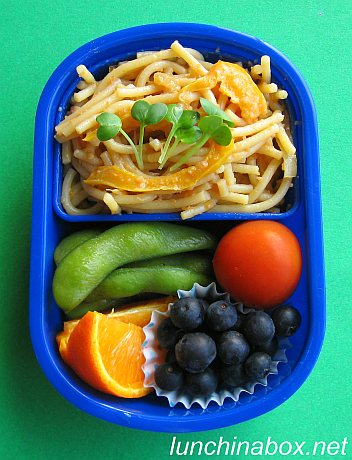 Contents of preschooler bento lunch: Tarako (salted cod roe) spaghetti with sauteed onions and yellow bell peppers, and garnished with kaiware daikon sprouts (tarako spa cooking notes and recipe link at this earlier post). Edamame, cherry tomato, tangerine, and blueberries round out the lunch. Tarako spaghetti is a favorite in our house, made easier by using jarred tarama from a local Mediterranean market (22nd & Irving in San Francisco, store info at my list of favorite Bay Area ethnic markets).
Morning prep time: 5 minutes, using pre-cooked edamame from the fridge and leftover pasta that I packed in the bento box the night before. In the morning I briefly warmed the pasta in the microwave to restore the texture, garnished with fresh kaiware daikon shoots, and sliced the tangerine. I'm guilty of microwaving in plastic for this one; I wasn't thinking straight like I did for the second lunch below.

(Read on for detailed packing info and an additional preschooler lunch.)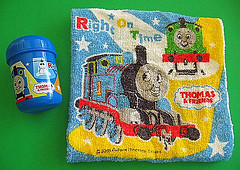 Packing: I packed the pasta in the little subcontainer the night before and used clean kitchen scissors to cut the spaghetti into bite-sized lengths right in the box for my three-year-old. Using the bento box's subcontainer made it easy to lift that section out and microwave just that dish in the morning. I could have packed the entire lunch the night before and still been able to warm the pasta like this, but I wasn't up for that level of thought when cleaning up from dinner. The blueberries went into a blue polka dot paper baking cup from Daiso as it smushed into a smaller space better than my reusable silicone baking cups. I didn't really need to use a cup for them, though — they probably would have fared just fine on their own, just a little damp from the cut tangerine.
I packed the red tomato away from the orange tangerine for good color contrast in the bottom section. (I aim for, but don't always achieve, the ideal of five different naturally colored foods in a single meal.) The lunch is packed in a 360ml Disney Cars bento box with one subcontainer removed to accommodate more fruit and vegetables. In Bug's Cars lunch bag I also threw in a fork for the pasta and a little Thomas the Tank Engine oshibori damp hand towel for cleanup after eating the tangerine and edamame.
Verdict: Pretty good. Bug ate the pasta, tomato, tangerines, and some of the edamame and blueberries at preschool. He wasn't enthusiastic about finishing up the blueberries and edamame after school, though, as they'd gotten damp from the cut tangerine. (He's a little finicky that way, but thankfully nowhere near being a picky eater.)
* * * * *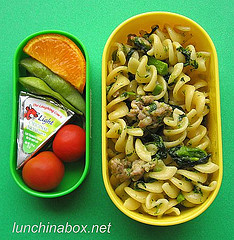 Contents of preschooler bento lunch: Fusilli pasta with mild Italian sausage and broccoli rabe, plus a tangerine slice, edamame, cheese triangle, and cherry tomatoes. As I wrote earlier, broccoli rabe (a.k.a. rapini) can be tricky to cook with — my husband generally isn't fond of it because of its bitterness, even though he loves broccoli. This dish has managed to break down his aversion, though, by balancing the bitterness of the rabe with the savoriness of the Italian sausage. I got the recipe from The Classic Pasta Cookbook by Giuliano Hazan (son of renowned Italian cookbook author Marcella Hazan).
Morning prep time: 5 minutes, using precooked edamame and leftover pasta from dinner. In the morning I briefly microwaved the pasta in a microwave-safe dish to restore texture, then cut the tangerine.
Packing: I'm a little wary of microwaving oily food in plastics as this can cause pitting in the plastic and potentially leech chemicals into the food. If I'd been using a tempered glass bento box I could have pre-packed the pasta the night before and microwaved without worries, but the glass boxes are a bit heavy for my preschooler to carry around. The lunch went into two tiers (100ml and 280ml) of a four-tier, stacking and nesting Thomas the Tank Engine bento box set, for a total 380ml of food (ballpark for a three-year-old according to the bento box size guidelines). I like the flexibility that this nesting boxes give me. I can pack an adult-sized or a child-sized meal in them, and they fit into each other when empty, making them perfect for plane trips. (See my post on packing bento lunches for the airplane.) You can find similar versions here and here.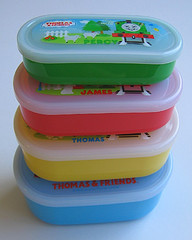 Verdict: This was too much food for Bug to eat in one sitting. He ate about half of the pasta, the tangerine and the wrapped cheese at preschool, but left the rest. He did finish up everything after school as a snack, though.
FURTHER READING: