Metal bento boxes & Shepherd's pie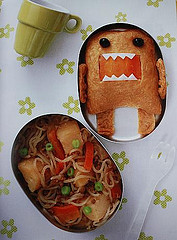 Domo-kun lunch from cookbook

(ADDENDUM: Please accept my apologies for the downtime Lunch in a Box has been experiencing lately. My hosting company has had an unprecedented number of issues lately, and I will be switching providers shortly.)
I've seen fun little aluminum bento boxes for children in stores from time to time, but have always been puzzled by their lack of watertight lids. Why use metal boxes that leak? I asked the moms at Bug's Japanese immersion preschool and searched through my Japanese-language bento cookbooks to find some answers.
In Japan, evidently preschools have special ovens to warm up the children's metal boxes in the winter, but because most of the cute aluminum boxes lack watertight seals, Japanese parents have had to get creative with how they pack lunches in them. Benefits of metal boxes include being able to cook food directly in the box (when using an oven-safe container, also true of tempered glass boxes), the absence of health concerns associated with packing food in plastic, and lighter weight than glass boxes. Drawbacks include not being able to microwave metal containers and potential leaking caused by the loose, non-secure lid.
* * * * *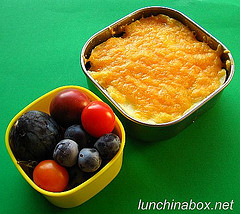 Contents of preschooler bento lunch: Mini Shepherd's pie (seasoned ground beef with vegetables, topped with mashed potatoes and melted Cheddar cheese; simple web recipe here), and a side dish container with a black Mission fig, Concord grapes, and different colored cherry tomatoes.
Speed Tip: When you're making dinner, make a little extra that can be saved and eaten for lunch (either as is or as a Leftover Remake). The Shepherd's pie didn't take extra time when cooking — I just separated out a little, assembled in lunch-friendly containers, and threw them into the fridge for later.
 Morning prep time: 8 minutes, using pre-made Shepherd's pie from dinner earlier in the week. In the morning I grated some cheese and ran it briefly under the broiler in my convection toaster oven to melt the cheese. I let it cool before putting the plastic lid on top. (Read on for details, tips for using metal bento boxes, sample pages from Japanese bento cookbooks, and additional lunches.)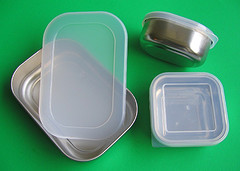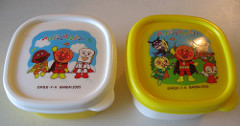 Packing: I packed the little Shepherd's pie in a 220ml stainless steel tin from Daiso (similar containers can be found at Kids Konserve). Technically the container wasn't recommended for full-on cooking in case of warping, so in the morning I just ran it briefly under the broiler to melt the cheese. (If I had an oven-safe aluminum bento box I could have cooked with it. I've also made mini Shepherd's pies in thick aluminum baking cups for bento lunches, and have even seen them made in lined muffin tins.) The moms at Bug's preschool who used the aluminum boxes in Japan say that they don't pack anything moist inside that could leak. When packing a lunch that's going to be warmed, be sure to pack anything cool in a separate side dish container. I packed the fruit in a 150ml Anpanman snack container. (Click any photo for a larger view.)
Pop culture: Anpanman and Baikinman are the respective hero and villain of popular Japanese cartoon series Anpanman. Baikinman is short for "Bacteria Man", and he battles Anpanman ("Bean Paste Bun Man") who helps the starving by letting them eat part of his head. What's not to like?

Verdict: Good over time. Bug ate all of the shepherd's pie at preschool, but didn't touch the sidecar with fruit until after school.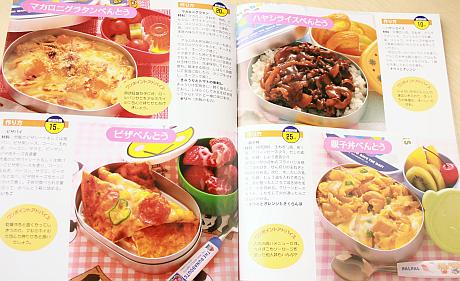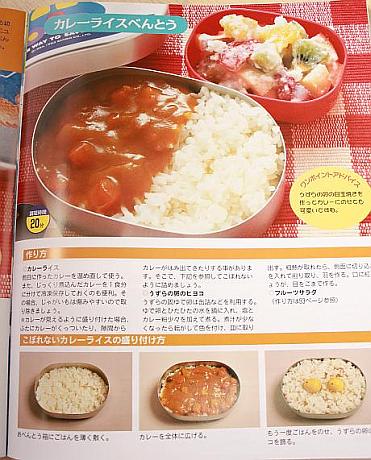 (The two cookbook photos above are from Youchien no Obento Zensho: Enji ga Yorokobu Idea ga Ippai! "Kindergarten Bento Compendium: Lots of ideas to make kids happy!": See my write-up of children's Japanese bento books for the full review. The Domo-kun lunch photo at the beginning is from a cookbook from NHK: Kodomo ga Yorokobu Obento "Bento lunches that make kids happy", which has recipes and tips for making kyaraben food art lunches with NHK TV cartoon characters. The Domo-kun part of the lunch is made out of inarizushi sushi rice stuffed into seasoned abura-age fried tofu wrappers, with black bean eyes, and carrot + kamaboko fish paste mouth. The trick to keeping the bean "eyes" in place is using the big end of a chopstick to poke two holes in the inarizushi first, then stuffing the holes with the beans. In Amazon Japan, you can translate the page into English by clicking on the link in the upper right. They ship books internationally.)
* * * * *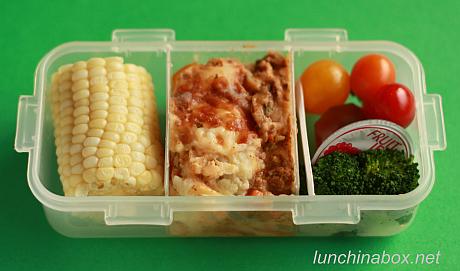 Contents of preschooler bento lunch: Corn on the cob, shepherd's pie, cherry tomatoes, steamed broccoli flavored with bottled soba broth, and a 100% juice mini jello cup.
Morning prep time: 7 minutes, using leftover corn and shepherd's pie that I packed in the box when cleaning up from dinner. In the morning I just cut the corn to fit the box and quickly prepped the broccoli.
Packing: Nothing too special on this lunch, packed in a 350ml subdivided box from a larger Lock & Lock lunch set.
Verdict: Big thumbs up. Bug demolished everything at preschool, no leftovers.
* * * * *
For a study in contrasts between my "speed bentos" and a real kyaraben food art lunch for kids, check out the fanciful Anpanman lunch that one of the Japanese moms at Bug's preschool made for her daughter on a school field trip to the zoo this summer. So if you think I'm Martha, it's all relative! (Thanks for the photo, E!)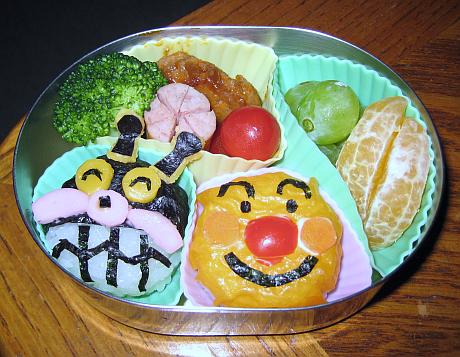 Contents of E's preschooler bento lunch: Stuffed onigiri rice balls shaped like Baikinman and Anpanman (made according to the Japanese-language directions here). The Baikinman face (left) is made with rice, nori, kamaboko, and sliced cheese. The Anpanman face (right) is made with rice, orange-colored soy paper (mamenori), a cherry tomato nose, carrot cheeks, and nori eyes/mouth. Broccoli, a sausage segment, cherry tomatoes, grapes and a couple of orange segments round out the lunch.
Morning prep time: About an hour. The mom at Bug's preschool who made this was quick to say that she usually makes speed bentos for her four-year-old's lunch, but that she went all-out on this one because she knew other parents would see it on the zoo outing. There's a lot of societal pressure among Japanese mothers to make these kinds of lunches for young children…
Packing: She used reusable silicone baking cups to keep everything separate, and packed the lunch in a metal bento boxes without a watertight lid (notice the absence of any wet foods that would leak).
Verdict: Not surprisingly, this lunch was the hit of the kids' zoo field trip, and everyone wanted to have a look. I'm not sure if E's daughter ate everything or not, but she sure looked happy digging into it at the zoo!