Croquette bento lunches and metal containers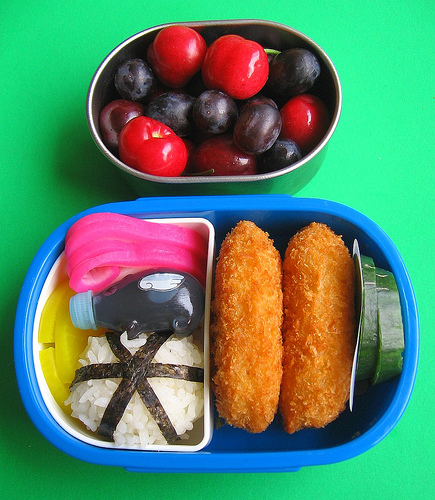 Contents: Corn cream croquettes with tonkatsu sauce (a popular kids' bento item), sliced cucumber, plain rice ball with strips of pre-cut nori, sliced takuan pickles, and slices of kamaboko (fish cake) cut to loosely resemble rabbits. The side dish holds cherries and grapes. Bug devoured the croquettes as finger food right off the bat, then the fruit. He wasn't much interested in the kamaboko or takuan — some days he is, some days he isn't.

Morning prep time: 10 minutes to pack, 10 minutes to let everything totally cool before closing the lids. The croquettes were frozen from a store, and just needed to be deep fried in a little pot for 3.5 minutes. For best food safety, I heated the kamaboko through (in hot water I was making something else in). The rice was refrigerated leftovers, so I heated it in the microwave and quickly shaped it with salted, wet hands (you could also use the twisted plastic wrap method).
Packing: The takuan pickles turned the kamaboko yellow where they touched, so if Bug were sensitive about things like that I could use a food divider or a piece of lettuce. I did use a food divider to keep the moist cucumber away from the crispy croquettes, and let the lunches totally cool before closing the lid to avoid soggy croquettes. I also let the croquettes cool on a little wire rack before packing them in the box (they take extra time, but kids inhale them!).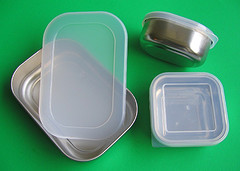 I found some stainless steel bento boxes and side container dishes for US$1.50 each at Daiso (Japanese dollar store with stores internationally) in Daly City CA, good for people concerned about using plastic food containers. They're not totally metal, but you could put a layer of lettuce, waxed paper, etc. over the top of the food if you're worried about food touching the lid. The large one is 480ml, and the smaller ones about 190ml and 220ml (measured with the water method). These containers were originally meant for fast freezing of food: some had little date dials on the lids to track freshness, but these had the normal lids. There were other shapes, too (a rectangle side dish, a larger round side dish, etc.). Other metal lunch containers include: the To-Go Ware two-tier box, the multiple-tier Chinese lunchbox, the Sigg watertight aluminum box, the Totoro aluminum bento box, the Totoro "Mei" aluminum bento box, and the large two-tier aluminum bento box. Do you have a favorite metal lunch container? Tell us about it!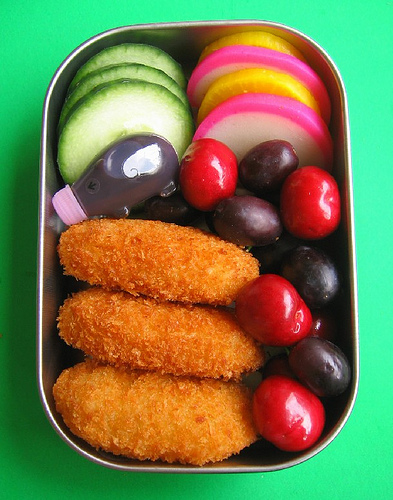 Contents: Corn cream croquettes with tonkatsu sauce, kamaboko, takuan, cucumber, grapes and cherries.

Morning prep time: 10 minutes, plus 10 minutes cooling time.
Packing: Same as above, packed in the 480ml stainless steel box.
I can get cheap tonkatsu sauce from my local Asian markets, but if you can't get it locally and don't want to order it online, you can make an approximation yourself. I actually prefer the bottled stuff, but maybe that's just my Japanese food nostalgia kicking in.
Tonkatsu Sauce (adapted from Cook's Illustrated)
1/2 tsp. dry powdered mustard
1 tsp. water
1/2 cup ketchup
2 Tb Worcestershire sauce
2.25 tsp. soy sauce1. Mix mustard with water until smooth.
2. In a small bowl, thoroughly mix the mustard powder/water with the ketchup, Worcestershire sauce and soy sauce.
Lunch in a Box is nominated for Best Food Blog in the Blogger's Choice Awards. If you'd like to cast your vote for speedy lunch packing, click here (you can vote for multiple blogs in the same category).
READ MORE: