Sausage bento lunches: East vs. West
Here we have a couple of simple lunches that skew differently depending upon the carb: mini cornbread muffins make it more American, onigiri rice balls make it more Asian. You can speed the process up by stocking your freezer with little packages of frozen rice, muffins, frozen appetizers, grilled yaki-onigiri rice balls, etc. Dipping sauces make lunch fun for kids, something the fast food industry has figured out and capitalized on (battle the Lunchables!).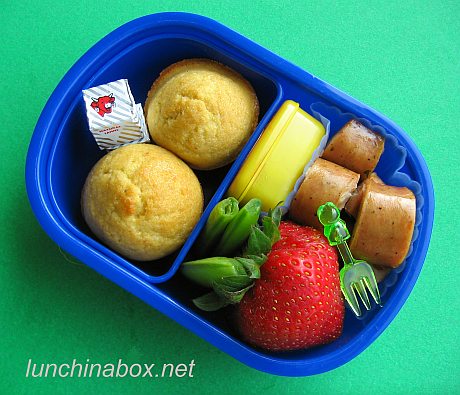 Earlier in the week I made a batch of mini cornbread muffins with a quick cornbread mix from Marie Callender (reviewed earlier) and froze them to have on hand for speedy lunch prep. Because the frozen muffins were small, they went right into the box frozen and thawed before lunchtime (another version of the edible ice pack). Regular-sized frozen muffins benefit from a little extra defrosting time: either on the counter, refrigerator, microwave or toaster oven. Think about how hot the weather is and how long the lunch will be held before eating, and adjust accordingly for food safety.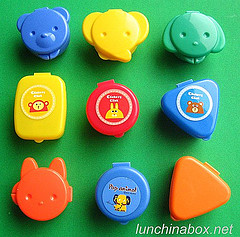 Contents of preschooler bento lunch: Cheese cubes, mini cornbread muffins, chicken and apple sausage with ketchup for dipping, a huge strawberry, and sugar snap peas.
Morning prep time: 8 minutes, using frozen cornbread muffins. In the morning I quick-fried a cut-up sausage and filled the condiment cup.

Packing: I cut the sausage into bite-size pieces, put them in a reusable silicone baking cup to keep them from touching the strawberry, and threw in a cute food pick for little hands. Initially I grabbed one of the smaller lidded condiment cups for the ketchup, but Bug saw which one I was going to use and said it was too small for dipping. Ah, good point — I could see how a smaller container could be difficult for preschooler coordination. (Read on for further details and a more Asian variation on this lunch.)
I switched to the larger rectangular condiment cup, giving him more room for dipping. (You can get similar condiment cups at Daiso discount store branches, Ichiban Kan discount store, online stores, or eBay. See the online store list and the San Francisco Bay Area shopping guide for bento gear for details.) Cheese cubes acted as gap fillers to stabilize the lunch for transport. The lunch is packed in a 360ml Disney Cars-themed bento box with one inner container removed, the right size for a 3.5-year-old according to the bento box size guidelines.
Verdict: Big thumbs up. My three-year-old ate everything at preschool, no leftovers. I was curious about how he'd do with the sugar snap peas as he's left these behind in previous lunches, but I guess he was hungry.

* * * * *
The lunch below may look different because of the pink and green rice balls, but it's very similar to the one above but made a few weeks ago (yup, I'm backlogged!). I tried to include a variety of colors and textures in each for nutritional balance and visual appeal.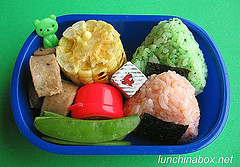 Contents of preschooler bento lunch: Mild Italian sausage, sugar snap peas with a lowfat ranch dressing dip, grilled corn on the cob, cheese cube, and onigiri rice balls. The rice balls are colored with green hana-ebi shrimp powder and pink  sakura denbu sweet fish powder, and filled with jarred Gohan Desu Yo! seaweed paste (Bug's favorite). Sakura denbu is a sweet powder of ground codfish that's often used in chirashizushi and children's bento lunches. Adds a nice shot of pink when you're packing by color. Hana-ebi is a Hawaiian variation on sakura denbu that comes in both green and dark red. (Click on any photo for a larger view.)
Morning prep time: 13 minutes, using frozen rice, and leftover sausage and corn. In the morning I microwaved the frozen rice until it was soft and warm, mixed in the colored powders, and formed them into small rice balls with wet, salted hands. You can also form rice balls with cookie cutters, special onigiri molds, ice cream sandwich molds, or with plain plastic wrap using the same technique as scrambled egg purses.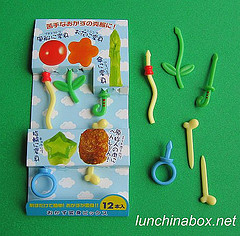 Packing: To fit the corn into the low bento box, I cut it into a 2.5-inch long segment with a big knife and inserted a bone-shaped pick on either side for easy eating (reviewed earlier). To cleanly cut an ear of corn into segments, first score all the way around the cob with a chef's or butcher knife, place the corn flat on a cutting board, and give the top of the knife a little whack to cut all the way through. The playful picks that transform food into balloons, flowers, umbrellas, etc. are available at Ichiban Kan's online store. (See my review of Ichiban Kan's online store, their retail stores in my San Francisco Bay Area shopping guide for bento gear, or reader feedback at their listing in the Bento Store Locator with Google Maps.) I put dressing into a lidded sauce cup for the sugar snap peas, and threw in a little bear-shaped food pick for the sausage. Cheese cubes acted as gap fillers to stabilize the lunch for transport. Lunch is packed in a 360ml Disney Cars-themed bento box with both sub-containers removed to accommodate the wide onigiri bottoms.
Verdict: Pretty good. Bug ate the rice balls, cheese, corn, and most of the sausage and snap peas. He said he'd rather have ketchup for the sausage instead of dressing for the peas, though, so this is a change I made in the subsequent lunch above.
(Disclaimer: I have no commercial affiliations with Marie Callender, Daiso or Ichiban Kan.)
FURTHER READING: