Rice cube bento lunches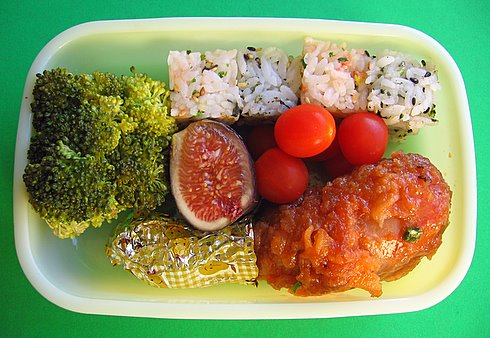 Contents of preschooler lunch: "Rice cubes" (cube-shaped onigiri, made with rice mixed with shrimp and nori-flavored furikake rice seasoning — furikake sold here), grape tomatoes, Chinese fried chicken leg, fresh black Mission fig, and steamed broccoli with red wine vinaigrette. At school, Bug ate all of the onigiri and the chicken, then finished the rest in the car when I picked him up. The teacher said he was excited about the rice cubes and ate them first, which is not surprising because I let him help me make them in the morning.
Morning prep time: 10 minutes, using chicken from a Chinese BBQ joint and leftover refrigerated rice that I microwaved to restore texture before shaping.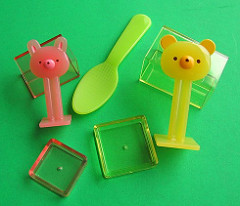 Packing: I wrapped the end of the chicken drumstick in decorative aluminum foil from Daiso to create a clean handle, and arranged the broccoli stems in a reusable plastic food cup. Packed in my 470ml Afternoon Tea box (replaced for US$2 at Irving Housewares in San Francisco).
Gear: My friend Yuuko brought me back a fun little gadget from a recent trip to Japan; I've decided to call it a "rice cuber." It's a little press that makes cube-shaped onigiri rice balls, and the makeup is similar to the ice cream sandwich molds I've use as egg molds. It makes two different sized onigiri (2.5cm and 3cm), which can be arranged in a fun checkerboard pattern using different colored mix-ins with the rice. You could make a batch of these, wrap in plastic wrap, and freeze to have a nice stash on hand for busy mornings. Just be sure to microwave frozen onigiri before packing to restore texture (nuke until warm).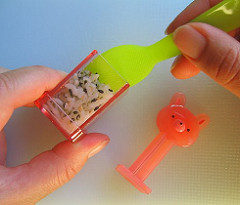 To use, I mixed some furikake in with some warm rice for flavor and color contrast, and used the tiny textured paddle to gently spoon the rice into the cylinder with the cap on one end.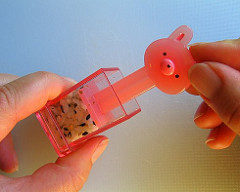 After pushing the rice down loosely with the paddle, I used the little rabbit-shaped pusher to gently tamp the rice down into a cube. The trick with any onigiri mold is to use just enough pressure to give it shape and hold together, but not so much that you create dense little hockey pucks that are unpleasant to eat.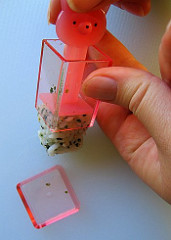 Once the cube is formed, remove the bottom portion of the mold and use the pusher to slide the "rice cube" out the bottom. Voila! (Click for additional photos of the package, the Japanese directions, and the finished product.) You can also get creative and mold food other than rice (a la One More Bento Fan on Flickr). Think scrambled eggs, mashed potatoes, steel-cut oatmeal, couscous, etc.
READ MORE: