Speed Bento Tip: Store pre-cut nori in freezer bag
If you pack a lot of onigiri (rice balls) or decorated rice in the morning, speed up your morning prep by pre-cutting nori into shapes and sizes you use often, and store them at room temperature in a sealed freezer bag with a dessicant pack to keep moisture away from the nori. You can often find spare dessicant packs (silica gel) in packages of nori, dry snack food, even clothing. If you have a lot of smaller cut shapes, try putting them into a smaller container inside the freezer bag. I got the disposable Solo plastic cup below from a pizza delivery (had cheese in it), or you could use tiny Tupperware, plastic wrap, etc.
You can also store the pre-cut nori in the freezer, but you'll want to wrap the little stacks of nori tightly in plastic wrap and then put them into the freezer bag (squeezing out all excess air from the bag before sealing). If it gets moist upon coming back to room temperature, warm it briefly in your oven or toaster oven until crisp. Recommended storage time in the freezer is two weeks max. for best flavor (source: 主婦の友), but it should keep indefinitely.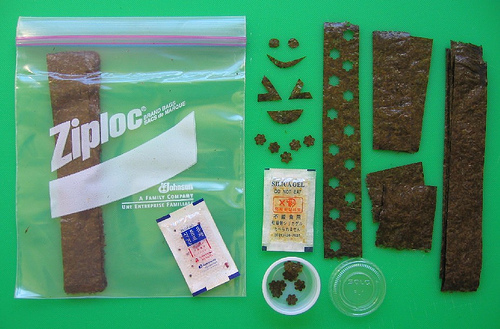 Note: Shapes above were cut with a scrapbooking punch ("flowers" in the nori strip) and very sharp craft scissors (faces).
READ MORE: