Baba ghanouj lunches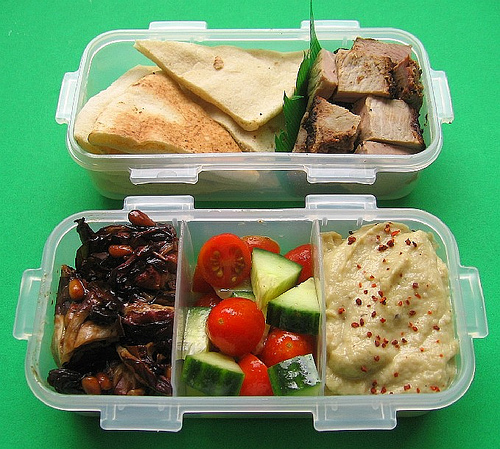 Contents: Grilled minted leg of lamb (Alton Brown's "Silence of the Leg O' Lamb" recipe), homemade baba ghanouj (grilled eggplant dip) with Aleppo pepper, grilled radicchio with chocolate/vinegar/raisin/pine nut sauce (recipe from How to Grill), quick salad of halved cherry tomatoes and cucumber with vinaigrette and mustard, and pita bread.

Morning prep time: 8 minutes, using leftovers from last night's dinner. I made the quick salad fresh in the morning with vinaigrette already made and in the refrigerator — a quick way to add flavor to any number of dishes, not just salads.
Packing: The cut tomatoes in the salad gave off liquid, so if I weren't using a totally divided box like the one above it would be better to pack it in a separate little container. I cut the big slices of lamb into bite-size pieces for easy eating (using a knife in the lunch containers is both unwieldy and scars the boxes).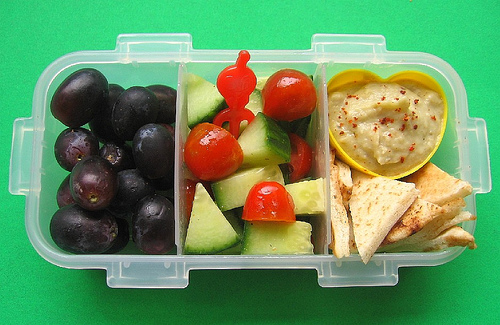 Contents: Bug's vegetarian bento had grapes, a quick salad of cucumbers and cherry tomatoes, homemade baba ghanouj (eggplant dip) and pita bread triangles for dipping.
Morning prep time: 6 minutes.
Packing: This was finger food except for the salad, so I used a little three-pronged mini fork for little hands. The baba ghanouj was pretty thick and I carried Bug's lunch for him today, so I didn't bother to cover the inner container. If I were giving this to Bug to carry by himself, I would have covered the heart-shaped container with plastic wrap or Press N' Seal to eliminate spillage. I put Bug's lunch in the same insulated Lock & Lock bag with my two containers, just left the drink container out. It was a slightly tight fit, but it zipped up and gave me the flexibility to pack more food in just one bag. I also picked up a couple of little carabiners to attach the lunch bag to my diaper bag, which frees up a hand to corral Bug!
Lunch in a Box is nominated for Best Food Blog in the Blogger's Choice Awards. If you'd like to cast your vote for speedy lunch packing, click here (you can vote for multiple blogs in the same category).
READ MORE: