Ham croquette lunches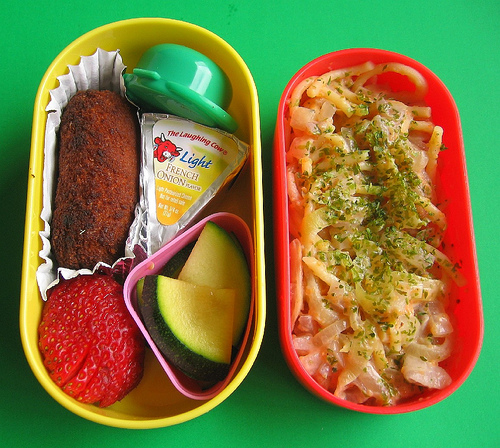 Contents of Bug's lunch: Tarako spaghetti with onions and aonori (cooking notes below), Latin American ham croquette and chipotle cream dipping sauce, cheese triangle, steamed zucchini (courgette) with ponzu, and a strawberry.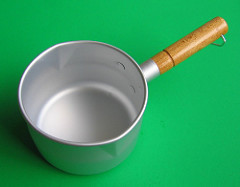 Morning prep time: 10 minutes. The spaghetti was leftover from the previous night's dinner, so I packed that up directly into the lunch container after dinner. I cooked two things in the morning: teamed the zucchini quickly in my microwave steamer (then tossed with my favorite ponzu sauce), and fried the frozen Goya-brand croquettes in a tiny pot. In Japan many bento-packers have tiny little pot for boiling or frying small amounts of food. The pot on the left (US$1.50 at Daiso) is only about 4 inches in diameter, so it was a good size to deep fry just three croquettes without using much cooking oil. Any small pot would work as well — it saves on oil use and cleanup to work in miniature when frying.
Packing: I used an egg slicer to partially slice the strawberry for easy preschooler eating, packed the fried croquette in a lined food cup to absorb remaining oil, and drained the sauced zucchini on paper towels to reduce the possibility of leakage. The frozen fruit cocktail pack in my lunch kept the cream dipping sauce cool and safe inside an insulated lunch bag. Packed in the two middle tiers of a 4-tier nesting Thomas the Tank Engine box.
Cooking: Here's a tarako spaghetti recipe with good notes. I start by sauteing an onion (and maybe some bell pepper), and garnish with kaiware daikon sprouts if I happen to have any on hand (aonori today, though). In Osaka I often had it with a little Kewpie mayo stirred into it as well. Other variations omit the cream in favor of sauteing in butter and tossing in mirin/tarako/mayo. However you make it, it's bound to be good — just get the sauce loose enough to lightly coat the noodles.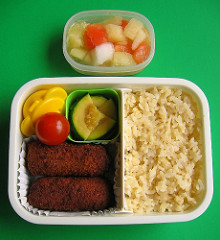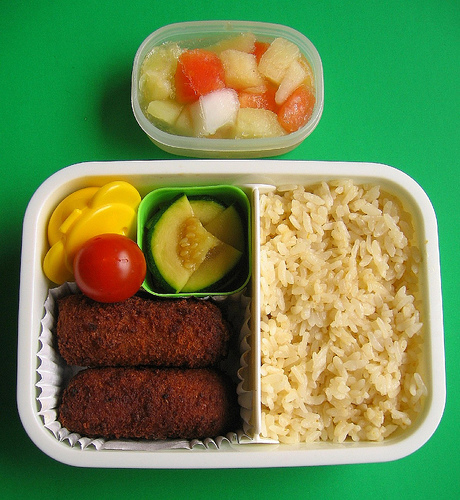 Contents: Ham croquettes with chipotle cream dipping sauce, zucchini with ponzu, cherry tomato, and rice mixed with yellow Thai curry sauce. A small container of frozen Thai fruit cocktail (pineapple, papaya, guava and nata de coco) acts as a delicious ice pack to keep both bentos cool (see directions and cautions when freezing little containers of canned fruit).
Morning prep time: 10 minutes. In the morning I fried the frozen croquettes and microwave-steamed the zucchini. I also had leftover cold white rice and a couple tablespoons of yellow Thai curry sauce from dinner a few nights back, so I combined these in a microwave-safe dish and heated for less than a minute until the rice regained a nice texture. I now find myself saving even tiny amounts of food (like the curry) because there's usually some way it can be used to jazz up an otherwise boring bento lunch.
Packing: I packed the fried croquettes in an oil-absorbent food cup from Daiso (branches internationally) to cut the grease, and allowed both croquette and curry rice to cool before closing the lid on the lunch. This cuts down on condensation in the box, improving packed lunch food safety and making it easier to open the box (a vacuum can form inside otherwise). The frozen fruit cocktail pack kept the cream dipping sauce cool and safe inside an insulated lunch bag. Packed in a 500ml Leaflet box.
RELATED POSTS: