Corn on the cob bento lunches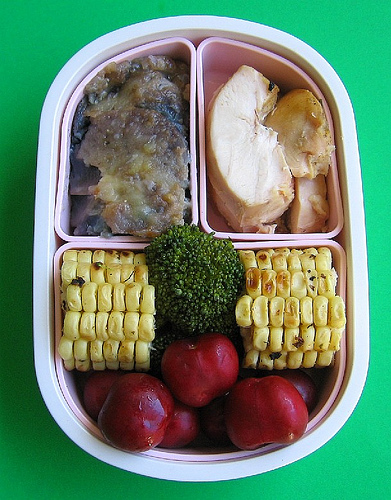 Contents of Bug's lunch: Purple potato gratin (scalloped potatoes), grilled chicken breasts, grilled corn, steamed broccoli with orange vinaigrette, and the last of the cherries. Not shown: a small side container of cut watermelon.

Morning prep time: 4 minutes, using leftovers. This morning I cut an ear of leftover grilled corn into segments and boned/sliced a leftover chicken breast. I cut the gratin into a shape that would fit into the sub-container, and cubed some already cut watermelon.
Packing: Cutting the corn on the cob into segments makes it good for little hands and a compact lunch container. The watermelon went into a side container so that the juice wouldn't leak onto the savory food. The bulky corn on the cob required a slightly larger container (430ml) than usual for a two-year-old, according to the bento box size guidelines.
My lunch is the same as Bug's. The cherries act as color and gap-filler to stabilize the lunch for transport. At 480ml, it was a little small for me, so I bought a tuna onigiri (rice ball) at a local Japanese market after playgroup and packed a side container of cut watermelon.On a tangent, the box that I packed Bug's lunch in today broke — one of the plastic flaps busted that secures the lid. I'm annoyed because that was the third box flap that broke this month, all single-tier boxes of around 500ml. The first two were very cheap (US$1 to $5) so I figured they weren't made solidly, but I'm surprised at the well-made Asvel box with the sub-containers. I think need to reexamine both the design and how I treat them (washing and transport). This is definitely a point in favor of boxes with different lid designs, like the Lock & Lock watertight seals, tight-sealing plastic sub-lids, one-piece flap lids without moving parts (like the big black men's Asvel 940ml box), etc.
Lunch in a Box is nominated for Best Food Blog in the Blogger's Choice Awards. If you'd like to cast your vote for speedy lunch packing, click here (you can vote for multiple blogs in the same category).
READ MORE: