Curried turkey croquettes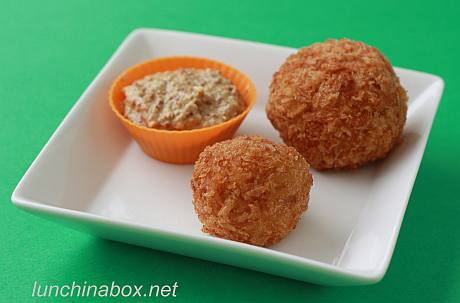 Croquettes are a cross-cultural tool for breathing new life into leftovers, perfect for any mashed potatoes that survive Thanksgiving dinner. There are versions of these breaded, fried balls of leftover potatoes or meat found around the world: bitterballen and kroket in the Netherlands, korokke in Japan, alu-tikki in India, and the list goes on. I demonstrated this recipe today on Fox40 live TV news in Sacramento for a segment on Creative Ideas for Thanksgiving Dinner Leftovers, and will post a link to the video once it's up.
(UPDATE: The video links for the Fox40 "Creative Ideas for Thanksgiving Dinner Leftovers" are up; click for the first TV segment with turkey mole enchiladas, and the second TV segment with the croquettes and ways to repurpose leftover cranberry sauce.)
The basics are simple, and can be tweaked with whatever leftovers and seasonings you have on hand. Take some cold mashed potatoes, add vegetables or proteins, flavor, form into shapes, roll in bread crumbs, and fry.  I chose to add leftover turkey and curry powder, and served them with a trio of dipping sauces: stone ground mustard, tonkatsu sauce, and leftover cranberry sauce. (Read on for the full recipe.)
You can make these in advance and freeze after rolling them in bread crumbs. Just pull a couple out of the freezer and fry when still frozen, making them a nice cheap staple for your freezer stash.
In the TV segment, I also made turkey mole enchiladas to use up leftover turkey, and incorporated leftover cranberry sauce in yogurt, cream cheese, biscuits and muffins. A tip of the hat goes to to family friend Joe Palca for the muffin idea.
Curried Turkey Croquettes
2 cups leftover mashed potatoes, cold
1/2 cup leftover turkey, diced
2.5 tsp curry powder, such as Madras curry powder

1/3 cup flour
salt & pepper
1 large egg
2 Tb cold water
1 cup dry, coarse bread crumbs, preferably Japanese panko

1/4 cup vegetable oil
In a medium bowl, mix together the cold mashed potatoes, turkey, and curry powder.
Set up your breading station with three shallow dishes or plates. In one dish, combine the flour, salt and pepper. In another, beat the egg and water together with a fork. Put the bread crumbs in the third.
With your hands, form mixture into oblong patties 2 inches wide, 3 inches long, and 3/4 inch thick. (If deep frying instead of pan frying, you may also make 1.5-inch balls or 2-inch long barrel shapes. The thicker shapes turn out better when deep fried.)
Lightly dredge the croquettes in the flour, patting off excess. Coat the floured croquettes in the egg mixture, then the bread crumbs. Set on a cooling rack set over a tray to await frying. (The patties may be made in advance and frozen at this point, and fried later while frozen.)
To pan-fry, pour the oil into a large, preferably nonstick skillet, and turn heat to medium high. When the oil is hot, gently add as many breaded patties as will fit very loosely. Fry 1.5 minutes per side, or until golden brown and crispy. Use a slotted spatula to transfer to a cooling rack, mini cooling rack, or a plate lined with paper towels to drain.
When they are all done, serve immediately with a dipping sauce such as stone ground mustard, tonkatsu sauce (here's a recipe for making your own, or buy it on Amazon), cranberry sauce, ketchup, or curried yogurt or mayonnaise. If packing in a lunch for later, see the packing notes below for tips.
Note: To deep fry, pour enough vegetable oil into a deep pot to come 3 inches up its sides, and heat until the oil reaches 350 deg. F. When the oil is hot, bubbles will form around a bamboo or wooden chopstick touching the bottom of the pot. Put in as many ball- or barrel-shaped croquettes as will loosely fit without crowding. Fry for 3 minutes or until golden, using a slotted spoon to periodically turn the croquettes in the oil to ensure even browning. Transfer to a cooling rack or a plate lined with paper towels to drain.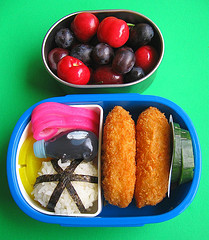 Packing Tips: If packing in a bento, be sure to cool these thoroughly on a cooling rack before packing them and closing the lid on them. If you pack them when they're still warm, they'll become soggy with condensation by the time you're ready to eat.
Some people like to use special baking cups lined with oil-absorbent paper when packing croquettes in a bento lunch (available internationally at Daiso discount store), but they're not necessary. Feel free to use a bit of paper towel underneath the croquettes if you feel they're too oily when you're packing your lunch.
FURTHER READING: