Empanada & curry lunches
Bug actually started preschool yesterday, but this lunch is the last of my photo backlog before I switch gears. I tried out some frozen empanadas that were pretty good heated in the oven, not much good heated in the microwave (soggy steamed crusts, blech). Now that I'll be packing a lunch for Bug every morning, I think I'm going to give in and get a convection toaster oven so that it'll speed up cooking of convenience food (both homemade and store-bought) like the empanadas — faster cooking than conventional heating, more energy efficient, and less time to preheat than a big oven. Time to cash that birthday check from my Dad! If you have any feedback on convection toaster ovens, please feel free to comment before I go out and plunk down money… I've looked at ratings from Consumer Reports and Cooks Illustrated so far.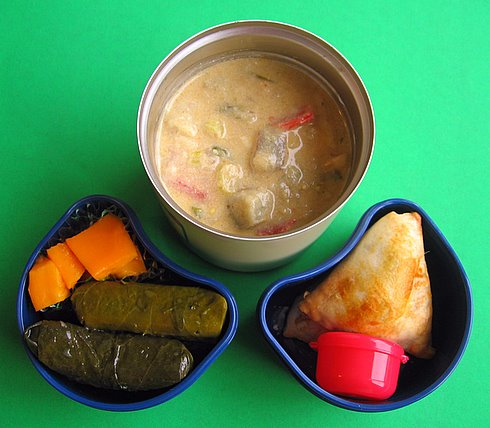 Contents of my lunch: Thai red curry (with chicken, eggplant and red bell peppers), papaya chunks, dolmas (in this case, seasoned rice wrapped in grape leaves), beef empanadas and dipping sauce that went unused. Master recipe for the Thai curry is here.
Morning prep time: 17 minutes, largely inactive prep time heating the frozen empanadas in the oven. The Thai curry was leftover from an earlier dinner, and the dolmas were from a can (given, not the most amazing taste sensation ever, but a quick pantry item that easily adds variety to a lunch).
Packing: I preheated food jar with hot tap water while I microwaved the curry and heated the empanadas. I used a 560ml insulated bento set (240ml rice jar and 160ml side dishes), which is handy in that the lid of the thermos lifts off instead of screwing off, so it's easy for little hands to open. As long as you pack the jar inside its carrying case, it's just as secure as a regular food jar with screw-on lid (I did an experiment by filling the food jar with water, putting it on its side in the trunk of my car while I drove around, and shaking the set upside down). Although similar sets sell here and here for about US$40 (ouch), you can duplicate this setup on the cheap by using a thermal food jar and separate bento box packed in an insulated lunch bag to take both hot and cold foods at the same time.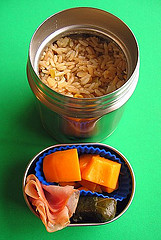 Contents of husband's lunch: Same as mine, but with a folded slice of ham (a la my earlier "salami curls") and yellow rice packed in a layer on top of the Thai curry.
Morning prep time: 6 minutes, using leftover curry and rice, plus canned dolmas. In the morning I heated the curry/rice and sliced the papaya.
Packing: I used the "rice lid" technique described here to keep both rice and curry warm in a single container. Packed in a 300ml thermal food jar and 190ml metal side dish container.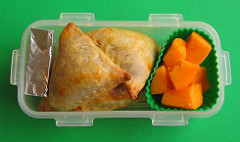 Preschooler lunch: Wrapped cheese triangle, empanadas and papaya. Packed in one 350ml tier of a Lock & Lock lunch set.
READ MORE: