Speed bento technique: Freezing sandwiches
Today's vegetarian toddler lunch took about five minutes to pack up, using leftovers and frozen cutout sandwiches (today's speed bento tip). The sandwiches are blueberry jam (sugar-free) and peanut butter, speedy homemade jello cups, purple potato salad with mojito, grape tomatoes, blueberries, and leftover sauteed bell peppers and onions with mustard sauce. The blueberries are in little paper food cups with jokes in Japanese and the answer on the bottom of the cup ("What gets fat and skinny in the night sky?" "The moon!")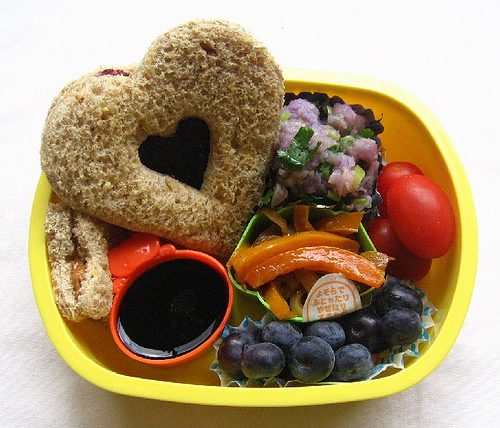 Today's speed bento technique is freezing sandwiches, which can then be packed frozen in the morning, and left to defrost in the lunch (or warmed in a toaster oven or regular oven). Whereas putting bread in the refrigerator makes it go stale faster, putting it in the freezer halts the staling process. Freezing sandwiches is actually a pretty common tip in Japanese cookbooks; the trick is in choosing freezer-friendly fillings, and freezing them properly to avoid freezer burn. Wrap each one tightly in plastic wrap and put the sandwiches in a freezer container (freezer bag, tupperware, cookie tin, etc.). When packing them in a lunch, either keep them wrapped in plastic wrap or unwrap them (then pack in a covered container like a bento box) — these small ones defrosted on the counter in only about 10 minutes.
I think it might be nice to have a few of these cutout sandwiches frozen for busy mornings when I'm making my son's lunches, but for myself I like multi-flavored deli-type sandwiches that won't tend to freeze as well because of the raw greens and mayo. The less intricate cutout shapes (like the rectangle, heart, circle, etc.) will keep longer as I'm able to wrap them more tightly with plastic wrap.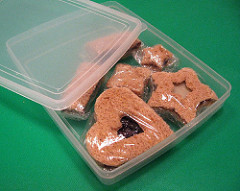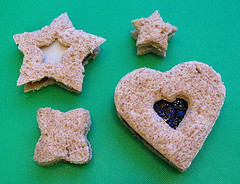 I've put together a short list of sandwich fillings below.
DO FREEZE:
bananas (but it will soften; sprinkle with citrus juice if browning bothers you)
Branston pickle
carrots (raw or cooked)
cheese (sliced)
greens (COOKED) (i.e. spinach, cabbages, etc.)
jams, jellies
lunchmeats (ham, roast beef, turkey, etc.)
Marmite or Vegemite
mushrooms (cooked, or raw — but without surface water)
Nutella
peanut butter
tomatoes
DON'T FREEZE:
cream cheese
cucumber (raw)
greens (raw) (i.e. spinach, cabbages, etc.)
honey
lettuce (raw)
mayonnaise
READ MORE: