Latin-Korean fried rice box lunches
This week I misjudged the heat level when making kimchi fried rice for dinner, and it wound up being too spicy for my preschooler. Although I usually serve him the same things that we eat in order to broaden his palate (and make things easier on me), this is one of the only times I'll actually make a different meal for Bug — when it's simply too spicy and I can't fix it by adding yogurt, etc. So while my husband and I got leftover fusion fried rice in our bento lunches, Bug got green onion bread and mini burger patties from the freezer. I made the mini burger patties about a month ago when we had meatloaf for dinner. I reserved some extra meatloaf mix and fried up the mini patties at the same time as I was making dinner, then flash froze them on a little metal pan (putting them in a freezer bag afterwards for longer-term storage). This is a convenient way to build up a stash of quick lunch items in your freezer that you can grab and pack quickly on busy mornings. (Read about more speed techniques in my Mommy's Lunch Manifesto.)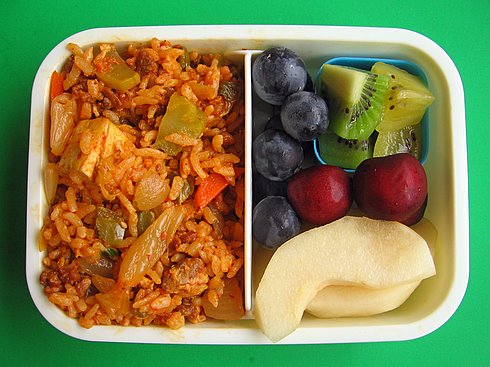 Contents of my lunch: Fusion fried rice with kimchi, Salvadorean chorizo, tofu, onion, broccoli stems, carrots, nopales (prickly pear cactus paddles), egg, green onion and chogochujang sauce (recipe here). The fruit half holds crisp Asian pear (nashi), Concord grapes, green and gold kiwifruit, and cherries. Kimchi fried rice is a standard dish at our house that uses up whatever leftovers I have around. Leftover cold rice, the last of the kimchi, whatever veggies are on hand — you name it. It's also nice with a garnish of roasted/ground sesame seeds and a bit of sesame oil.
Morning prep time: 8 minutes, using leftover fried rice from dinner. Just prepped the fruit in the morning.
Packing: To keep the fruit from browning, I tossed the Asian pear with lemon juice mixed with cherry grape juice to cut the sourness. Packed in a 500ml Leaflet box with movable divider.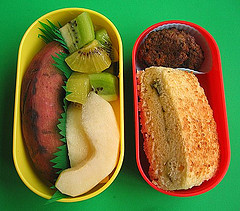 Contents of preschooler lunch: A whole red banana, green and gold kiwifruit, Asian pear (nashi), mini meatloaf patties, and Chinese green onion bread. After having tried the tiny Manzano bananas in a lunch the other week, I was intrigued when I spied the red bananas in the store. Also known as Jamaican bananas, red bananas are more commonly used in baking than raw, and are ripe when there are black spots on the skin. I learned this the hard way by peeling one last week and discovering that it was green and inedible in its raw state. But let 'em sit for a week and Bug was begging for them. They were delicious and not mealy, although I think I prefer the Manzano bananas for out of hand eating.
Morning prep time: 10 minutes, using frozen mini meatloaf patties and store-bought green onion bread. In the morning I popped the frozen meatloaf patties into the microwave to thaw, put the green onion bread in the toaster, and sliced the fruit.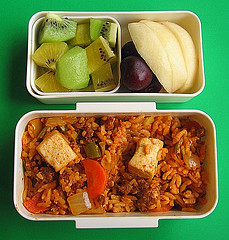 Packing: Packed in two tiers (280ml and 180ml) of a 4-tier nesting Thomas the Tank Engine bento box.
My husband's lunch is the same as mine, packed in a 600ml two-tier box.
READ MORE: