Making lunch for the first day of preschool
Bug started preschool on Monday, which means packing a lunch every day for his morning program. He's going to a Japanese immersion preschool, so bentos are the norm and I'm enjoying trading tips and info with the other parents. He was nervous about starting school, so I'm making a little extra effort this week with his lunches during the transition. The meal here was for his first day, and was comprised of all foods that Bug requested. Accordingly, I found it to be too much brown in the box (not enough green or darker colors), but he ate everything but a couple of the carrot slices so I'm content.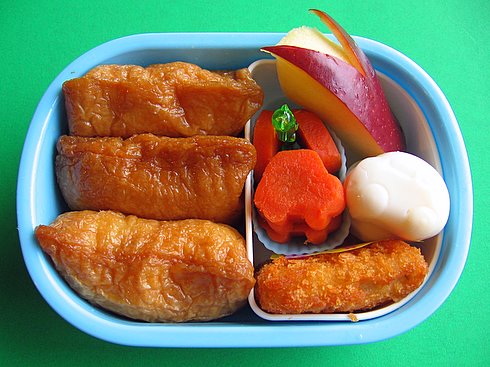 Contents of preschooler lunch: Inarizushi (seasoned sushi rice in abura-age tofu skins; recipe here), steamed carrots with mirin and soy, apple slice shaped like a bunny, quail egg shaped like a car, and a little fish fillet.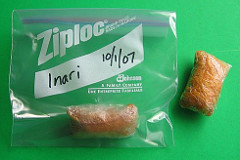 Morning prep time: 20 minutes, which is simply too long. I've subsequently started pre-packing as much as I can the night before so my mornings go smoothly and I give off a calm vibe to my already anxious son. I made a batch of molded quail eggs and carrots the night before, using this egg mold and a tiny cutter from Daiso. I made the inarizushi in the morning with pre-seasoned wrappers after setting the timer on my rice cooker for fresh rice when I woke up. You can make up a batch of inarizushi ahead of time, wrap each one in plastic wrap, and freeze in a freezer bag. Microwave to restore texture before packing in a lunch.
Packing: I dipped the apple slice in orange juice to keep the fruit from browning, and put the drained carrots in a mini silicone baking cup to keep the apple/egg/carrot flavors separate. Everything was finger food except for the carrots, which got a tiny pick for little hands. Packed in a 350ml Power Rangers bento box.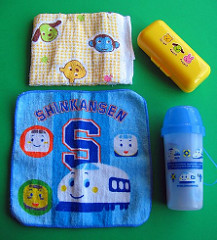 Gear: Because I'm no longer there with Bug when he eats to provide wipes, I've started sending along a damp oshibori (hand towel) in a little case so my neatnik child can wipe his hands and face. I like these as they're fun and more environmentally friendly than paper napkins or wipes. The day before school, we practiced with all of his lunch gear (box, lunch bag, oshibori case) to make sure he could open and close everything by himself. The latch on the yellow case (US$1.50 at Daiso) was too hard for him, so we're sticking with the Shinkansen washcloth for the time being. I'm also finding it helpful to show him his lunch once it's packed and point out what needs utensils. This gives him confidence as well as gets him excited about eating lunch by himself. We won't need to do this every day going forward, but it's a reassuring touch during this transition time.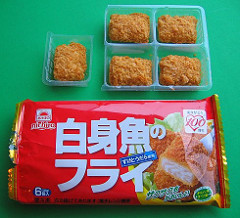 Cooking: I tried out some Akebono Nichiro frozen fish fillets for bento lunches, where you just microwave as many as you like in their individual trays. One of Bug's little friends had shared some of his the week before, so Bug requested this for his first lunch. They also sell pre-cooked croquettes ("korokke") in similar packaging to give a 'fried' food option without firing up a pot of oil in the morning. Although they were certainly convenient, the flavor was just so-so and I'm not happy about all of the excess packaging or microwaving in plastic. I'll run through these and another version with built-in tartar sauce (!) that I picked up, but I'm dubious about buying more.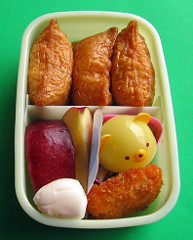 My lunch: The contents are the same as Bug's, plus chopped broccoli with bottled Korean barbecue sauce ('yakiniku' sauce) in the sub-container topped with a utilitarian but cute "surprise animal cap" to keep the broccoli from flying all over the inside of the box during transit. Hey, I mentioned that I was rough on my lunches, right? Packed in my 470ml Afternoon Tea box (replaced for US$2 at Irving Housewares in San Francisco).
READ MORE: