A trio of kid bentos
Looking back, I realize I haven't been packing as many adult bento lunches lately as I've been focusing on cranking out Bug's daily preschool meals in time to run out the door. Over the past month I've gotten more comfortable with our new morning routine, though, so I think I'm about ready to restart making my lunches in conjunction with his. Today we have a backlog of three of my three-year-old's lunches; stay tuned for more of the mother/son lunches, the variations adjusting for different appetites and cuteness levels.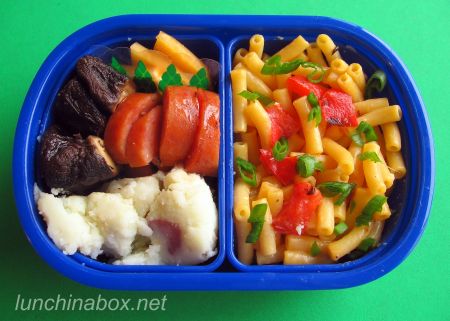 Contents of Wednesday preschooler lunch: Mac and cheese with grilled red peppers and green onions, wasabi and green onion smashed potatoes, grilled mushrooms, pineapple sausage, and sliced persimmon. This meal is too carb-heavy for my liking, but there you go.
Morning prep time: 7 minutes, using all leftovers except sausage and persimmons. A friend had left some mac and cheese at our house from feeding her one-year-old, so I nuked this with a splash of water to restore texture, chopped some leftover grilled peppers and green onions (scallions), and packed. I sliced and heated the sausage through in the microwave for maximum food safety.

Packing: I used a plastic food divider to separate the savory sausage and mushrooms from the sweet persimmon slices. (You can also use edible food dividers, or wash and reuse the plastic food dividers.) The lunch is packed in a 360ml Disney Cars bento box, which in turn went into an insulated Shinkansen lunch bag with a wide base designed to carry bento boxes flat, not tipped over on the side. I got the lunch bag at the Sanrio store in Stonestown Mall in San Francisco for US$15. (Click any photo for a larger view.)
Verdict: Good over time. Bug left a third of the mac & cheese, and half of the mashed potatoes. I guessed his body knew when to stop on the carbs!!!
* * * * *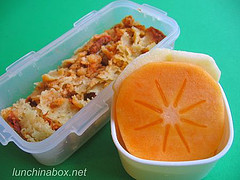 Contents of Thursday preschooler lunch: Pork tamale with husk removed, slice of crisp Fuyu persimmon, and apple wedges. No vegetables, though — I fell short.
Morning prep time: 6 minutes. I used frozen tamales, so was able to cook one quickly in a microwave steamer and slice the fruit in the morning.
Packing: To make the tamale as easy to eat as possible and avoid lunchtime frustration at preschool, I removed the corn husk wrapper before packing and cut up the tamale in the box. At home Bug usually likes some crema or yogurt with his tamale, but because his preschool has an allergy policy ruling out liquid dairy (milk, yogurt, etc.) I skipped the sauce altogether. While Bug is unimpressed with persimmon when it's cut into wedges, for some reason he'll eat it up when it's cut crosswise like this to showcase the inside pattern (go figure!). I dipped the apple wedges in lemon juice mixed with Splenda before packing to keep the fruit from browning, and perched the persimmon slice on top. The lunch is packed in one 350ml tier of a Lock & Lock lunch set, and a 150ml Anpanman side dish container.
Verdict: Thumbs up. Bug ate everything but a couple of apple wedges at preschool, then downed the apples at a playground afterwards as a snack.
* * * * *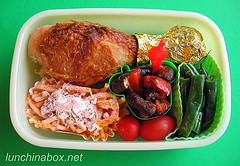 Contents of Friday preschooler lunch: Chicken drumstick, frozen spaghetti cup, grilled mushrooms and red bell peppers, grape tomatoes, and green beans with vinaigrette.
Morning prep time: 9 minutes, using leftover roast chicken from Costco, frozen pasta from my emergency freezer stash, and leftover mushrooms/peppers. In the morning I made one dish in the mini microwave steamer: the green beans.
Packing: I wrapped the end of the drumstick in decorative aluminum foil to make a clean "handle", and used a little cow-shaped reusable plastic food cup (from Daiso) for the mushrooms/peppers. A reusable silicone baking cup squished into the remaining available space to held the green beans, and I plugged the gap with little tomatoes to keep the lunch stable during transport. Lunch packed in a 470ml Afternoon Tea box without the removable divider, to accommodate the drumstick.
Verdict: Too much food, and Bug burned out on the mushrooms and bell peppers that keep reappearing in his lunches. He demolished the chicken, green beans and most of the spaghetti, but left the mushrooms, peppers and tomatoes. If I were to redo this lunch, I could have done a leftover remake with the mushrooms and peppers by putting them into a mini gratin, mini frittata, fried rice, mashed potato or squash. Having at least one big divider in the box would have helped contain leftovers for after-school snacking, though — his leftovers slid all over the inside of the box, making them unappetizing.
READ MORE: