Lunches with pork mole sopes
To keep lunches from getting boring, find ways to transform dinner leftovers into different dishes ("leftover makeovers" or "leftover remakes"). Earlier in the week we had pork carnitas tacos for dinner, so I mixed the leftover carnitas with some instant mole sauce and made it into sopes. Sopes are little discs of corn masa (like tiny thick tortillas with a lip around the edge) with toppings, typically something like refried beans with grated cheese, onion and hot chili sauce. I ran these under the broiler to make them neater to eat on the go.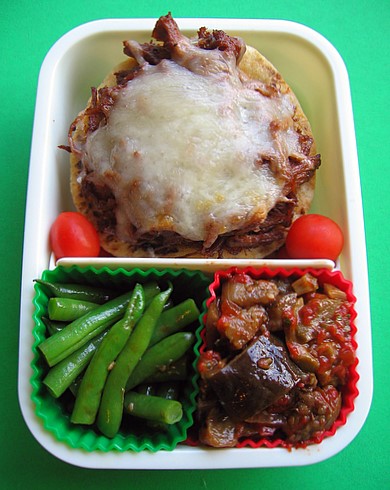 Contents of my husband's meal: Homemade sopes with leftover pork carnitas (Del Real brand carnitas from Costco, full thoughts here), mole sauce and Monterey Jack cheese melted on top. Side dish of berenjenas con vainitas (Venezuelan dish of eggplant with green beans) and grape tomatoes. Not shown: a little sauce container with crema (sour cream) for the sopes. I got the recipe from award-winning cookbook The Book of Latin American Cooking by Elisabeth Lambert Ortiz. From the book jacket: She "describes how the Spanish, Portuguese, African, and Middle Eastern influences have combined with the indiginous cooking of the Maya, Aztec, and Inca civilizations." An interesting read with extensive commentary on each recipe.
Prep time: 18 minutes, using leftover carnitas and eggplant with green beans. The masa discs for the sopes were ready-made from my local Mexican market, so I heated them up to soften, mixed the already-shredded carnitas with instant mole sauce, assembled and ran them under the broiler to melt the cheese.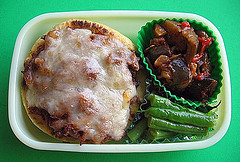 Packing: I put the side dishes in reusable silicone baking cups to keep the moisture away from the sopes, and used grape tomatoes as gap fillers to stabilize the lunch during transport. Packed in a 500ml Leaflet box with movable divider.
My meal: Contents are the same as my husband's, with the beans packed in a smaller disposable food cup ("leisure version" — ha ha) to fit the smaller space. Lunch packed in my 470ml Afternoon Tea box without the removable divider (box bought for US$2 at Irving Housewares in San Francisco).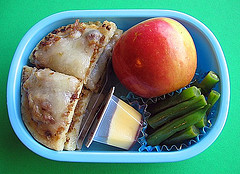 Contents of preschooler's meal: Homemade sopes with chopped carnitas mixed with a little Lizano sauce, topped with cheese. Side dishes of green beans (he was not a fan of the olive-laden eggplant dish), an entire miniature Fuji apple, and a little cup of creme caramel (Kiku brand "Petit Pudding"). Not shown: a little squeeze bottle of crema (sour cream) for the sopes.
Packing: I cut the sopes into quarters to make them easy for little hands to eat, and cut off a thin slice of the apple at the bottom so that it would fit inside of the bento box. A tiny clear plastic spoon for the pudding cup is tucked in alongside the sopes. Lunch packed in a 350ml Power Rangers bento box.
READ MORE: