Pork sopes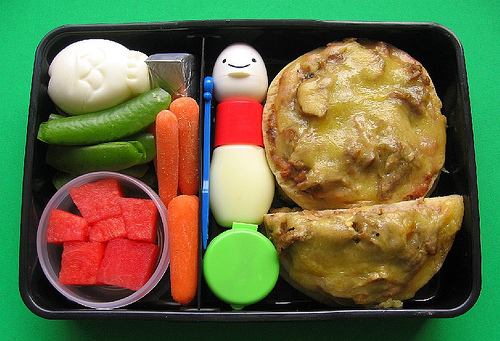 Contents: Homemade pork sopes with refried beans, pork with chile verde, monterey jack cheese, salsa in the little sauce container and Greek yogurt in the squeeze bottle shaped like an egg (we're out of crema). The portion to the left has a boiled egg shaped like a fish, cheese triangle, sugar snap peas, carrots and watermelon.
Prep time: 20 minutes total for three lunches (making just one lunch would probably have taken 10-12 minutes). I made the sopes with all leftovers, so the most time-consuming part was frying the thick tortillas with thick edges (store-bought in sope form) and assembly. I ran them under the broiler to melt the cheese, making them more stable for packing. You can use all kinds of toppings for sopes — they're quite versatile. Get creative! The shaped egg was the last of a batch I made earlier this week, so that was in the fridge in a mold.
Packing: I packed this large lunch (actually dinner) for my husband in a 940ml box, and put the juicy watermelon in a tiny lidded container to contain juices that might get on the sopes and make them soggy. Basically, packing this meal was an exercise in gap-filling, using sauce containers and hard veggies.
My meal is in the 810ml container to the left, and Bug's meal is in the 580ml container to the right (with the sopes cut up and a little pick for the watermelon). The sopes aren't densely packed, so this was just about right for all of us, even though the boxes ran large according to the bento box size guidelines.
Lunch in a Box is nominated for Best Food Blog in the Blogger's Choice Awards. If you'd like to cast your vote for speedy lunch packing, click here (you can vote for multiple blogs in the same category).
RELATED POSTS: