Tamale box lunches
Costco has changed the brand of frozen tamales they sell, and now they're light, fluffy, and delicious (better than the old kind they stocked, which were a little too dense and heavy). Frozen tamales are great to have on hand for a fast dinner or lunch, especially if you have a large microwave steamer. Just pop them in the microwave for a few minutes, let sit for another minute, and they're ready. These actually start to approach the quality of homemade! Evidently they're from Del Real Foods — very nice. (Disclaimer: I have no commercial affiliation with Del Real Foods or Costco.)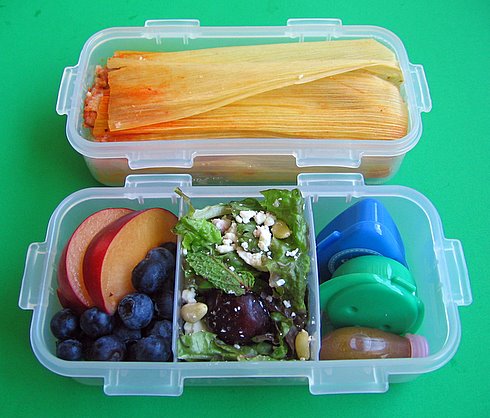 Contents of my lunch: Steamed chicken tamale with containers of spicy salsa Taquera and Greek yogurt, plum slices, blueberries, and salad with pitted cherries, pine nuts, fresh mint and feta cheese (plus homemade apple-balsamic vinaigrette). We ran out of crema (Hispanic sour cream), so yogurt was a fine stand-in.
Morning prep time: 6 minutes, using leftover tamale and salad. I packed the tamale the night before when cleaning up from dinner, so in the morning I sliced the plum and filled the sauce containers (I was out of pre-filled sauce containers with salad dressing).
Packing: Quick reminder to pack salad dressing separate from the salad itself in a container so you don't have wilted, soggy salad at lunch. Yuck! Lunch packed in two 350ml tiers of a Lock & Lock lunch set.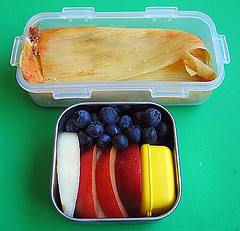 Contents of preschooler lunch: Same as mine, with a slice of crisp Asian pear (nashi) and a little container of yogurt for the tamale.
Morning prep time: 5 minutes, using leftover tamale from dinner and leftover Asian pear from an earlier snack for Bug.
Packing: Packed in one 350ml tier of a Lock & Lock lunch set, and a 220ml metal container from the Daiso in Daly City, CA. Daiso is a great Japanese dollar store with branches internationally.
Contents of husband's lunch: Grilled skate wing (a.k.a. ray or stingray) with Nonya-style sambal sauce on top, on a layer of rice. The left hand side holds more of the same salad that I had, plus a couple of cherry tomatoes. The chili ray is the last of the leftovers that I used earlier in the week in lunches for Bug and myself — my husband was happy to get another taste of the spicy ray after all the effort he put into making it! Delicious.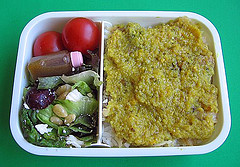 Morning prep time: 9 minutes, using all leftovers. I microwaved leftover cold rice to restore the texture, then removed the skate wing from the bones to make it easier to eat (my husband doesn't have a lot of patience for deboning fish when eating on the run).
Packing: I packed the sauced skate wing right on top of the rice layer, with the rice absorbing a little bit of sauce ("donburi bowl style" — it wasn't so liquidy that the rice became sodden). Packed in a 500ml Leaflet box with movable divider.
READ MORE: